Yandy Smith-Harris is an unstoppable force – she gives her gems on standing tall through all life's journeys.
FOR IMMEDIATE RELEASE
SHEEN Magazine, the Ultimate in Beauty is celebrating the resilience of the modern day woman. In this moment, we've seen resilience ringing throughout the world during the Coronavirus outbreak. This pandemic has captured the attention of our world and it has been an eye-opening time.
An extraordinary example of resilience is our gorgeous cover girl, Mogul, Humanitarian, and Love & Hip Hip: New York reality TV star, Yandy Smith-Harris. She has defied all of the obstacles in her life and continues to flourish in her many endeavors while helping others along the way.
"'This too shall pass.' My mother used to make me get on my knees, pray with her, and say that. Great moments and sad days won't last. I always think if I have another day, I can get through this or move past a struggle and be grateful for the days that things are going well." – Yandy Smith – Harris
Talia Jackson speaks on pursuing her dreams to the fullest in our Beauty Spotlight feature! Explore the many talents of celebrity makeup artist and men's groomer Phoebe Dawson, while beauty influencer Andrea Renee guides us to techniques for transitioning through seasons. From the gems of her self-made natural hair care products to the flawless hair she serves up in Hollywood, Wankaya Hinkson has quite a story to tell.
Designer Timeekah "Murph" Murphy is a one-of-kind designer who's giving the visionary fashion for our future. And stylist spotlight Shantae Bellamy's muse helps her continue to elevate the aesthetics of her fashion. The spring print trends will give you the tools to remix your wardrobe.
Grammy Award-winning artist, Lalah Hathaway gives the details on mastering the art of effortless glam and poise! Stay motivated with mommy/daughter fitness duo, Jackie & Janae and create fun exercises! Then head on over and celebrate the dynamic women who remember their spark remains aflame! Take your cooking skills to the next level with these award worthy meals in our delicious food feature. Sexologist Dr. Rachael adds a little sugar in our lives with the actual expectations and hopes of being a sugar baby.
SHEEN Magazine's May/June 2020 The Vision will be available for digital release on sheenmagazine.com/digital on Friday, May 1st and available on newsstands soon!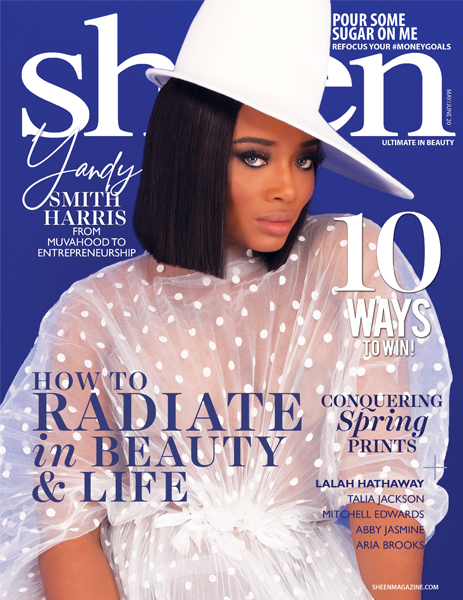 Photo by: AV Brown
About SHEEN Magazine
Sheen Magazine is The Ultimate Beauty Guide for the modern day woman. The lifestyle and beauty publication is the preeminent voice on new trends, techniques, and products. Sheen Magazine is a national and international distributed publication. Published bi-monthly, Sheen Magazine maintains its influence by always remaining current on the trends of beauty, fashion, hair, and entertainment. The publication seeks to cultivate, educate, and motivate, encouraging the full potentiality of their readers. The Ultimate Beauty Guide and can be purchased nationally at Target, Walmart, Walgreens, Books-A-Million, and Barnes & Noble. Visit us online at SheenMagazine.com and follow us on Facebook, Twitter, and Instagram @sheenmagazine.