Established in NYC in 2018 by entrepreneurs Profit Pete and J. Nicole, WEMS Radio was created to provide a voice for elevating people that have been excluded and censored by traditional media outlets.
Today, Elite Multimedia Studios showcases the hottest talent and serves as a platform for budding and seasoned radio enthusiasts, entrepreneurs, and artists. They offer a variety of hit radio shows like the Profit Radio Show, Motivation Monday with Talent Da Comedian, The Spot, the 7 High Radio Show, The Ryan Show, and more!
Here's some interesting background about the wildly successful entrepreneurs and their popular radio station we learned during our interview.
Can you tell us a little bit about your background?
As an inner-city youth from Spanish Harlem AKA El Barrio, I was faced with many challenges in my life. I was no ordinary kid. I gravitated toward things that seemed odd in the culture in which I grew up in. I began to educate myself on all things centered around money and money management. I took those lessons to heart and as I grew into a young adult, I developed a work ethic that most adult men did not have. As life became more hectic, I began to listen to music to unwind. Music became my solitude, my happy place. I continued to increase my knowledge of computers and grew to love them, and all things technology based. This led me to become a teacher within a proprietary educational institution where I taught adult learners. While teaching I started my first business and it spiraled into 3 additional business ventures. I used my love and knowledge of computers and married it with my love of the creative arts, and entertainment, along with my desire to help people and I built something beautiful! Hence the rise of WEMS Radio!
How have you been holding up during the pandemic?
As many were affected by the pandemic, we are no stranger to its impact. We took time to refocus our efforts on growing in this newly leveled playing field and WEMS is thriving.
What is the inspiration behind your brand name "WEMS "?
WEMS stands for Worldwide Elite Multi-Media Studios. Elite Multimedia Studios was inspired by the void in high quality media outlets in urban areas.
What inspired you to pursue a media/radio career?
During an interview to promote an opening of a new business venture, I sat down and absorbed the room. This brought me back to my educator days and being able to share my learning and messages with the masses. Shortly after that interview the decision was made to create a platform that could bring an uncensored message on topics based on money, life, love, and music.
Are you planning on expanding your brand? Locations?
Absolutely, we are currently in the process of opening two additional locations, in Baltimore and Atlanta, with the official station launch set for December 2020. We will also be launching a fourth location on the west coast projected for 2021.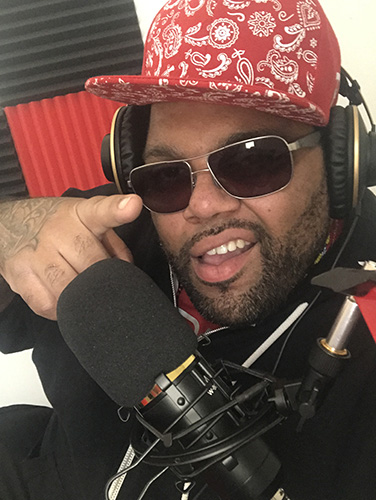 Do you have any favorite guests and who would you love to have visit you?
We have enjoyed each of our guests and they have added immeasurable value to the WEMS brand.  Many guests have returned for additional visits. Once you interview at WEMS you become part of the WEMS Family, and as such we continue to support the guests long after the interview concludes. It would be an honor to have the opportunity to interview Ice Cube, Gary Vaynerchuk, Daymond John, Sean "Puffy" Combs, Master P., and DJ Khaled just to name a few.
Any advice for someone who wants to follow in your footsteps?
It is important to identify your purpose. Knowing the purpose or mission of what you aim to do is critical in building a plan that makes sense. This will keep you on track and help you stay true to the brand you are creating.
What future plans can you share?
WEMS has a lot on the horizon including events, continued media coverage, a WEMS Radio tour, merchandise, WEMS guest appearances, and a WEMS industry publication!
Stay in Touch with WEMS
To stay in the loop with Profit Pete and J. Nicole, be sure to catch them on their website, Instagram, Facebook, YouTube, Spotify, and Anchor FM.
All images courtesy of WEMS Radio