On average close to 20 billion menstrual products including tampons, applicators, and sanitary napkins end up in landfills every year.
Gaynete' (Edwards) Jones, business consultant, keynote speaker, best-selling author, podcast host and founder of G.A.M.E. Changing Industries is on a mission. Her latest endeavor Best Periodt is helping eliminate waste by providing a more health conscious and cost effective menstrual product.
The serial entrepreneur, wife and mother believes that through her efforts she is able to create solution driven outlets that solve problems for other people. Her menstrual cup Best Periodt falls in line with that by solving a personal pain point in the market of feminine hygiene care.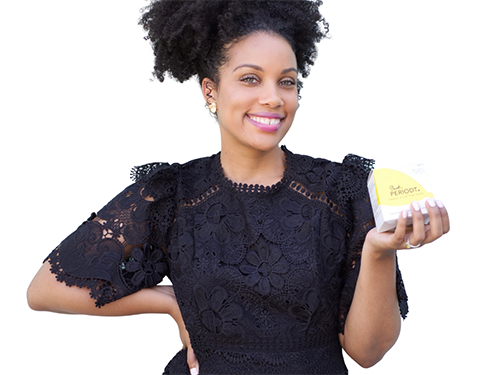 The concept came about after Jones struggled for years to find a menstrual cup that worked for her without leaky or bad material issues. In an interview Jones did in March 2020 for her podcast Freedom Slayer, she had a guest come on her show that sparked her interest in creating a product based business. It ultimately left a burning desire to create something that would be solution driven.
"Initially I thought I wanted to create an electro-magnetic frequency (EMF) protector for laptops or wrist watches, but it wasn't something I was passionate about nor something I could see doing long term. I woke up the next morning and my cycle came on, automatically I knew a menstrual cup was the product I would create. I knew all the things about cups on the market that I didn't like and what changes I would make for my own product."
Studies have shown that black women on average tend to have heavier period flows and are 3x more likely to have fibroids. With the statistics at hand Jones decided she wanted to create a cup that had the capacity to cater to someone with a heavier flow but also works for someone with a regular period.
The average woman's flow is around 10-35 ml. A regular tampon or pad holds about 5 ml which is equivalent to a teaspoon of blood. Someone with a heavier flow averages about 16 teaspoons of blood, whereas the average menstrual cup holds about 30 ml.
Best Periodt cups not only hold up to 40 ml in the size 2 cup, but they last up to 12 hours in comparison to the 4-6 hours a regular tampon and pad holds. Jones stated "Last year alone there were 450,000 searches a month for menstrual cups.  I wanted to make it an educational brand for people who were cup curious. We offer education resources on our website and Youtube tutorials on how to use the cup." Jones recommends two ways to use: the c-fold or her personal favorite, the push-down fold.
The high quality US made brand differentiates itself from other cups currently offered on the market. The medical grade silicon device lasts up to 10 years, but Jones recommends changing it every 2 years to keep it fresh.. The hygienic case it comes with is one of the main differences.  Jones stated, "Other brands tend to come with bags that get dirty, wet, or soggy. Our cups are FDA registered and OBGYN approved for use." The unique base and stem custom designed by Jones, are short enough to not cause irritation and long enough to find, with the comfort of not feeling as though it would get lost.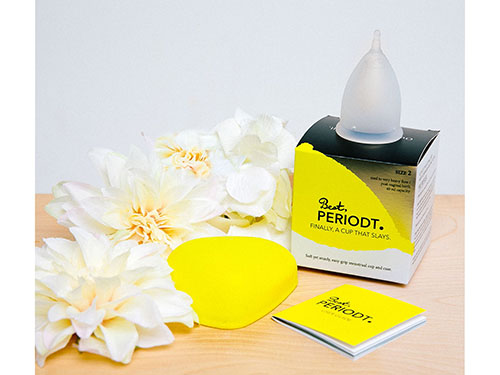 "Preparing to be retail ready was our main initiative, it's not just a product launch it's the genesis of a mega brand," stated Jones. From concept to launch it took a total of 10 months for Jones to bring the product to the e-commerce market. Currently, Best Periodt is in stores at 10 small retailers and will now be available online as of January 11, 2021. Jones is prepping the brand to hit the major market stores like Target, Walgreens and CVS in the near future. She is coining the brand as the millennial menstrual care product of choice.
Upon launch $1 dollar of every purchase goes towards anti-child trafficking along with the option to donate cups towards period poverty for young girls, women, and the less fortunate who lack resources for feminine hygiene care. Jones expressed she wanted to make sure minorities were also represented in her brand. Her colored instructional booklet – that comes along with the product – features brown bodies and gender neutral language. "Not everyone who bleeds identifies as a woman," stated Jones.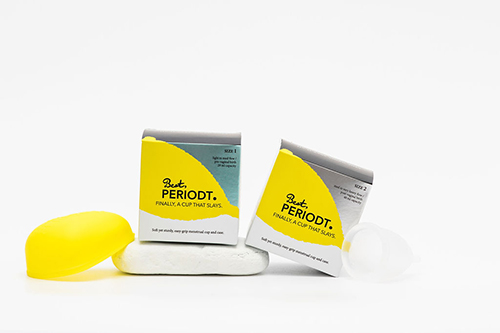 Click here to follow Best Periodt on Instagram.
All images courtesy of Best Periodt and Gaynete Jones