As a teenager, she began drawing and sketching her designs. Fast forward to present day, she now has her own fashion line and has featured many of her pieces on big names such as Rihanna, Michelle Obama, and more! Kai Milla really doesn't need an introduction from us, especially in the world of fashion – she is truly a mogul. The designer recently sat down with us for an exclusive interview to discuss her upcoming projects, dipping into skincare, and much more!
With so much experience in the world of fashion design – what do you believe is the greatest lesson this industry has taught you about yourself?
Well, I've certainly learned a lot. I've learned a great deal. Some lessons were hard and needed. All lessons learned in my opinion are good, it depends how you use it and how you apply it moving forward in anything that you're doing. I've grown a lot. I started designing and experienced New York Fashion Week fairly young. I was sort of thrown into it (laughs). I wouldn't recommend it for anyone, but I appreciate everything that I've learned. It has made me not only a creative individually, but I've become more of a businessperson. You really have to understand the business of fashion as well. Designers are typically operating on a creative level, which is great, but you have to understand the business behind it all. The greatest lesson I've learned is the business of fashion. That is simply how you'll get the best results.
You've designed pieces for Michelle Obama, Halle Berry, Rihanna, and more. Has there been a client that has left a special mark on you and your career?
That answer would absolutely be Michelle Obama (laughs). I actually did not think that I was going to be designing for the First Lady. When you think about the first African American President and First Lady and the opportunity to design for a history-making woman is just mind blowing. It wasn't even a thought. I figured if I get my aim at great women, I would be happy. The opportunity to design for Michelle was something that came to me! To this day, I'm still in awe that I was able to work with her. I got a call when I was working on my collection and it was coming from Chicago. I thought it was Oprah because they said Mrs. O. I thought, Oprah! Wow. I've worked with her before, but the confusion was when they said Mrs. O wanted to see my collection. I thought to myself, well Oprah knows my collection, Throughout the conversation, I realized I wasn't talking to Oprah. I realized it was the White House calling for Michelle Obama. I was stunned! That whole process from getting the call to creating the pieces for her will be with me forever. I truly cherish that as a designer and individual. That was just a highlight for me.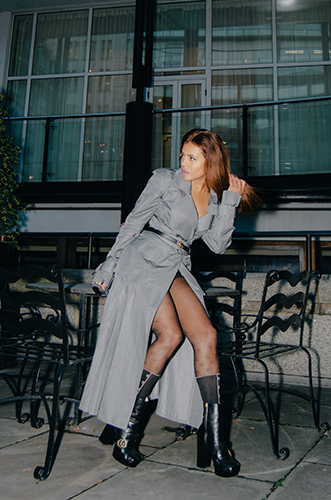 We know that you will be designing for the first Black Woman Vice President, Kamala Harris. How did you feel when you learned the exciting news?
Well, meetings have just happened so I really can't go into that at this time. Let's just say that I'm beyond excited for this opportunity to come to fruition. Hopefully, you all will circle back for an update here soon.
Tell us about the skincare line you will be launching in 2021.
This is another project I am really excited about. When I take something on, it's really coming from the heart and soul. Skincare has been with me from a young age. My mother was always really big on skincare. She always started with the skin. We weren't that big on makeup per say, it's fun and all but skincare is number one. You should always take care of that first. I'm a huge skin enthusiast so I decided after so many years of working on this to put it into fruition. In terms of formula, I like to keep it simple. It will feature three main products. A serum, a hydrating spritzer, and the main factor is lips. The first thing that I think I will roll out will be lip care. Not necessarily about color – although some of the products will have pigmentation, but it's more about keeping the lips hydrated, plump, full, and keeping that natural vibe. We're still formulating but it will be more on the sustainable side. It's all about hydration and plump for me. That is called Nuue (pronounced new) Skin. It will be hitting sometime in the summer of 2021. I'm very excited about that.
What can we expect to see from you in the future?
I'm off of my hiatus in regard to fashion. I took a break for a while to focus on family. In 2021, you will see a new capsule collection. I haven't put out a collection since 2017. I'm excited about that. I like to go in when I know I am ready, focused, and I have a lot of creative juices flowing. This collection has me really excited. That will be coming and obviously the skin care line will be coming as well. These two are my main focus right now.
For more on Kai Milla, follow her on Instagram & Twitter today!
Featured Image by Natalie | KAUFMANFRANCO taffeta trenchcoat / Gucci shoes and belt / Chantal Thomas'