Internationally known as "The People Expert," Dr. Sabrina is a captivating thought leader currently taking the global media world by storm. Daily, she commits to helping people with people – even if that person is themselves. Author, founder, CEO, and public figure Dr. Sabrina Jackson is quickly becoming the world's most requested voice on the subject of people. With multiple degrees in psychology and behavioral studies, Dr. Sabrina has recently earned an appointed seat as a U.N. ambassador for her proven success in teaching others how to navigate people.
What drove you to make the transition from employee to entrepreneur? 
I started my first business in 1995. The name of my company was SAS Counseling and Consulting Services. I started the business for two (2) reasons. First, people kept asking if they could see me for counseling. However, the job I had with county at the time, really limited my capacity to take on new clients. I had no time to grow or expand my service. Secondly, I started receiving requests to speak all over the country. I hated asking for time off to go do my gift. Outside of God, it became clear that I really don't like having a boss.
You are a public figure, an author, a master trainer, and a U.N. ambassador. How has the fashion industry made you feel, as a woman?
I often feel like what I see in mainstream fashion does not speak to my vibe. I am a voluptuous woman. I have never liked suits. Yet, I was often expected to wear them in corporate settings. I hated it.
The beauty industry is one of the largest voices in the conversation that drives current beauty standards. Do you see yourself in current beauty standards? 
I actually do not see myself in current beauty standards. Most options lack range. What I see currently trending falls in to two categories: 1. Overly form fitting or, 2. Matronly. No woman wants to look matronly. Form fitting is not a look that you exercise in all settings, as a leader or as a professional.
Let's talk a bit about your master training model, "Essential Colors ©" and the impact that essential color has on effective communication. How has your program expanded to reach various walks of life? 
Essential Colors © is a master communication model that I designed to help people hear people and respond in a powerful way. We don't realize that just like welding or surgery, communication is a skill set. Some people we interact with may have zero experience with welding, while others may be a master welder. Either way, you would not dismiss a person you meet as being a "bad person" just because they don't know how to weld or perform surgery. We should view communication the same way. It's not personal; communication is a skill set.
All people are a combination of four core communication styles, identified by four essential colors. When I train, we move past the "tricks and shortcuts" to the root of becoming an effective communicator. Knowing what a person is listening for in a conversation gives you valuable insight into how to focus your delivery. Is this person data-driven or people-driven? Is this person motivated by ridged principles or complex ideas? You will lose a person that is people-driven if you spend too much time talking dollars and cents. I have used the Essentials Colors © principles in couples counseling and group trainings for high profile straight and LGBTQ couples, business partnerships representing organizations of all sizes, and team building exercises in every industry on the market. It has been my honor for Essential Colors © to be a tool driving measurable change within industry leaders such as Fox News, McDonald's Corporation, the Detroit Police Department, Blvck Womxn Worldwide Inc., various religious organizations, nonprofits, and most recently international service providers for participants of all backgrounds.
Recently, I was invited to participate in the 2020 Paris Fashion week, an amazing opportunity to participate in the global narrative surrounding fashion and beauty standards. Essential Colors© is integrated into the inspiration for my fashion line, which is designed to create high-end pieces that powerful women can use to celebrate their "color of the day". During the development phase of this launch, our efforts have sparked support by 3X Grammy nominated artist Martha Wash of  C & C Music Factory/ Black Box, America's favorite weather woman. Also, FX/FOX star Hailie Sahar who plays the character "LuLu" on the hit show "POSE" is set to appear in an Arts & Understanding cover story. I am super excited to dress these phenomenal women. It is my hope that our line will make you feel amazing and authentically speak to your soul in a brand-new way.
You have been wildly successful in so many lanes, from television to radio to being an author. How do you prepare for your next big meeting? 
It always begins with prayer, planning, and praise. I am always asking God to blow his "super" on my "natural". Therefore, I expect supernatural experiences. I read, study, and research all the time. I use these study habits to plan for my intended outcome. Lastly, I thank God in advance as I invite Him in while I praise. There is no secret to being successful at what I do. This is my gift. Speaking and connecting with people is my God-given gift. I do what I love, and folks love what I do.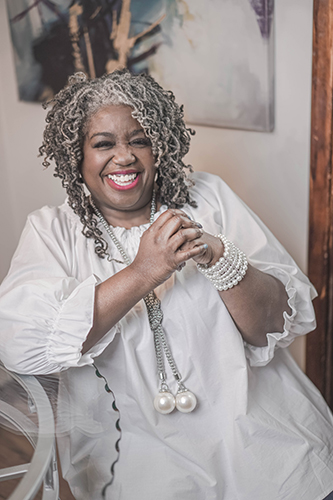 What colors make you feel beautiful, and why? 
Wow. As I have gotten older, I have finally embraced COLOR in my wardrobe. I used to be concerned with making people comfortable, which is hard when your calling is to affect change. I am now at a point when I am quite clear that it is perfectly ok to own space in the room. I am exactly who I am supposed to be in this moment. I love me in Red, Yellow, Cream and Orange. It matches my big personality.  
COVID-19 has created an extra layer of stress for so many dynamic women. Unfortunately, responsibilities still require us to show up and do our best. Do you have any recommendations for women to protect their power and regain their spark during this pandemic? 
Absolutely. Use this time to discover all the unique things about yourself. Seek out the things that really set you apart. Ask other people for some feedback, as sometimes we do not see the great things about ourselves. Next, embrace the unique things about yourself. Stop comparing yourself to others. Accept and celebrate that you were made on purpose, to carry out your unique and specific purpose. Thirdly, spend time dreaming. You can have whatever your mind conceives and believes. Make time to conceive new dreams. Last but not least, surround yourself with people who will inspire, uplift, encourage, and correct with love. Each of these are skills, so be sure to seek out sources of support that have these skill sets.
When do you feel the most powerful? 
When I am speaking. I know this is my gift, and scripture says that your gifts make room for you. Since I have leaned on it fully, my gift has done just that. 
Often when being of service, we forget to sow back into the caregiver. How do you self-care? 
Well, it is important to understand that self-care is a requirement, not a recommendation. I do all the external things: massages, facials, mani/pedis. But most importantly, for this work I really must do the things to care for my interior. I say positive things about myself to myself, daily. I do not allow others' emergencies to become my crisis. I forgive and release hurt regularly.  Hate holds, whereas love releases.  Most importantly, I do not hold on to negativity.  This one takes practice but is extremely important to stay balanced.
For anyone interested in learning more or connecting with you, what is the best way to follow you? 
I am a regular guest on Fox networks, the Erica Campbell Show, and other syndicated television and radio. I can be heard every Thursday on the Michael Colyar Morning Show with my own segment "De-Stress with Dr. Sabrina".  For regular updates, please follow me on Instagram at @drsabrinaspeaks, or request a master training session for your favorite group on my website www.sabrinajackson.com.
All images by Stephane Parker