She may only be 4'11, but she definitely has the personality of a giant! That is why some call her, 'The Shawty Almighty!' Social Media Influencer and popular TikToker, Kristen Ware at only 19 has been entertaining many many people across social media. Over a million people that is! The Columbus, Georgia native as of now has gained 1.3M supporters on TikTok after uploading her first video in 2019. After a few months, one of her comedy skits about body spray went viral now reaching over 5 million views. Ware says she has always had a thing for wanting to be an entertainer and wanting to make people smile and feel good and we think she's doing just that!
Her family and friends have been extremely supportive in helping and watching her follow her dreams. Her mother, Janice Ware who is dear to her heart has even made some fun special appearances in her TikTok videos. The social media star is super laid-back, but really great fun and informative. Her supporters adore her natural hair and versatility, she oftentimes gets on TikTok Live to share with them her quick natural hair and make-up tips. In some of her most-watched videos, she reenacts scenes from popular movies including ones from one of her biggest inspirations, Tyler Perry. Another one of her biggest inspirations is Ally Brooks from Fifth Harmony, who she got to meet last year and hopes to work with in the future. You never know what could happen, but if we made a prediction, we'd say you'll be seeing Kristen Ware on a big screen near you, coming soon!
When did you know being an actress, Tik-Tok dancer and social media influencer is what you wanted to pursue as a career?
Honestly, being a TikTok dancer and social media influencer was not apart of the plan. I've had the dream of becoming an actress since I was nine years old and TikTok seemed like a good way to put myself out there and show my talent. I added dancing to my TikTok to show that I could do more than act. The title "social media influencer" was something that kind of came with all of that.
Have you always been into acting and dancing? Did your parents see the entertainer side of you early on?
Yes. It wasn't until I was six that my mom said I came downstairs with a dress on, her heels, her jewelry, her lipstick and my little purse. She said she laughed and my aunt asked "where are you going miss thang?" and I said I was on my way to the red carpet and that I was going to be famous. My mother laughs every time she tells that story. My grandmother says that my personality was too big to do anything that doesn't deal with people and entertaining them because I'm such an extrovert. When I first announced that I wanted to become an actress she told me, "I think Hollywood would love you."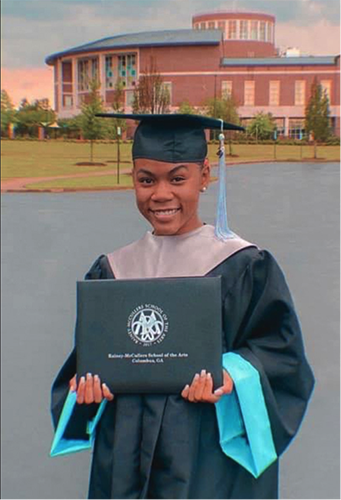 What is your main goal and or mission with your social media platforms? What is the overall message you want to spread? 
My goal is to inspire people to do whatever they want. I want to inspire people to put themselves out there, to reach for the stars. You never know what God has in store until you make a step. When he see's that you're putting forth the effort, he will come in and guide you to where you need be and help you make your dreams come true. You have to want it first. Everything is possible nowadays so there's nothing that you can't do and I want my young girls to know that!
Who are some of your biggest influences whether it be in dancing, acting or in life overall? 
Ally Brooke is definitely at the top of my list. We have so much in common and I admire her tenacity and the way she carries herself. I've been a fan of hers before Fifth Harmony split up and to see how far she's come and how hard she's worked to get where she is in her career and life is inspiring. Megan Thee Stallion, Beyonce, Jennifer Lopez, Vanessa Williams are other phenomenal people that inspire me. All of these women are such confident individuals and have all worked extremely hard to get where they are and that has inspired me to do the same. 
What would you say some of the pros and cons are as a TikToker and social media influencer? 
Pros would be that you can inspire people. I get dm's and comments all the time on how I inspire them to start posting on TikTok or audition at their school play and as simple as try a new hairstyle. Although I'm still not used to it, it means so much to me to know that in a way, small or big, I make a difference to people. Cons would be the negativity on the internet. There are so many rude people who are just mean and negative and they make it an agenda to be that way online. It is definitely a big downside to being an influencer but I try to ignore it and focus on the good as much as possible.
If you could give someone who wants to also become a social media influencer and they are just starting out some quick tips, what would a few of those be? 
To be yourself. People love authenticity. 
Do not respond to negativity. The more you respond, the more negative and rude they'll be because they want the attention.
Remember your goals and why you're doing it. Never stir away from that or you'll lose yourself.
Don't tell all your business. Leave some of yourself a mystery to people.
It's okay to say no. Never feel like you have to say yes to stay on someone's good side. You have the right to say no and you don't owe anyone an explanation.
We saw you have joined a group called 'Limited Edition', what is the group about and why did you decide to become a member?
Limited Edition is a group of talented, black creators who all have a dream and that is to entertain. We come together as a group to help build each other up. We learn from each other and create content together. I decided to join because I was familiar with all of them and had been following them on TikTok. We all had the same goal and that was to chase our dreams and what better to do that than with each other. They were so welcoming to me and I fit right in. It's such a beautiful thing to be associated with people who all want to be successful and isn't going to let you fall. We believe in each other. We want to see each other win and we respect each other. They are all so amazing and kind-hearted. I am thankful to be apart of such a phenomenal group of smart, creative, and beautiful individuals.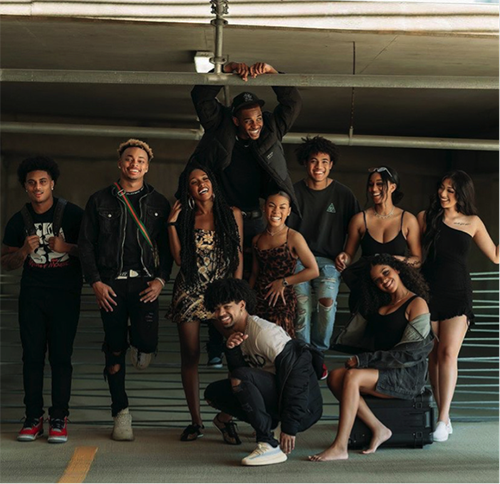 For more on Kristen Ware, follow her on Instagram, Twitter, &TikTok.