"Don't ask for a seat at the table, buy the building!" says Fashion Mogul, Entrepreneur & Lifestyle Influencer Tania Richardson, when she noticed advertisers and content catered less to women in the 40-55 year age range. In turn that fueled her to create a movement for women today with the tagline "Being a lady never goes out of style!"
Last September she  launched her lifestyle brand, Hey Lady💋™to inspire, empower and motivate women in their forties to thrive while living their best life fashionably. I caught up with the Former RHOA Recurring Cast Member to discuss her love for fashion, why she doesn't believe in special occasions, and how Hey Lady💋™ is changing women's lives today. 
How long have you been passionate about fashion?
I have been passionate about fashion since I was six years old. My mom subscribed to Essence and Ebony magazines when I was a little girl, and I've always been obsessed with the models, their clothes and the different locations like Milan, Paris, etc. My godmother was a model for Givenchy so I was learning from the best at a young age. I got my first job at fifteen years old with Urban Outfitters on the campus of the University of Penn, which I absolutely loved! It's safe to say all things fashion runs through my veins and to me, it's the perfect way to express yourself without using words. 
With so many brands for women, why is being a lady important to you?
Being a mentor and coach to younger women I wanted to show them another option of how to step into womanhood with respect. Growing up it was so inspiring to me to have women like Phylicia Rashad, Diane Carroll, Lena Horne, and Cecily Tyson to truly embody what being fearless and ladylike was about. They showed us over and over again how to be a lady and make a statement with few words. That has always stuck with me throughout my life, career and especially in business. It has set the tone in fashion, as my style can be described as classy, sophisticated & chic with a hint of sexy. 
My logo with the red lips reflects how a woman feels bold, empowered and confident when wearing red lipstick. I have found that some women have felt lost or stuck once they turned forty. They've gone through life experiences like being single, divorced, or being empty nesters now since the kids are gone. With a positive mindset and likeminded community of women their age, Hey Lady💋™ shows up to revive their spirits and help them decide that now is the time to thrive. This is primarily the reason why I don't believe in special occasions, there is no "right time" to do what you love. We must let go of any limited beliefs we have and appreciate the time God gives us to live right now. So I wanted to infuse all this within my brand to represent women forty and over to reignite what's missing in their lives and to remind them that they're more than just moms.
What are two ways in which Hey Lady💋™ is winning and changing women over forty lives so they can thrive post pandemic? 
The first way that Hey Lady💋™ is having an impact on women is by helping them pivot through the changes/challenges the pandemic has brought with my Wine Down Wednesdays "Lady of the Week" series on Instagram Live to share HERstory. Every Wednesday our community (Ladybugs) features a Lady of the Week to commend, celebrate, and clap for to show her how much we believe in giving women their roses now. I was inspired to do this by the Jet Magazine growing up that featured a "Jet Beauty of the Week." When I reach out to a woman I don't know and tell her I want to feature her as my Lady of the Week, she's blown away and always says "who me?" The fulfilling part is knowing that I'm choosing to use my platform to share with other women a moment to honor and celebrate that's captured and forever lives on Instagram live, YouTube and my website for other women to enjoy. We're currently in season two now of the series, booked through July and connecting with women who're doing amazing things people need to hear about. 
The second way the brand is making a difference is through my branded merchandise that's sold on the website. I have so many messages, videos, emails, pictures of women from all around the world telling me why they bought it, what it means to them and how it makes them feel. The response has been so overwhelming we had to open up "Spotlight Saturday" to show off our community of women cheering each other on. This truly has been humbling to me and reminds me of a piece of advice my sister once gave me, she said "Tania the internet is bigger than your friends." I'm living proof of that and it feels amazing! 
For more on Tania Richardson, click here
Stay connected with Tania Richardson on Instagram and Facebook.
This feature was submitted by Nikki Gillis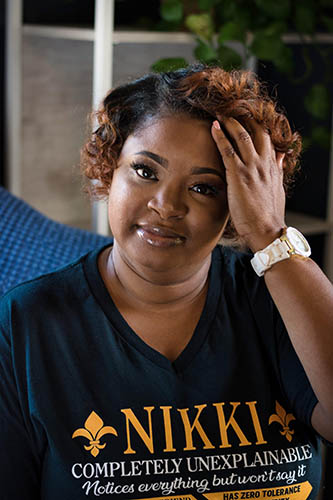 Nikki Gillis is a prolific writer with a dedication to self-awareness from Winston Salem, NC. For 12 years now, Nikki's style of ghostwriting has been echoing behind the scenes in several leading industries. Her focus is to remain a rarely seen "publishing insider" of high-quality content with a surgical ear for music that feeds the soul.