Actress, Akira Akbar will star in the upcoming Netflix film We Can Be Heroes alongside Priyanka Chopra and Christian Slater! The film follows the journey of children of superheroes that must join forces in order to save their parents from alien invaders! We've seen Akbar in many hit shows such as Netflix's Family Reunion, This Is Us, and much more. Naturally, we had to speak with her about her role in the highly anticipated film, set to premiere on the popular streaming platform in 2021. In our exclusive interview with her, she discussed quarantine life as an actress, what we can expect to see in the upcoming film, and much more!
Tell us what we can expect to see in the upcoming Netflix film, We Can Be Heroes.
We Can Be Heroes is about 11 kid superheroes teaming up to save their parents from an alien invasion. I think it's a super cool movie, especially for kids to watch because it shows that kids can be as strong and powerful as adults. Also, there are really cool scenes with visual/special effects; they even blew my mind seeing them, and I am in the film.
What was it like appearing in hit shows such as This Is Us and Netflix's Family Reunion?
It was such an awesome experience being in "This Is Us" because I got to show my ballet skills and I'm super grateful because not everyone gets that experience. Also being in Netflix's "Family Reunion" was so much fun because I got to work with other kids and now everyone is like family. Also being able to play very different characters is just super dope.
How has quarantine life been for you?
Quarantine life has just been really different. The pandemic slowed and shut everything down, but I wouldn't say everything is super slow because I have done quite a lot considering. With most things being virtual I think it's made a lot of things easier, like I don't have to wake extra early to be somewhere but instead I could just get ready in 10 minutes and be on zoom.
What are you currently working on and what can we expect to see from you in the future?
Right now I'm currently getting ready for the movie to come out but I also just filmed a movie called "Love You Anyway" with Wayfarer Studio that should be coming in early 2021! Also, I'm working on a series I can't say the name yet but stay tuned!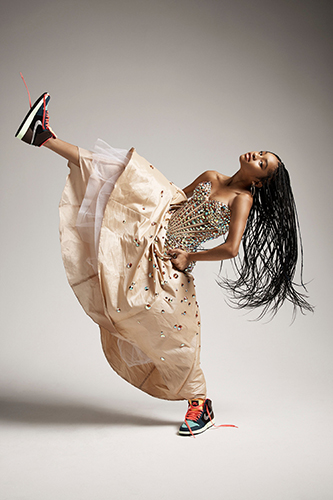 For more on Akira Akbar, follow her on Facebook & Instagram.
CREDITS
Photographer: Robyn Breen Shinn with The Good Brigade
Wardrobe Stylist: Sister Styling
Makeup: Christina Roberson 
Hair: Kendria "Kitty" Spratt