When they say some people are just born with it; they were definitely talking about the wildly talented dancer and choreographer known as Swagg. In fact, when his Oakland, CA dance teacher first laid eyes on 4-year old Lil' Swagg – he knew he was something special.
When we asked the 24-year-old choreographer what inspired him to be a dancer, he said it came to him as a kid. "I started creating choreography at a young age of 9 years old from attending conventions," Swagg said. "I began teaching my first Hip Hop class at New Style Motherlode, Oakland, CA when I was in the 8th grade. I was the youngest teacher in the Bay Area."
From his first dance crew at New Style Motherlode to his gigs with the Golden State Warriors Jr. Jam Squad, the Kids Choice Awards, and the Just Dance Disney video-game, Swagg has an impressive resume and has done so much in such a short time in the dance and choreography world.
It's undeniable that the talented young choreographer, dancer, actor, model, and graduate of Oakland School of the Arts School of Dance has an unmatchable focus and work ethic… and unstoppable motivation to match!
Swagg has collaborated with popular working choreographers in the dance industry as well as legends in the music business. He has had the honor of performing with Janet Jackson at the 2018 Billboard Awards, Nicki Minaj at the 2017 Billboard Awards, and Childish Gambino at the 2019 Coachella. He was also featured in Selena Gomez's music video "Kill 'Em With Kindness" and was cast in MTV's Going Off series.
Swagg admitted to us that working with Janet Jackson was a special day for him. "It was truly a dream come true. She has been on my list of people to work with, said the inspired choreographer. She was amazing to work with and I will never forget that experience."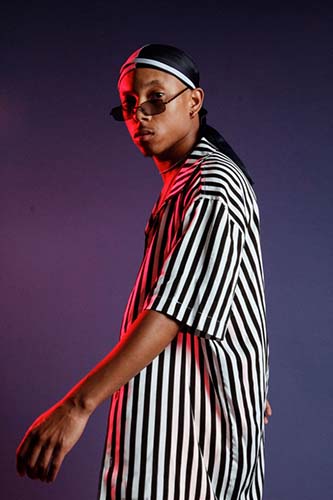 The creative young dancer, who now has aspirations to work with Rihanna, has been "holding up pretty well" during the pandemic and said, "I'm finding other outlets to remain sane and educating myself on issues I'm passionate about as well as pouring, supporting, and collaborating with black businesses in my community."
His latest attention-grabbing choreography creation, a dance called "Swagg Bouncee," has gone viral all over the world, with Chloe X Halle even doing it in their new video. Swagg was thrilled! "It made me feel awesome and appreciated to know it hit many platforms. I'm happy to know people enjoy doing my dance and they send me their videos from all over the world."
The dancer said "Swagg Bouncee" was inspired by some time well spent with friends. "I was hanging out with a bunch of friends and we were joking around dancing. I was inspired to incorporate this dance move before in the choreography I was creating. I posted a small clip and it went viral, which created the Swagg Bouncee."
He admitted he was surprised when asked if he thought the dance would go viral. "No, it was highly unexpected I didn't expect it to go viral at all. I was so honored that people were seeing this all over the world and posting their version."
This is just the beginning of success for this talented choreographer. Be sure to look for his name behind the most popular new dance moves of this century!
All images courtesy of SWAGG