Here are SHEEN Magazine, you guys know we love the Onyx Family. Their tight-knit bond and love for one another is not only inspiring, but it has helped them surpass their own individual goals as well as the goals they set as a family in the entertainment space. The family, consisting of Mirthell, Rita, Shalom, Sinead, Sade, and Shiloh are admired by people around the world. They've accumulated over six million subscfribers and over three billion views in content! We had the chance to sit down with the family to discuss everything from the new show Onyx Family Dinner and what is coming from them in 2022.
Tell us what inspired Onyx Family Dinner?
The inspiration behind the show Onyx Family Dinner was how much we as a family value spending time together, especially around the dinner table. It has been our experience that families that have dinner together form stronger bonds, primarily through conversations. We want to share this experience with our audience.
What can viewers expect to see?
What's great about the Onyx Family Dinner is that we are talking about the very topics that are on the hearts and minds of many Americans, but perhaps the greatest part is how the show highlights the importance of how best to have these difficult conversations. We showcase the importance of listening, conflict resolution, decision making, understanding other points of view, and trying to make sense of the world.
What do you all hope each viewer takes away from each episode that is released?
The Onyx Family mission is to "Tell the story, Feed the soul, Make them laugh, Heal the heart". In this particular project and show, we hope we can inspire our audience to become agents of change through conversation by talking, listening, sharing, and blessing each other with the gift of understanding in hopes to make our world a better place.
What are you all working on now and what can we expect to see from the Onyx family in 2022?
The Onyx Family has several exciting projects coming in the near future. One of the projects we have just finished and are presently launching is the second season of an animation based on our family called Onyx Monster Mysteries. This production by Pocketwatch Inc. highlights our family in funny and fun scenarios showing compassion towards misunderstood monsters. The mantra is 'Save the Monsters, Save the World', a mindset that that encourages us all to spend less time looking for monsters to blame, and more time making sure not to become a monster towards others.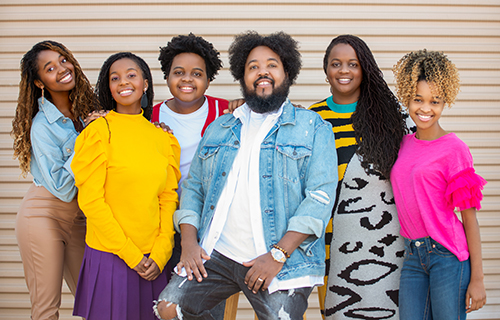 For more on The Onyx Family, click here.
All images by Gianna Snell Photography