To escape reality, some are partial to the luxury of exotic travel or a simple trip to the movies, but New York Times and Indie bestselling author; Ayana Gray has created a world of escapism with many compartments. The author of the young adult fantasy novel Beasts of Prey, sat down with SHEEN Magazine to discuss her creative writing process, the importance of reading in the Black community, and using the worlds she creates to form a collective safe space for young Black readers. With an upcoming film adaptation with Netflix and the second installation of the trilogy, Beasts of Ruin, Ayana has created a fanciful genre transcending across all ages and races.
"I often describe the book as a pan-african fantasy story."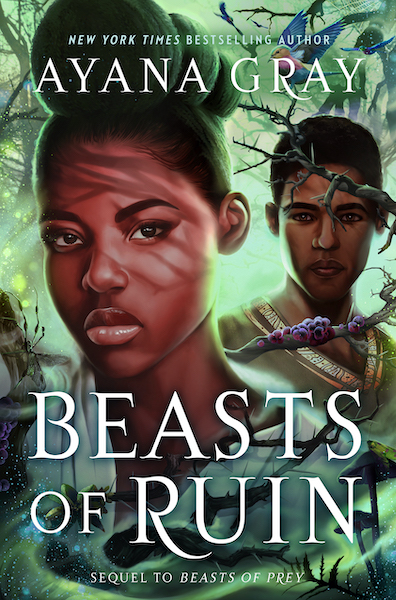 The bestselling story tells the tale of Koffi and Ekon two young heroes whose paths cross forcing them into the boundless Greater Jungle while on a quest surrounding the Shetani, a beast that has been terrorizing the pairs villages for almost almost a century. In this tale of courage, curiosity, and magic Ayana is able to create a setting in which we all are able to follow Koffi and Akon through the once magical city of Lkossa!
When asked about her creative process as an author Ayana states,
"Like a lot of writers, I tend to enjoy writing what I grew up loving to read, and I was a fantasy kid! So my writing process always starts with creating the world and what kind of stories fit within this world and what kind of characters fit within the story."
The young author not only holds a degree in political science but in African and African-American studies. She describes her opportunities to study political violence as it relates to the ideas or concepts of good and evil, even studying abroad in Ghana, West Africa. These elements along with the author's love of fantasy and mythology all came together to create the story that thousands of readers across the world have grown to love.
Now translated into 10 languages across 5 continents, Beasts of Prey has served as a story that conveys with all ages, and backgrounds. Ayana went on to describe the feeling of having a story globally shift how readers are able to relate.
"It really is the dream, it's an outer body experience to think about. My book, my story that I've created in my head is now in languages I don't even speak, but what I think about as a children's author are the kids and now that kids who may not even speak english now have a chance to meet Koffi and Ekon and really enjoy this adventure. It just makes me so excited for this larger community."
While praising Ayana on creating such a magical story we asked her about her own personal expectations as an author,
"To be honest with you, as a Black woman we are often taught to think small, to dream small, and to just be grateful for whatever we're given so I kept my expectations very low in the event that I was disappointed, but this surpasses anything I could have imagined. The dream has just grown and gotten progressively bigger"
With such an intricate tale centered not only on our identity as African people, but our resilience when faced with obstacles, Beast of Prey is now being adapted into a Netflix feature film. Ayana went on to talk about the process of bringing Koffi and Ekons story off the pages and onto the screens.
"This is one of those things that every author dreams about, So I wanted to be very intentional with the team we put together. Our screenwriter Melody Cooper is also a Black woman, and she really was able to translate and dissect pieces of the story and ensure that characters like Koffi and Ekon were centered as unapologetically black and that our Blackness be celebrated in both the character development but also in the nuances within, but also in the world that these characters exists. The representation for me was the most important and she did an amazing job.
For more on Ayana Gray, please check out the Nov/Dec issue of SHEEN Magazine hitting stands on Tuesday, October 27th.
Photo Credit Ayana Gray
Connect with Ayana Gray: