Good music, good food, and good times are about to fill the City of Miami Gardens, with a weekend of the finest sounds of jazz, soul, reggae, R&B, and gospel, a plethora of diverse cuisines and an assortment of vendors, topped with sunshine and Irie vibes.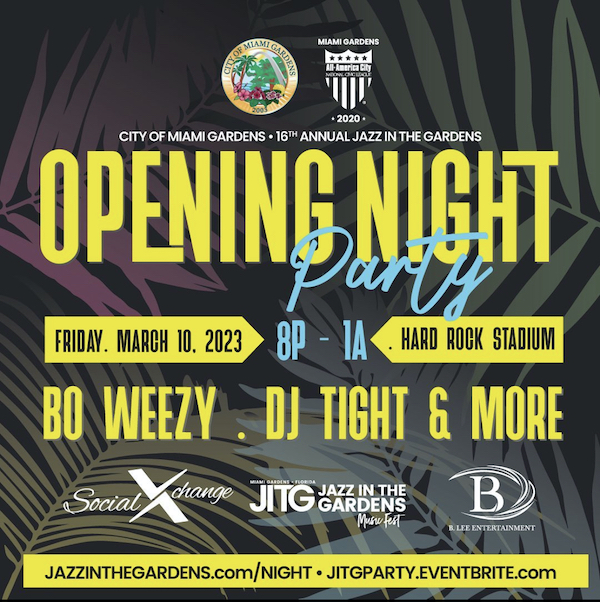 SHEEN Magazine spoke with Mayor Rodney Harris about the impact Jazz in the Gardens has had on the city of Miami Gardens, home to the largest city of African Americans. The first Mayor and the first Black Woman Mayor of Miami Gardens, Shirley Gibson, started the inaugural Jazz in the Gardens and the Women's Luncheon during Women's History month sixteen years ago and Mayor Harris continues to carry that tradition. Mayor Harris says that for the past sixteen years, JITG brings out about 50,000 people the weekend of the festival, boosting not only the economy of the city of Miami Gardens, but also the entire South Florida region. National and local businesses in the area, reap the benefits of the influx of traffic from JITG.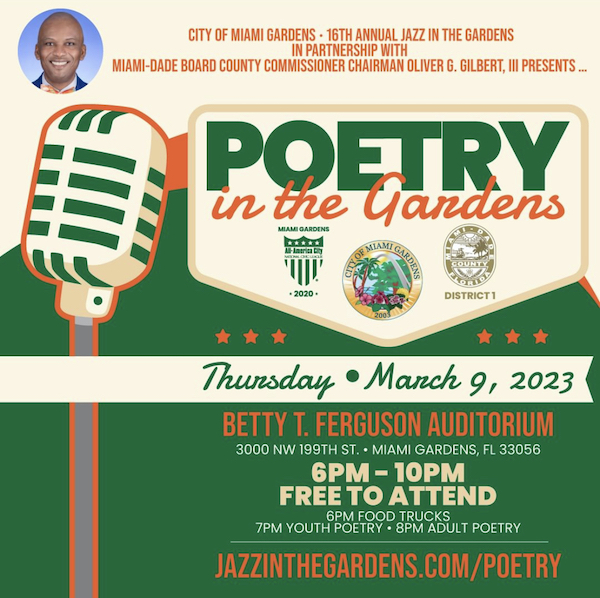 Mayor Harris considers Jazz in the Gardens, the city's annual cookout, that everyone is invited too. "It's not just a concert, it's an experience." Mayor Harris says he is personally looking forward to a possibility of joining the stage with the iconic, Charlie Wilson. Uncle Charlie has a history of showing up and showing out locally and internationally, from community events to performing for troops overseas. Speaking of uncles, when asked if what Charlemagne the God of iHeart Radio's, The Breakfast Club says is true about the craziest people coming from all of Florida, Mayor Harris laughs and invites Uncle Charla to come to the sunshine state to talk about it.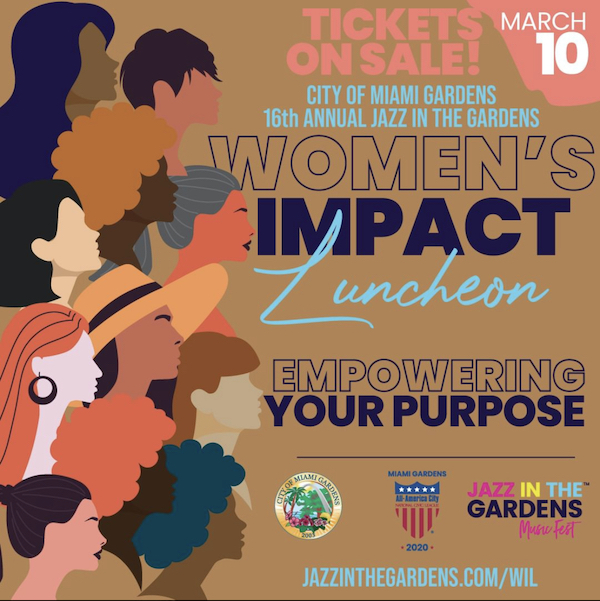 JITG's Poetry in the Gardens is a free event, being held at the Betty T. Ferguson Auditorium on March 9th. Back by popular demand, on March 10th the festival recognizes and celebrates Women's History Month with the Women's Impact Luncheon, in which revelers and surprise, esteemed guest orators will gather and exchange energy and enlightenment. Tickets have mostly sold out, even without the list of speakers having been revealed, which is a huge indicator of the love and loyalty the supporters have for Jazz in the Gardens and why it is still one of the biggest events of the year. Later that evening, The Opening Night Party will kick off the festivities at the Hard Rock Stadium.
The list of musicians showing up to share their catalogues with their fans, is a brilliant one. Saturday, March 11th, the gardens will be serenaded by Jill Scott, Jodeci, Ari Lennox, El Debarge, and Adam Blackstone. Then on Sunday, be engrossed in the sounds being emitted from Erykah Badu, Charlie Wilson, Sean Paul, Keyshia Cole, and Mike Phillips. Chandler Moore, Pastor Mike Jr., and Kierra Sheard will close out the weekend with a gospel grand finale. Parking lots open at 2, gates open at 3, and performances begin at 4pm.  
Follow @jazzgardens and @mayorrharris on IG and snag what's left of the Single and Two-Day tickets available for JITG at JazzInTheGardens.com
Images provided by Jazz in the Gardens