Should we go back and recapture the night of NYE right before the ball drop. Yes, NYE.
I remember having a great night at church with friends. Getting ready for a new beginning. I was setting my eyes on 2020. This was supposed to be the year that everything came together for me. This was supposed to be a moment in my history where I fought back against Systemic Racism. I was gearing for a court hearing where my voice would be heard. It was supposed to be a season of change. Instead, what looked like a battle I faced all of 2019, became a nationwide battle where people were fighting all over the earth. What I saw in 2019 was only the beginning of what was coming in 2020.
As we counted down the time, to ring into the new year this could not be what any of us imagined. What happened to peace, joy, and prosperity? What happened to making this being our best year? There were so many expectations for the year 2020 and it turned out nothing anyone of us could have foreseen. What about the unforeseen?
I would have never imagined seeing the life of George Floyd being taken before my eyes. Racism in our country has been an issue for over 400 years, but to hear a man say I can't breathe and die before our eyes was alarming; it was the beginning of a stance. People were no longer turning their heads to the unjust of police brutality. We were no longer accepting the prejudice systems that allowed people of color to be slaughtered like animals with no consequences. We were shedding light on darkness and unveiling a history of wrongful behavior that has gone on for way to long. It was overdue that we fought back in unity. Our country stood united in an area that our ancestors had given their lives for. We were beginning to see the work of Dr. King, the work of Malcolm X, and the work of our leaders that have fought hard so that we could be treated differently.
As we marched into Spring, Covid 19 struck us unalarming, leading our nation into a frenzy; with the unsurety of how to assess it symptoms that were changing daily. Doctors could not quite grasp a grip on it. As we fought through racial divisiveness and as nations watched another African American lose their life to police brutality, the earth was under a greater attack. People were dying daily; the numbers have been on the rise, and there was never a right way to decipher the symptoms.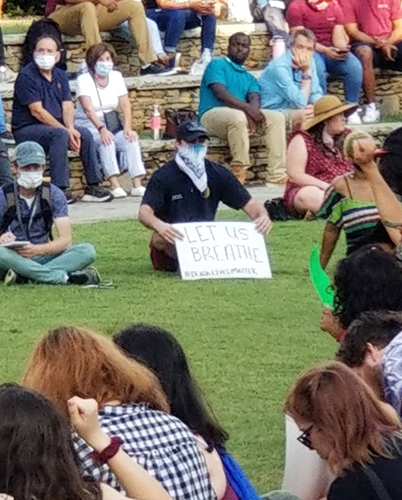 Was 2020 the entrance to a new beginning? Or was the attack of 2020 necessary so that we could identify that there is an unaddressed issue and it was time for change. I believe sometimes we must feel the aches and pain before we can begin to heal. Sometimes we have to identify the causes of the problembefore we can come up with a diagnosis. And we have to FIGHT back to gain a solution. Make them hear our voices so that people will know that we will arise to the occasion. NO JUSTICE, NO PEACE.
2020 was the beginning of a fight for change. Our lives have been turned upside down, but it has all been meaningful. Some people are rising in unity and standing for equality for all, while others are unmasking their true identity and boldly expressing their hates for blacks. There is a lot of hate, anger, and bitterness set into the earth.
As things dismantle and unfold just remember this is a part of HIStory and let's hope that this is the beginning of correction made to the earth. It is time that the earth's true identity become unveiled and taken back. It is time that we move forward as one. It may feel like we cannot breathe, but when we all can breathe together, we will begin to experience change.