They say difficult times show us the truth of who we are!
It is indeed funny how difficult times reveal our character and what we are truly made of. This is the backdrop for history in the making for twenty-six Authors who used this mantra to chronicle the truth about life in 2020 and the people who survived it.
Today, is the official launch day for the much talked about book, 'Lessons from Covid 19, 2020 – 26 stories one pandemic' It's no secret that 2020 was a unique year, so when God gave Dr. Joan Wright-Good, CEO of JWG Publishing House the idea to gather a group of professionals, pastors, wives, mothers – single and married, entrepreneurs, coaches, prophets, front-line health workers, fathers and educators from different persuasions, countries, and cultures to contribute to a global historical artifact, by sharing their covid-19, 2020 experiences and take-aways, she had no precocity that a national treasure would have been the result. She knew it would be a source of history for decades to come but she had no idea that within the pages readers would find healing and resolution.
"I am reading the book and I am so moved by the strength of these people, OMG this is truly amazing. I cried, laughed, made notes and actually could relate to a few of the moms" says Lisa Blair, a Canadian reader who gave the compelling a book 5/5 star rating!
The book Lessons from Covid 19, 2020 – 26 stories one pandemic, is one of the leading descriptive source and language, of 2020. The book will be ubiquitous in the publishing industry, in resource interchange, and the global transformation space. This is partly due to the dynamic diversity of the authors and their stories. This book serves as a generational posterity, with some optional subject matter interludes, giving you the chance to take away as much as your reading pallet can take. Lessons from Covid 19, 2020 – 26 stories one pandemic is suitable for everyone. You will discover how people from five different countries, several U.S. States and the Caribbean dealt with the global impact of COVID-19 and the year 2020 on a whole, the lessons they learned, and the ones they are leaving in the library of congress for generations to come.
The book hits shelves yesterday, and in one hour, authors, Dei Tatum, Marva Bozeman, Sharon Patterson-Capek, Petula Barclay, Stacey Emerson, Sonia White, Rosetta Hutchinson, Tameka Echols, James Steward, Sunita White, Sharon Samms, Diana Sharpe, Robert Marshall, Shedly Casseus- Parnther, Nicole Small-Fletcher, Keesha Barreau, Cherolyn Davis, The Aderele's, GraceAnn Long, Lawanda Harris, Que Johnson, Aldith Lowe Punitha Rathnam, Carlene Wright, Genevieve Carvil-Harris, Mya Smith Edmonds became Amazon bestsellers!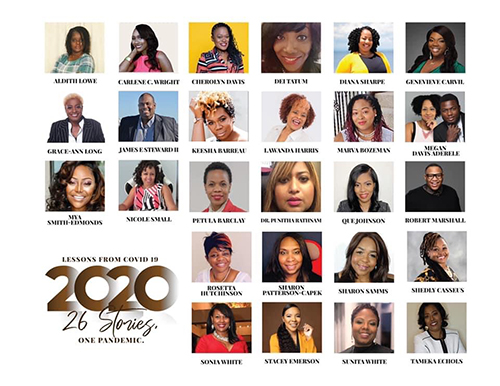 "This book is about educational posterity, and we would love the support of everyone who survived 2020. Know that if you survived 2020, the elections, the ugly of racism or covid-19, you can survive anything life throws your way! You are not just a survivor, you are more than a conqueror and everyone who resonates with this message should get a copy of the book as a reminder when the enemy or life challenges come in like a flood. They can rest assured knowing that God will lift up a standard against them on their behalf" declares the visionary of the collaboration project, Dr. Joan Wright-Good.
Dr. Joan Wright-Good is the CEO, of Business Startup & Marketing Solutions LLC and Founder, of JWG Publishing House with offices, in Boca Raton, Florida, and Alpharetta, Georgia.
Follow Joan Wright-Good on Instagram today.
Click here for more information and visit Joan Wright-Good's website.
All images by Joan Wright-Good