A good t-shirt never goes out of style, it's a wardrobe staple for both men and women when they want to put on something classic yet timeless.  Unlike many other fashion trends that fade out, a t-shirt never gets old or boring. Not only can you pair it with just about any item in your closet, but you also have several different versions to choose from. From plain, tunic, crop, fitted, or graphic tees, you can't go wrong when you're looking for something simple that makes a statement.
In the year 2020, the newest trend among the tee community is to send a message loud and clear in print. Right now is a moment to stand for something literally and figuratively. Rather you are speaking up on the behalf of the culture like Tamika D. Mallory or you're making a statement with your clothing, it all counts towards the movement and helping to push the culture forward.
When it comes to making a statement and supporting Black-Owned businesses, it's not about taking a stance against anyone else, it's about giving an equal opportunity to P.O.C's and supporting their brands the same way we would our favorite top designers. It's okay to want your Gucci, Louie, Prada, but learning to support independent designers and small businesses could make or break the mold of the current industry.
There are quite a few black-owned t-shirt brands that are setting their mark. From paying homage to OG's like Nina Simone to eye-catching phrases that are sure to stop you in your tracks, these brands are making people want to add more t-shirts to their wardrobe. Here are a few of the brands representing the culture and ones that come highly recommended on my end, take a peek below:
9th Cason, Founder Eugenia Cason, Washington DC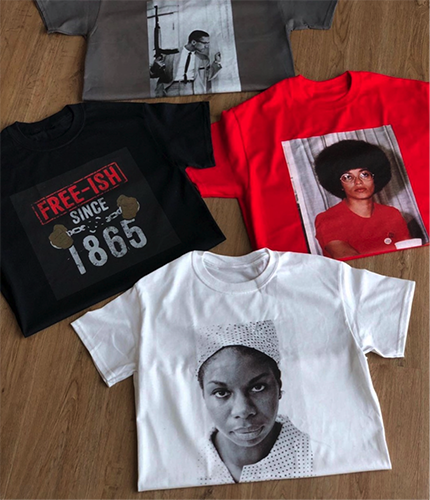 Founded in 2013 by Eugenia Cason, 9th Cason started off as a brand catering to women looking for one– kind high-end custom garments. Moving into 2020 the brand took a different turn and decided to create custom t-shirts paying homage to some of the most influential black pioneers thru out the decades.
"My vision for 9th Cason has always been to promote Black positive images and stories thru my brand. My t-shirt line is not only a fashion brand but a daily reminder that we have always been and continue to be innovators. I pay homage to those before us and to the greats who are still here breaking down barriers for women and men of color."
SKRUED, Founder Mike Catlett, Baltimore, MD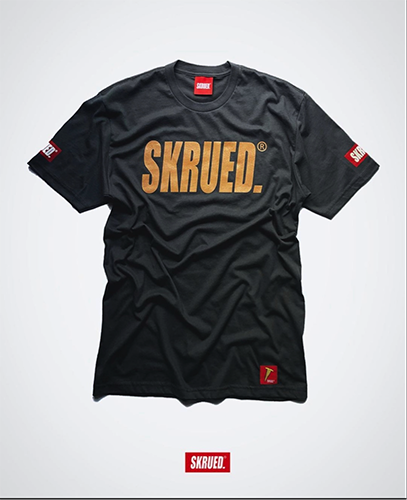 SKRUED is not only a streetwear brand, its a reflection of black culture. From designs inspired by hip hop lyrics to affirmations surrounding social injustices and mental health, the brand has discovered ways to reach different demographics. SKRUED apparel has been seen on VH1, Revolt TV, and The Breakfast Club to name a few.
"Though the brand has gained success, the ultimate goal is to inspire as many people as possible to embrace their passion. Like an actual screw, the mission is to reach the core of individuals through inspiration. As this phenomenon continues to occur, it connects said individuals together, creating a powerful movement of innovators and creatives. "
Greenwood Dist., Charlotte, NC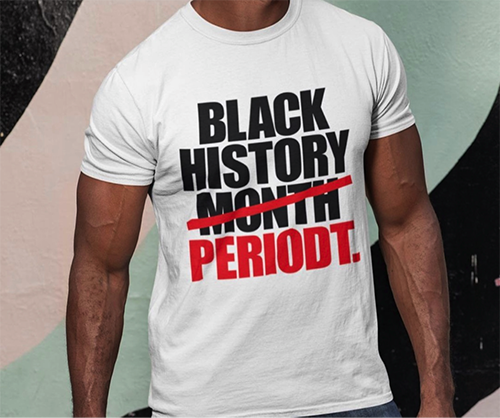 Greenwood Dist. was launched to prove that a black-owned business can celebrate black excellence and the black experience, while still making high-quality clothes. Greenwood Dist. is short for Greenwood District, which as many of you know is located in Tulsa, Oklahoma, and was one of the most prominent concentrations of African-American business in the US. It was popularly known as Black Wall Street. The central message of the Greenwood District community was ownership, and having a voice in the industries that we largely support.
"Fashion and popular culture has oftentimes been determined by African-Americans and hip-hop culture. But time and time again we don't see anyone that looks like us represented in the boardrooms of some of the biggest brands that we support. So we're not here to tell you not to shop at these other companies, we're just here to tell you that you have options. Quality and Consciousness aren't mutually exclusive. You can have both." 
Collage, Founder Harcourt Igwekala, Los Angeles CA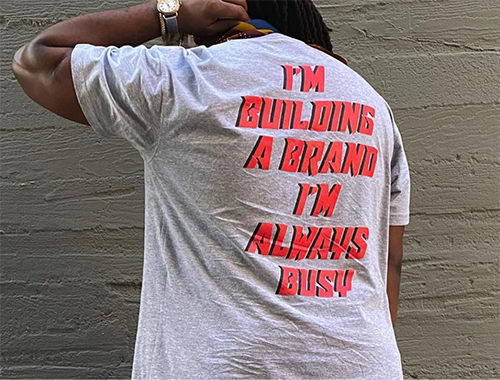 Founded in 2019 by Harcourt Igwekala, Collage was established in Los Angeles, CA. The idea and concept behind the brand were created in his hometown Chicago. Chicago provided the foundation and Los Angeles facilitated the nourishment for Collage to grow.
"The brand's mission is influenced, driven, and inspired by our society, culture, entertainment, and art. By fusing these influences, we cultivate a nostalgic lifestyle ready to wear experience."
"Our Black Lives Matter collection has been our most popular tees. Proceeds from our Black Lives Matter sales go to organizations supporting the movement. Our second most popular collection is our "Goat Pack" that includes a Michael Jordan emoji collage tee and our Black Mamba Kobe Bryant tee.
De Largent, Founders William Harmon, Aaron Griffin, Randal Smart & Matthew Hardin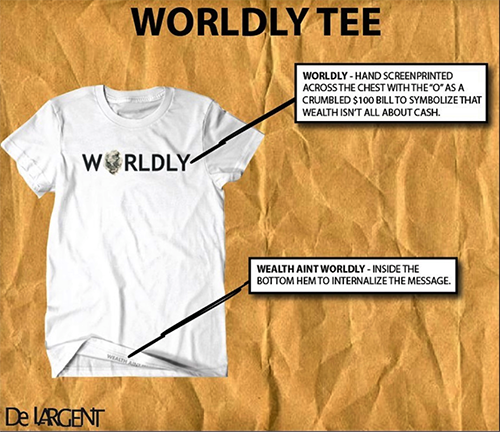 De Largent is built on the ideals of Creating Moments you'll never forget, Living the Mantras you speak, and constant Evolution. All the while understanding that Wealth Ain't Worldly.
"It's pretty simple. We are a group of young guys cultivating a cool clothing line that benefits the people wearing it and the community in which we all live in. We realize that true wealth doesn't lie in the material things, even though we like some of them. It's in the everlasting moments, mantras, and constant evolution where one finds real wealth."