The beauty industry is an ever-changing world of movers and shakers who inspire us and the world around us. To get to the top, you have to have style, confidence, and above all, ambition. Here are 7 Beauty Bosses we adore who exemplify these qualities.
UniKorn Queen
New Orleans native Jesseca Dupart founded cult-favorite brand Kaleidoscope Hair in 2013. In 2018, Kaleidoscope became a million-dollar brand. Since then, Dupart has skyrocketed to the top of the beauty world, most recently expanding on her line of best-selling, restorative hair growth products to include the UniKorn Collection, a capsule designed with frequent stylers and natural hair in mind. When she's not crafting innovative hair products or serving iconic looks, she spends her time with family and giving back to her community.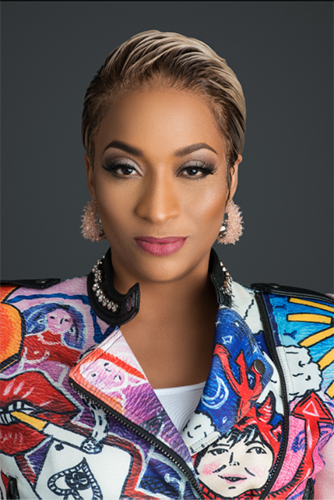 Bold Gold
Beauty Boss Tamika Gibson is the face and mind behind the Bold Hold Lace Tape. As a professional stylist, influencer, and instructor, Gibson's mission is to educate people on essential care for fabulous-looking hair. She accredits her tenacity and go-getter spirit to her time in the US Army. Not a believer in overnight fame, Gibson urges anyone who wants success to always keep pushing and continue learning, no matter where they may be in their career.
The Study of Style
Robyn Bowen, Influencer and CEO of Curl Daze is known for her iconic curls and classic style. When she began to experience issues with hair thinning and loss, she used her background in research to devise an irreverent oil blend that continues to get rave reviews. Bowen expanded her range of products and Curl Daze was born. When asked her 5-year vision for Curl Daze, she had this to say: "In the next 5 years, I see CURLDAZE as one of the biggest brands in the world." Get it, girl!
Naturally, Her Way
When Jummie Ogunyemi suffered from post-partum hair loss that left her with almost no edges, she knew that it was time to take matters into her own hands – literally. She made a vow to create a hair oil for others experiencing the same that would be safe, natural, and effective. Although Glammed Naturally started out as a kitchen brand, creating products to solve Ogunyemi's hair concerns (and later, her children's skin concerns), the line is now an international beauty brand, carrying everything from hair growth supplements to body butters and more.
Unconventional Beauty
The daughter of Ghanian immigrants, Michelle Oblitey aka "Marley", found her passion for outlandish glamour and alternative fashion at a young age. Oblitey's makeup artistry career began while she was still in high school, doing makeup for her friends' events. Tattooed from head-to-toe and inspired by in-your-face performers like Rhianna and Madonna, Oblitey began her makeup line the Glam Goth for others who share her love for all things alternative but don't fit the typical "alt girl" mold. – and don't want to.
Have Your Kaike
Keli Smith believes that less is more. When she founded Kaike in 2014, she set out to create a brand that would solve skincare issues specific to melanin-rich skin, while remaining minimalist yet glamorous. Smith's line is built on products that nourish and heal while making you feel pretty as a piece of cake. Kaike's website asks: "Cake is found at the center of every celebration, and what better way to cultivate and celebrate healthy skin than with a #pieceofkaike?" Don't mind if we do.
The New Nude
KJ Miller + Amanda E. Johnson of Mented were having girls' night when the topic of a struggle that all too many of us face came up – finding a "nude" lipstick that matches melanated skin. It was that conversation that sparked the birth of Mented, a brand firmly rooted in the belief that "every woman should be able to find herself in the world of beauty, no matter her skin tone." To top it off, all Mented products are vegan, paraben-free, non-toxic, and cruelty-free!Building a business is no walk in the park, but these 7 women show us that the climb to the top is not only rewarding but is more than possible with dedication and focus.
Featured Image via Forbes Magazine