Businesswoman, entrepreneur, published author, servant of the Lord, mother, and grandmother are just a few ways Amber Lyons describes herself. With her vibrant personality shining through every moment, Amber's passion for serving others is evident in every thread of her life and career. She is the founder of the nonprofit From Pain to Purpose, Inc. but her work doesn't stop there! Join us to learn more about Amber's impressive career and her beautiful perspective on life in this Sheen Magazine exclusive. 
Who is Amber Lyons?
I'm a born leader with a servant's heart and a woman who loves God. I've served in ministry in various capacities for over 30 years and in leadership as an ordained Pastor in New York City at New Life Cathedral in Brooklyn. When I relocated to Atlanta, I found a new home where I serve as an ordained Elder at Spirit and Truth International Worship Center. I've supported and helped birth the visions of many over the years. My voice has become a beacon of hope amid very dark times in our world.
Tell us about your expertise.
I'm an entrepreneur who emerged from obscurity and a dark time in my life to become a light to others so that they too can not only survive but thrive after life's challenges tried to defeat them. I stand on the scripture from Romans 8:37 that says "Nay, in all these things we are more than conquerors through him that loved us."
I'm an advocate in the fields of Domestic Violence, Teen Dating Violence Awareness, and Youth Empowerment. This inspired my nonprofit, From Pain to Purpose, Inc., which was birthed by the Lord and led to my home church's 1st Domestic Violence Awareness Day in October 2010.
My expertise also extends to the music and entertainment industry as an Artist Manager for my son's music career.
What characteristics do you bring to your profession?
Being a woman of God shapes my life. As an ambassador of the Lord, my life is a testimony to others and, therefore, I strive to live as a woman who maintains her character and integrity wherever she goes and whatever she does. I believe in treating people with love and kindness and am an ardent supporter of rejoicing with others when they rejoice.
My prayer life is the driving force of my faith that God can do everything. I'm an encourager in times that seem hopeless because with God you can and will make it. My mother, Apostle Rosalyn Knox, raised me and my siblings in church to know God and to trust and believe in him.
What advice would you give someone who wants to mirror your success?
Take one step at a time because the race isn't given to the swift, neither to the strong, but to him that endures to the end. This is not a sprint; life is a marathon that takes detours. What matters is that you keep going. I live by the mantra, "Don't stop. Won't stop."
If you quit or give up in the middle of the race, you'll never cross the finish line. Pace yourself, run your own race, and know that your life's purpose isn't someone else's. Compare yourself only to the man or woman in the mirror because that's your biggest competition—to be a better you today than you were yesterday.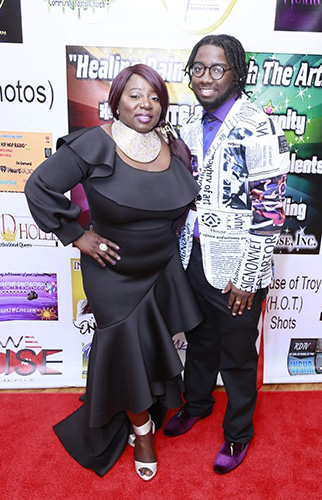 How do you define success?
Success is when preparation meets opportunity! Put your time in, do the work, establish yourself as a viable person/business/brand, and allow people to see that they can depend on you. When you have God as the center of your joy and you treat others better than you want to be treated, that's the goal. Success is birthed from your desire to help others. As you walk in a spirit of humility doing what God calls you to do, God's promise is your gift will make room for you and bring you before great men.
What sense of purpose do you draw from your culture and community?
As the daughter of Baba Elombe and Mama Nomsa Brath, our rich African American culture is deeply rooted in my blood. My late father was an International Pan-Africanist Leader who worked diligently in Harlem and abroad to mobilize the liberation of black, brown, and indigenous people.
The purpose that I've drawn from my community is that we must work intentionally and diligently to pursue peace amongst us as a people so that we can affect a positive change in the world. My purpose is to be a source of strength in the face of backlash, ridicule, and anything the enemy would try to cast upon as us a people.  
Tell us more about your work with youth.
I've been a Youth Advocate, Mentor, and Youth Empowerment Agent for approximately 30 years. I worked with the Partnership in Time Lunch and Learn program, led my church's dance ministry, and taught Sunday School just to name a few.
I founded Healing Pain Through The Arts (HPTTA) Youth Program in 2013 to use arts as a cathartic tool to express and heal pain. The program launched the 1st Healing Pain Through the Arts—Open Mic Night in honor of Teen Dating Violence Awareness month.
Over the years, HPTTA has birthed many platforms including the Teen Spotlight Awards, which honors youth who have overcome life's challenges and are using their talents to inspire others. We honored 11 teens in 2018 and expect to honor 20 teens in 2020.
With the pandemic, we shifted our focus to the Youth Speak Out Podcast, which is livestreamed bi-weekly on Facebook and YouTube and is digitally streamed on six platforms. The podcast features topics like Young and Black in America, COVID-19 Awareness, Mental Health, Goals, and Relationships with a powerful team of youth co-hosts. I am humbled to serve in my newest youth appointment as the Leader of the Young Leaders Club and as the Domestic Violence & Youth Advocate of the Atlanta Chapter with the World Women Conference & Awards global organization.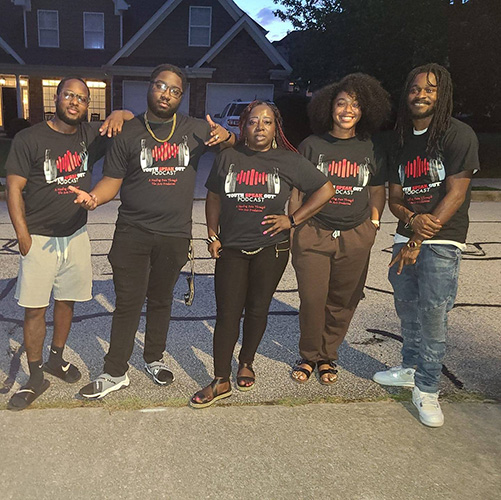 Leave us with a powerful message.
Pain is part of life. The goal is to always be mindful that pain is often connected to our purpose. Your passion is also aligned with your purpose. Connect yourself with a support system that will undergird you during these times because pain is temporary. Always be intentional about fulfilling your life's purpose and not merely existing. Remember that greatness lies within you; however, like the caterpillar, we must emerge from a dark place of metamorphosis into the beautiful light where we can vibrantly live out loud, showing the world that we're all connected for a greater good. What pain are you attached to that's keeping you from your life's purpose? It's time to identify it, be healed, forgive others and yourself, and soar like the butterfly.