Bounce TV has got an exciting new show coming and it's about the life and perspective of four Black men as they navigate life's trials and tribulations. The new show titled, Johnson stars multi-faceted actor, Derrex Brady – a man known for his work in front and behind the camera. Ahead of the release of the new series, we wanted to get all the details! In our exclusive interview with Brady, he opened up to us about his new role, his production company, Skyscope Pictures, and much more!
Tell us about your upcoming show titled Johnson.
I'm really excited about this project! It's been a long time coming. The series explores the worlds of four men [Thomas Q. Jones, Deji LaRay, Phillip Smithey, and myself]. It is executive produced by Cedric The Entertainer. They have a wide range of issues that are complex to their lives such as Black love, politics, interracial relationships, marriage, and how they navigate through life. It premieres August 1st. The four men all went to the same elementary school. They lined up on the blacktop in alphabetical order and found out that the four of us had the same last name. There was no relation. We all had the same last name, Johnson – and we became boys ever since! We've grown up with one another, all in different places of life, and we're there to lift each other up as well as hold each other accountable. It's a different type of show because I don't think we've had a show like this, from a Black male's point of view. It's going to show how we do care about relationships, and that we do talk with each other, and challenge one another. We're definitely feeding off of each other and expressing our different views and you'll see how that correlates with each other.
How is your role in Johnson different than anything you've portrayed previously?
I'd never been with four guys that I'd grown up with and let that resonate as we interact later in life. We all have very distinct personalities. I've never done that and dealt with really tough issues. A lot of times, there's a theme or there's something general that we're trying to solve. I've never really been part of a series that has been a piece of life, dealing with the current climate – with politics or strong views on conviction, and how do stay connected as well as still have a voice. I've never done that. This has definitely been challenging to do but it's been so fun as an actor. I love the fact that our show [while it's still funny] dives into hot topics and issues. We all have very specific ideas about those issues, but we deal with it. I've never had the opportunity to do that on a show before.
What inspired the creation of your production company, Skyscope Pictures?
A friend of mine, who also is an actor [M.D. Walton] is my producing partner. We used to see each other on the acting circuit, and we'd always have great energy, always wished well for one another, and never competitive in a weird way with each other. We saw each other one day and we suggested talking more. I saw that he was working on some writing, and I was as well. We sat down and found out that we want to tell some of the same stories. We had the same view about approach and how to be strategic in what we wanted to tell. We both wanted to tell stories about marginalized communities and give a voice to the voiceless. We wanted to make sure that the stories appeal to the massive audience while giving different perspectives for people to have dialogue that may not have dialogue. We wanted to make people laugh and move you. We decided to do a short called The Championship Round in 2013 and we went to many film festivals and received 19 nominations and won 14 awards. We knew we had something. We were able to bring a really great cast together – Harold Perrineau (Claws), Rutina Wesley (Queen Sugar), and Lawrence Gilliard Jr. (The Wire). We decided to team up and that's when we launched Skyscope Pictures. We're working on a feature now that's called MICHAEL [starring Michael Anthony Spady]. Attached we have our director also producer Anthony Hemingway (The People v. O. J. Simpson: American Crime Story, Genius: Aretha, Shameless). We've been working on the script and getting it tight. We're finally in a position, where we can move forward. My producing partner, M.D. Walton wrote that, and we both produced the short and now we're producing the feature. We have a couple other projects on our slate. We just want to continue to tell stories and give different perspectives, while moving people and entertaining them.
What are you currently working on and what can we expect to see from you in the rest of 2021?
Right now, I'm in promotion mode for Johnson. I'm really excited about it. We've done ten episodes. The first episode airs August 1st on Bounce TV at 8 EST. I just did a film called First, its great story about a young couple that grew up as kids, grew older, and figuring out if they will continue their relationship after time apart. I play the brother to the other lead, William Catlett (Black Lightning). I wrapped that project about a month ago, so I'm excited about that. I'm excited about the remainder of the year and going into 2022.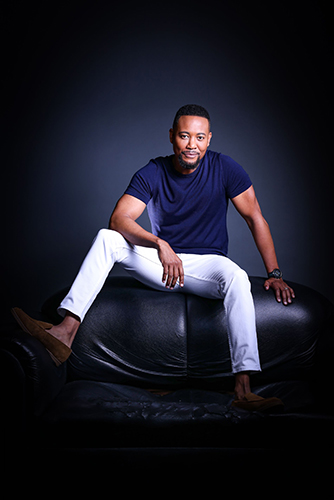 For more on Derrex Brady, follow him on Facebook, Instagram, & Twitter.
All images by Will Utley Photography