Actor, Goya Robles' life journey is truly one to admire. Before he found success and fame, he endured a childhood that ultimately led him to become the strong man he is today. Robles was put in foster care at a young age but decided he wanted a different life for himself. He went to college, found interest in theatre and acting, and drew away from gang life. We caught up with Goya to discuss his breakout role in Get Shorty, how his childhood played a role in the man he is today, and much more!
How did you get into acting?
I actually met this girl that was an actress. I wanted to know more about her. She was in this play and she was so talented. I went to see her perform a second time and I had a different feeling after seeing it again. I was so intrigued. Once I had my undergrad degree, I auditioned for a drama school with my brother. He got in as well and that's really how I got into it. I learned that acting was way different from what I thought it was.
Do you mind sharing with us how you believe your childhood played a role in the man you've become today?
I would say that I've been through a lot of trauma. It gave it a place to exist and channel so that it wouldn't cause me harm. Because of the stuff that I endured, I was a really angry kid. It was through acting where everything felt like it had purpose. I didn't let it take control of me, I channeled it to serve as an understanding for myself and others.
Tell us about your role in Get Shorty. Do you believe you relate to him in real life?
Get Shorty was my break through role. It changed my life. I was working at The Cheesecake Factory and I was working part-time. Get Shorty really was the break through I needed in order to continue in the industry. The industry is tough, you have to find a way to be okay with hearing the word "No" over and over again. This experience has been amazing for me. For my character, I had to ask myself "If I want to make everyone else the reason why I fail, who would I be?" It was that question that allowed me to get out of my element and act. I think I relate to him but I think I'm more of an introvert, I can be super hard on myself. My character, Yago allows me to use my same energy. It was a creative experience and taught me a lot about myself.
What are you currently working on? What can we expect to see from you in the future?
Well, right now I'm currently executive producing a short film called Wonder about an 11-year-old biracial kid who wants to be Wonder Woman for Halloween. It's done amazing at film festivals and hopefully we can expand that project. I also have two features that I'm writing, the main thing is to keep creating.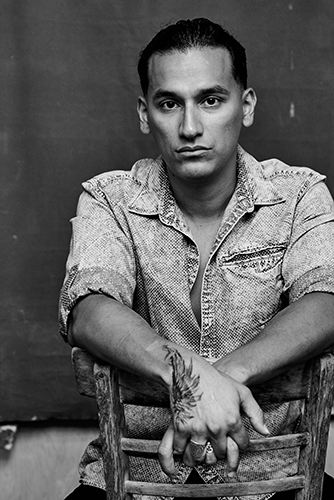 For more on Goya Robles, follow him on Facebook, Instagram, & Twitter.