You may know and love actor, Jermelle Simon from the hit Netflix series, The Upshaws but did you know this talented man is one who has taken his talents far beyond the television screen? The Florence, South Carolina native expanded his impressive resume when he launched his fitness app called J Rambo Hit in hopes of helping others find their love for fitness and wellness. We recently sat down with the actor to discuss the details of his new role on The Upshaws, the fitness app, and much more!
Tell us about your role in Netflix's The Upshaws.
I play Bernard Upshaw, who is the oldest son of Regina and Bernard Upshaw Sr. I'm the child that they had when they were in high school, so they were super young. Kim [Kim Fields] wanted me to make sure that I say teen mom, because I look like I could be her brother (laughs). I play the oldest son and you get to see him go through resentment with his father. They pretty much grew up together. He had an absent father but at least his father is trying. You get to see Bernard figure out what he wants to do with his father as far as a relationship goes. You see Bernard grow up and get to learn himself more and figure out who he is.
What inspired the creation of your fitness app, J Rambo Hit?
Well, I've always been into fitness. A couple of years ago, I started working with a personal trainer. That got addictive. I got addicted to the feeling that I got when I worked out. I felt like I could conquer the world. I wanted to give that to other people. I started taking what I learned from him and applying it to myself. I started personal training and helping other people achieve that same feeling. One thing led to another, and I began teaching classes. When the pandemic hit, I started teaching Zoom classes because I couldn't be there physically. The Zoom classes kind of evolved to the app. I did Zoom but my timing was weird because I had clients from different areas of the world. I wanted to create something that they could go to and do it on their own time. I did a bunch of pre-recorded content and developed this app. Now people can go on and do the workouts whenever they want.
What advice would you offer our readers during this time of COVID-19, whether it be fitness or how to stay inspired as a creative?
For me, I read a lot of books. I think there are a lot of hidden gems in books. Books change your perspective. There is a silver lining in everything. I looked at COVID-19 like, what is this teaching me? Everything slowed down so it allowed me to think, and I think everything has a purpose. It is our goal to find the purpose. Again, for me, during the pandemic it allowed me to really realize what I want out of life. Sometimes the hustle and bustle is moving so fast. You can't really see that. I think during the pandemic, it allowed me to again, really see what I wanted out of life.
What are you currently working on and what can we expect to see from you in 2021?
Honestly, I don't know! I don't know what to expect. Hopefully a season two of The Upshaws. I'm going to put that out there (laughs). I'm constantly adding new videos to the app and bettering my fitness brand. We'll see!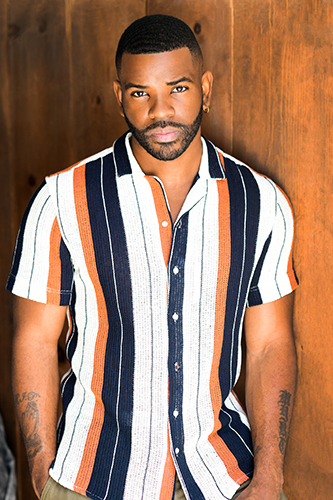 For more on Jermelle Simon, follow him on Facebook, Instagram, & Twitter.
All images by Russell Baer