Hollywood Star Maurice P. Kerry is proof that being passionate and driven pays off. As a Marine Corp veteran and multi-hyphenate entertainer, Kerry's arsenal of talent range from acting, stunt work, and rapping. Trained by legendary stunt workers Michael R. Long and Shelby Swatek, he's done it all – from 40 feet falls, being set on fire, and being hit by cars.
Born and raised in Atlanta, G.A., Kerry credits his southern upbringing for giving him a different perspective that he infuses into his characters. "On this side, we have our own language, traditions, beliefs, and hospitality that help color the stories I am blessed to tell, with colors some may find especially interesting because they are new to them," Kerry tells Sheen.
A fighter with real grit, he always knew that he would overcome everything that was meant to destroy him, from near-death experiences in the military, homelessness, and heartbreak – he's weathered every storm. Just like the underdog stories that he's always loved – Kerry ended up being the real life underdog that he's always rooted for in movies.
"I've always loved a good underdog story. Films like Rocky, Creed, and The Pursuit of Happiness, not only resonated with me but influenced me to always focus on the goal, not the obstacles, a sentiment that was reinforced during my time in the United States Marine Corps," says Kerry.
Kerry sat down with Sheen Magazine to discuss everything from his first starring role in "Urge" to his latest TV role in NBC's "Ordinary Joe."
You recently starred as lead actor in Peter McNeil's drama "Urge," what do you value most about that experience?
Honestly, I value the trust that Peter and Pam McNeil put in me to be the lead in their first full-length feature film. I was cast at the last minute and before this, I played supporting roles in other films and co-starred on television shows. On this set, I experienced the pressures of leading a project, the weight of knowing that everyone is counting on you to bring your "A Game". That challenge eventually became a triumph in knowing that I got this, I got them, they got me, and the project was a success. Thank you Peter Pam.
What makes you feel the most empowered?
Seeing others succeed who previously doubted themselves. I'm a firm believer that if I can, you can. During a workout session, I'll have people saying they got "nothing left in the tank". At that moment that's when the opportunity to stretch just a little farther and push a little harder presents itself. The choice of success and seeing the smile and energy on someone's face when they do what previously "could not be done", gives me that warm and fuzzy feeling in my chest parts. (Laughs).
What was life like behind the scenes of NBC's drama "Ordinary Joe"?
One of the warmest kindest sets I've had the pleasure to be on. I worked 2 days and 2 scenes and on both days the stars and main cast (James Wolk, Anne Ramsey, Charlie Bennett) made me feel like a part of the Ordinary Joe Family. Aces to the production and producers at NBC. I had an especially great experience working with director Peter Hedges, one of the kindest, most patient directors I've had a chance to create with.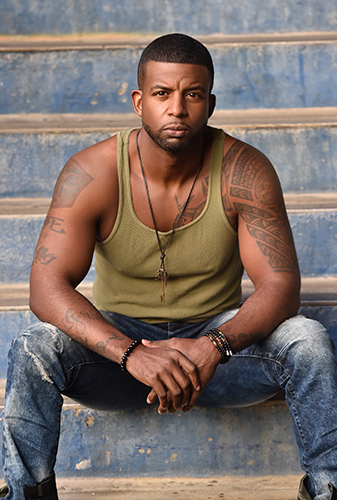 How has the awareness that representation matters influenced the type of roles you say yes to?
I've dealt with this first hand on production and found that I take this seriously. No one likes to be forgotten about or feel unseen. However, even in this, I believe in honest, fair, and balanced representation. Adding or removing a group for the sake of "checking a box" and not because it adds to or further enhances the story is not the answer either. I'm glad the industry is working to do better.
What was your favorite red carpet moment?
My favorite red carpet moment was on Oct 30th, 2021 with the release of the Indie film URGE. Being asked to stay a little longer after the showing for interviews to make sure all the supporting fans got the photos they wanted. Making their nights, made mine.
What are words that you live by?
DON'T QUIT, GRIT!
What can we expect next from you?
More training, more auditions, and more films. I have roles in the upcoming "The First Lady" on Showtime playing opposite the amazing Viola Davis, and many other network projects that I have to keep under wraps for now. I will keep you all updated via IMDB and my social media.
Follow Maurice P. Kerry @MauricePKerry on Instagram and all other social media platforms.
Maurice P. Kerry is represented by Evolution Talent in Atlanta & Managed by Bromfield Entertainment in Los Angeles.
All images by Bjoern Kommerell