You know and love heart throb, Sam Adegoke in CW's hit series, Dynasty, but just recently we were given the chance to see the actor in a different light. Starring as war veteran turned artist in HBO Max's This Is Not a War Story, the film in which he also produced alongside Rosario Dawson, has created a buzz in the world of entertainment. Luckily for us, we had the chance to catch up with Adegoke to discuss all the details surrounding the new season of Dynasty, his experience filming This Is Not a War Story, and much more!
Tell us about your role in CW's Dynasty.
I'm kind of limited on what I can say because the last season left us with a cliffhanger. A gun was fired, and we found that Fallon was shot. Who shot who? Was it Jeff? Was it Culhane? So, we pick back up from there in getting that resolved. We're in the middle of shooting right now. Without seeming too coy, it's going to continue to be that crazy ass drama that you guys expect. Anything I say, I feel like I may ruin the cliffhanger from the last season. But it's going to be a fun one. I feel as if our last season was our strongest yet and the ideas for this one, I believe are going to be even better.
You also star in HBO Max's This Is Not a War Story. Can you share insight on your experience filming that project?
This is such a beautiful project that I feel so blessed to have been a part of. It takes place in New York between Upstate, Brooklyn, and New Jersey. We filmed it in partnership with real life veterans, expanding three generations of war from World War II to the Vietnam War, to the war in Iraq. It's about the universal trauma that we all experienced through the lens of our service men and women. They're trying to reconcile warfare and their purpose. My character, Will is a veteran who did two tours – one in Iraq and Afghanistan. He returns but struggles with his own demons, it builds up this life around him where he serves as a counselor for other veterans. He makes paper out of his uniforms along with other veteran artists, which is a focal point of the story. One of the young mentees he is mentoring ends up committing suicide and it spirals down this path of having to face his own demons. He meets Isabelle, who is struggling with her own demons as she was a PR officer in the Army. They form this relationship and explore one another's past. It's a very non-linear narrative that we really haven't seen when it comes to story about war. I knew nothing about warfare, so I walked into this completely blind – which I found myself struck by this community of real life veterans. I got to sit with them and talk to them about their experiences and the crazy things they've observed. They're just trying to show up every day and come to grips with that. The feedback has been amazing. I'm really grateful and I hope people see it.
Do you believe your Nigerian roots play a big role in your success and drive as an actor?
We came to this country when I was a baby. I am the youngest of seven. It sounds cliché but my parents regularly whooped my ass to do my homework (laughs). They instilled in me the fact that it's a privilege and blessing to be in this country. It's all stuck with me; I know that I'm fortunate to have had the opportunities that I have had. It feels like a higher responsibility to not only do these things for yourself, but also for those that are not as fortunate. I think within five seconds of talking to me, it will always come up that I'm proudly Nigerian. I'm proud to be American as well, but I'm grateful of the Nigerian upbringing that was instilled in me.
What are you working on and what can we expect to see from you in 2022?
Rosario Dawson who is an executive producer on This Is Not a War Story and Talia Lugacy offered me another project, that Talia is writing. We were just ranting about the socioeconomic and racial climate of our world, particularly last summer with Black Lives Matter. It's a story, without saying too much that steeps into that. There is a husband and wife who are dealing with the loss of their son. It explores racial conversations that I think we should be having a lot more in this country. I'm also writing, I'm developing a couple projects right now that are indigenous to Nigeria, so I'm excited about that. We're still rocking away with season five of Dynasty as well, so hopefully folks will continue to watch and look forward to that.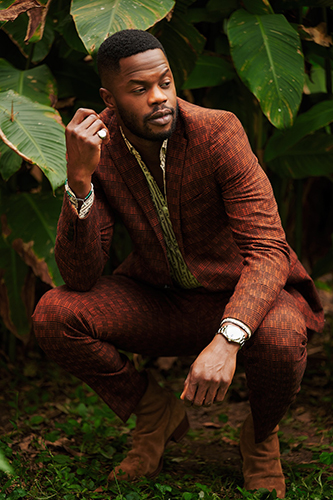 For more on Sam Adegoke, follow him on Facebook, Instagram, & Twitter.
All images provided by Platform Public Relations