Birmingham, England native, Bethany Antonia is continuing to make her mark in the world of entertainment. In her recent debut on the popular streaming series, Netflix, Antonia stars in the new thriller series, Get Even – a thriller adapted from the popular book series, Don't Get Mad. We caught up with Antonia to discuss her exciting new role, quarantine life as an actress, and much more.
How was your experience working on the new thriller series, Get Even?
I had the most incredible time filming Get Even. We filmed the show in Bolton, Manchester which is in the North of England. So the whole cast relocated, and we all lived together throughout the whole of filming. That in itself made the experience very special and unique. The team, both in front and behind the camera, were phenomenal to work with and I learned so much from them all. Getting to take on a role like this has been the goal for such a long time, and it lived up to every expectation. I'm really proud of some of the themes of the show, and the conversations that I am already seeing erupt because of it. 
In what ways do you believe you and the character you portray connect?
I play Margot Rivers, and she is the brains behind all of DGM's missions. Within the group she is known as "The Genius" because she is incredibly intelligent and tech savvy, and she is in charge of sorting out all of the gadgets and software that the girls might use. When we first meet her, she is new to the school and having a very hard time making friends. DGM becomes a safe space for her, where she is allowed to express herself and show off her skills without judgement. We get to see her discovering herself for the first time, and navigating the highs and lows that come when she chooses to embark on the journey towards loving herself. This is where I connect with Margot the most. Having gone through that journey in my own personal life, I used a lot of my own experiences to draw on how she was possibly feeling.
How has quarantine life been for you as an actress?
Although it has been such a strange and scary time, quarantine has been invaluable for me. I was supposed to be filming something, that was postponed due to COVID-19. And everything stopped pretty rapidly on the audition front, so everything that would have been taking the majority of my time stopped, forcing me to fall in love my own company. I started reading books, without worrying about the time, doing yoga, taking myself on really long walks, teaching myself how to cook and make meals from scratch, and started working through my ever-growing list of films and tv programmes to watch. I'm lucky in that I live with my mom, so we spent quarantine together and ended up learning so much more about each other. I found us having conversations that when the world was running at usual pace we wouldn't ever have made time for.  Creatively, it has been tough. Actors and creatives wait so long for jobs to come around in the usual world that adding a pandemic to that made it hard to stay positive at times, but knowing that everyone else was in the same boat was very comforting.  
What can we expect to see from you in the future?
I'm really hoping to have a wide and varied career, working on projects that I enjoy and that mean something to me. There are so many areas of the industry I want to dive into. One of the next big things I would love to do is be in a play or a musical. Quarantine made me realise how much I took the theatre for granted, and how much I miss it. I would also love to come to the US when all of this is over, and make my mark on the industry on your side the globe!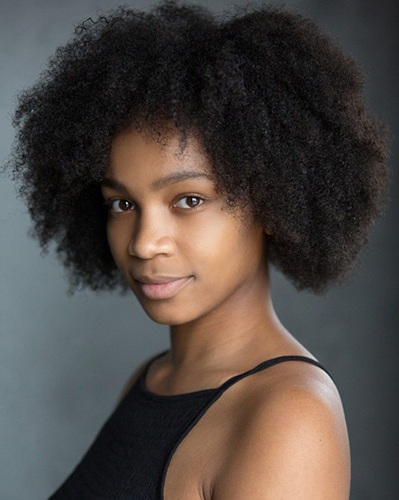 For more on Bethany Antonia, follow her on Instagram & Twitter.
All images by Michael Shelford