The P-Valley Star is a force to be reckoned with, as she impacts a nation.
FOR IMMEDIATE RELEASE
Have you ever properly paired fitness and fashion, like in your mind? It's something about the streamlines of the body that accentuate the wardrobe, and we at SHEEN are so grateful to be in a time where the athletic body is directly tied to the designers' preference of clothing, no matter their subject's size!
SHEEN Magazine, the Ultimate Beauty Guide, is ready to take you on a whimsical journey where fashion and fitness collide! And to commemorate this issue we have enlisted P-Valley Star and bona fied actress, Brandee Evans. With her undeniable talent, resilience, and charisma, Brandee Evans stole our hearts as Mercedes in Starz's guilty pleasure drama, P Valley, but also in real life! The budding actress shares her mission to impact a nation and the immense importance of seizing the moment.
 "I'm just enjoying the moment honestly. It's been such an unexpected blessing. It moves fast. I'm learning to be present." –Brandee Evans
 For our exclusive Beauty Spotlight, Saje Nicole sheds light on the impact of body positivity and why her style staples are important, while Celebrity MUA, Kim Baker discusses her transition from sashaying down the runway to building her own makeup empire. Self-taught makeup artist, Joie "The Golden Nug" dishes on all her beauty secrets for slaying at the gym! For our Hairstylist Spotlight, "The Purpose Pusher" Cherie Amor, talks about the best hairstyles for an active lifestyle. Beauty for the culture! We're honoring the beauty brands that highlight our roots in this issue's SHEEN Beauty Tour.
Our featured Stylist Spotlight, Celebrity Wardrobe Stylist, Daniel Hawkins, gives us insight on his remarkable dent in the world of fashion; as our Designer Spotlight, Renee Hill, proves age ain't nothing but a number, as she skyrockets to her dreams into creating Harx4. Real Estate and financial literacy expert, Suzette Samuel is dominating in her career and shares her gems for success in this issue!
For our Artist Spotlight, Cecil Bernard lets us in on his passion for art, while sharing how his hardships helped earn him success in the long run. Our on the Rise star, Yung BBQ, reveals how being her authentic self ultimately led her to be inducted into Forbes Class of 2021 Top 30 Under 30. Alexa, play "POV" by Ariana Grande. We're getting a look at love, life, and relationships from the point of view of our Mandate Thomas Q. Jones! For Challenge to Change, we're checking in and tackling mental, spiritual, and physical health from the perspective of licensed professional counselor, Deb Fileta! We're highlighting all the hits that made our summer a whole vibe as we strut into the fall season, as we sit down with Yoga guru, Shelby Holly-Page, who admonishes us to dedicate more time into self-care. Expression is everything, and we're connecting the pieces as to how tattoos will forever remain fashionable.
SHEEN Magazine's September/October 2021 The Fitness & Fashion issue hits stands on Tuesday, August 24th.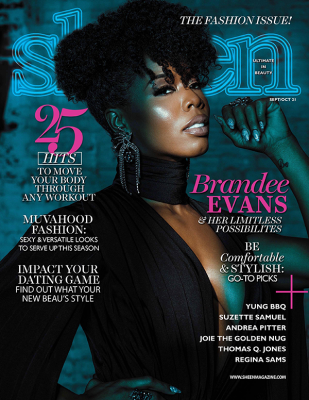 Photography by Blair Deveraux
About SHEEN Magazine
Sheen Magazine is The Ultimate Beauty Guide for the modern day woman. The lifestyle and beauty publication is the preeminent voice on new trends, techniques, and products. Sheen Magazine is a national and international distributed publication. Published bi-monthly, Sheen Magazine maintains its influence by always remaining current on the trends of beauty, fashion, hair, and entertainment. The publication seeks to cultivate, educate, and motivate, encouraging the full potential of their readers. The Ultimate Beauty Guide and can be purchased nationally at Target, Walmart, Walgreens, Books-A-Million, and Barnes & Noble. Visit us online at SheenMagazine.com and follow us on Facebook, Twitter, and Instagram @sheenmagazine.