Talent, young, and beautiful are just a few words to describe Milan Ray. The Baltimore native can be seen on the WONDERYEARS reboot as Keisa – Dean Williams' love interest. Just a couple weeks after the release of this highly anticipated project, we wanted to sit down with Ray to discuss her exciting new role,
Tell us about your role on The Wonder Years.
I play Keisa Clemmons who is Dean's crush and one of his good friends.  Keisa is very confident, strong-willed, and is not afraid to speak her mind and I love that about her! The thing that I love most about Keisa is that she's a really good friend. Oh, and she has great fashion sense too!!
What can we expect to see in The Wonder Years?
This version of The Wonder Years is very similar to the original in that it's still a coming-of-age story that follows 12-year-old Dean as he journeys throughout childhood. It's going to follow themes of family, friendships, and community but will be told from the perspective of a young Black boy living during a very important time in our history. There will be lots of laughter, maybe some tears, but I think that people are definitely going to be entertained by the show. I love that people of all ages and different backgrounds may be able to find something in the show that they can relate to.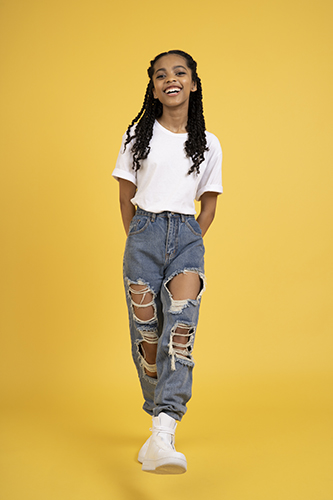 We know you worked alongside legend, Viola Davis in Troop Zero. Do you mind sharing what that was like for you?
I mean where do I start? Working with Viola was an amazing experience! She's such a sweet and down to earth person. Being able to just watch and observe a living legend like Viola Davis on my very first movie was an awesome learning experience. I'll never forget it!
What are you currently working on and what can we expect to see from you in the rest of 2021?
I can't give away specifics just yet, but I am currently working on a pretty cool animation project. Besides that, I'm looking forward to continuing my Wonder Years journey along with any new, exciting opportunities that may come my way.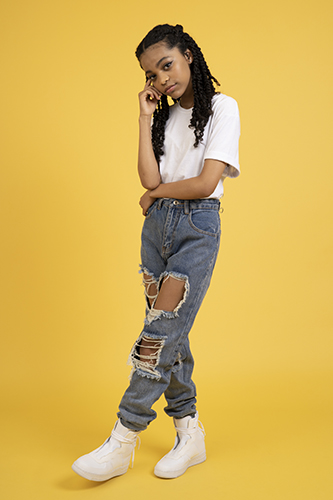 For more on Milan Ray, follow her on Facebook & Instagram.
IMAGE CREDITS
PHOTO CREDIT: CURTIS BAKER
STYLING: STARR FERGUSON
HAIR: Alkhyseam Watson
Male-Up: Nancy Riley James