Award-winning actor, producer, and director Nicole Leier first began her journey as a young actor and has only climbed toward the top of the ladder in the entertainment industry since. Today, she's produced numerous award-winning films and commercial projects for powerhouse companies such as HootSuite and YouTube. In our exclusive interview with Nicole, she opened up to us about her start in entertainment, being a voice for others through her platform, and much more!
How did you get into the world of entertainment?
It started with a love for movies. We all watched movies as kids and from there, it led me to work in high school plays. There was no turning back after that. I've always loved telling stories. Now more than ever, I think it's important to tell these stories in hopes of making the world a better place or for people that may not be represented right now in the entertainment industry.
Tell us why you are so passionate about using your platform and voice to fight for women of color in the entertainment industry?
I think that for all of us right now, I don't believe that it's really a choice. We all really have to use our voices specially to make sure that the future of our industry is a safe place and that it continues to be a safe place for everyone. My passion comes from my love for people. I love people, learning about people and telling their stories. My passion comes from that, especially right now I hope that the stories we are telling are making our industry sustainable and working towards a better place to ensure the industry is in a safe place. Everyone's voice needs to be heard in opening that up. I hope that we can open up the industry and make sure that everyone is represented equally.
Can you tell us about your experience being an advocate for Bite the Bullet Stories?
I love working with Bite the Bullet. They are an amazing outlet. We work together to share stories and amplify people's voices. It's been an amazing experience. You can check us out on our Instagram page. I think it's been a great learning experience working with Bite the Bullet because not everyone feels comfortable sharing their story. It's really opened my mind to all of the different things and aspects of how we're going to change the world but also why it's so important to continue acting, making movies as artists. The world needs us more than ever because I think [in what I've learned working with Bite the Bullet] people need to know that they are not alone. It's been an amazing experience. I'm grateful of them for having me as an ambassador. I'm looking forward to continuing to work with them in the future.
How has quarantine life been for you?
It's been busy. I was first in New York when lockdown started and then I came back home to Los Angeles. I've been here and I've been extremely busy. I've been working on a couple projects. I thought this would be a chill time but I'm wearing my mask, like everyone should be. I've been so busy with my feature film project and voice over projects. There's a lot going via Zoom (laughs). 
What can we expect to see from you in the future?
I'm really excited because I have a feature film that I'm working on through my production company. I'm working an amazing writer and photographer. I'll be acting and directing the film. We start shooting next month so that is my next project. After that, I'll be working on a few television series. I can't say too much about those yet but I'm working on that with my writing partner.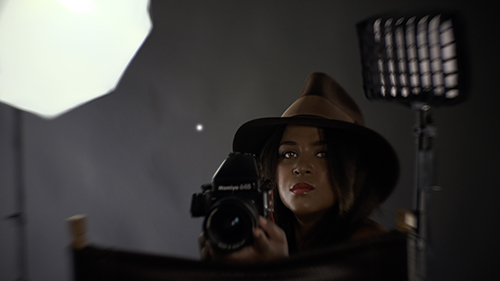 For more on Nicole, follow her on Facebook, Instagram, & Twitter.
All images by Brendan Uegama