Actress, singer, philanthropist, designer – she pretty much does it all. Parker McKenna Posey has spent over 17 years in the world of entertainment. We first saw her grace our television screens at just four years old, and since then she's only risen to the top. Today, we see her as Laila on BET's hit series, Games People Play, but beyond that, she's created her very own non-profit organization titled, Heartstrings Collective. We had the chance to sit down with the talented actress to discuss all the details on what we can expect to see when Games We Play returns to our television screens this fall and much more!
Tell us what we can expect in season two of Games People Play.
You can expect lots of drama of course! This season Laila is going through it (per usual), but you'll get to see a completely different side of her. I had so much fun diving into this character this season… I don't know, maybe even a few cliffhangers will be cleared up – cue evil laugh, (laughs) 
It's clear that women's empowerment is something you are passionate about. Do you mind sharing why this means so much to you?
I think the older I've gotten, and partially me stepping into motherhood and having a daughter, made me realize even more so how important it is to support women and stand up for our rights.  I want to be open and share what I've gone through or share other women's stories and provide the necessary resources and use my platform for a little good. Most importantly, if I can inspire just ONE person with My story or make them feel a little bit more understood and not alone than I did my job! That's my biggest motivation. 
How would you say being a mother has impacted the way you move as an entrepreneur?
It's crazy. I think about so much more now in terms of goals. Even just the future and thinking of ways to create generational wealth! That's what I've been on lately. But I've always been one to be thinking one step ahead, and I think now being a mom has just given me even more fuel power to truly persevere no matter what. Failing isn't an option!
What are you currently working on and what can we expect to see from you in the rest of 2021?
Ahhh! 2021 has already been such a great year, and I look forward to the remaining months. You can catch me in season two of Games People Play on BET premiering October 19th!  In the meantime, I'll be focusing on my foundation "Heartstrings Collective," where we're organizing some giveback events for the holidays. I'm also super excited about a new business venture I'll be revealing very soon that I KNOW all my ladies will appreciate.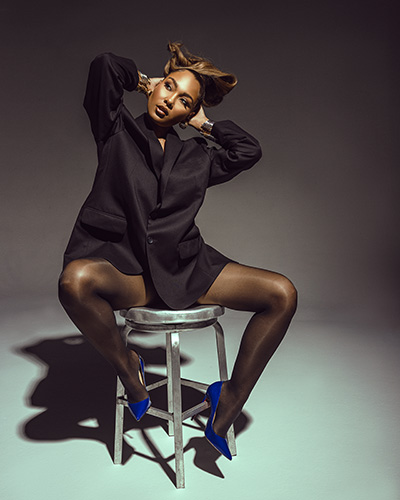 For more on Parker McKenna Posey, follow her on Facebook, Instagram, & Twitter.
All images by Berlin Metaphorik