When we first laid eyes on actress and singer, LeA Robinson on Bravo TV's First Family of Hip-Hop, we knew that she would go far in the world of entertainment. Besides the fact that talent runs in her blood, [she is the granddaughter of musical legend, Sylvia Robinson], she's proven that she is a true work of art on her own terms! Recently, we saw her in season three of FX's POSE – which only backed up what we knew all along! We caught up with Robinson to talk about her projects in all aspects of entertainment, her prestigious title of "Granddaughter of Hip-Hop," and much more.
Tell us about your experience working FX's Pose.
I had the time of my life working on Pose. Honestly, it just confirmed a lot of things for me. It confirmed that God is so real. I literally remember writing down a list of 300 things I wanted God to do for me and that was one of them. I asked Him to put me on one of my favorite television shows, a movie, or something even better. Literally two weeks later, I got the audition. I knew that I got it in my spirit and body. They booked me the next day and the crazy part about it is that I slept with my script. I had it under my pillow. I told God I knew it was my part and to please have them book me. It was amazing. It showed me that you must stay ready for your opportunities, no matter what. I always knew that acting was something that I wanted to do. I knew I had to be ready. They asked me to vogue, I had never vogued a day in my life (laughs). I was just ready for it; I didn't walk with fear. I was ready for my opportunity, and it was super exciting. I loved it! I'm still cool with all my castmates so, I had the time of my life.
How did your new single "Blessed" come about?"
I don't know if people even realize but "Blessed" is like a gospel song. I was talking to my sister and her aunt, her aunt doesn't speak any English, whatsoever so when we communicate, my sister has to translate it. Her aunt basically told her to tell me that I was going to do a song for God, although no one was going to know that it was about God, besides me. I wrote the song, engineered it, mixed it, and mastered it within like 25 minutes. It's actually one of my favorite songs that I have ever done. It feels so good listening to it. The song is nothing but affirmation, it's beautiful. I feel like I needed a song like that for myself, so I had to create it.
Can you tell us about the International Year of Youth with the United Nations?
I did that a couple years back. I have been giving back and it's something that I will always do for the rest of my life. I've been involved with charity organizations and the UN, doing work with them for years. Honestly, I just feel like I am not who I am without giving back to other organizations or people. I want to use my voice to bring awareness to different issues that are happening in the world. When the UN contacted myself and my best friend at the time to work with them, it was a no brainer. I love giving back. If I could sing about an issue to bring awareness to it, then I would love to do that. It was a pleasure working with them. It was dope to be able to spread awareness while also entertaining people. There were so many different types of people of all ages and groups. It's been the most beautiful experience.
Do you feel a lot of pressure holding the title "Granddaughter of Hip Hop"?
I don't. Everyone asks me that (laughs). I feel like I've walked through life coasting. Whatever God has for me is what He has for me. I just stay ready for every opportunity. I don't care what it is. Whether it be a performance, acting, whatever God has for me in my cards, that's what its going to be. I don't add any pressure to myself to be what my family was. I think it's my responsibility to be greater than what they have done, and I think it should be that case with every new generation. I just be living life, I stay ready for my opportunities, and I work hard. That's it. I don't add extra things to my plate or pressure to my life that doesn't need to be there.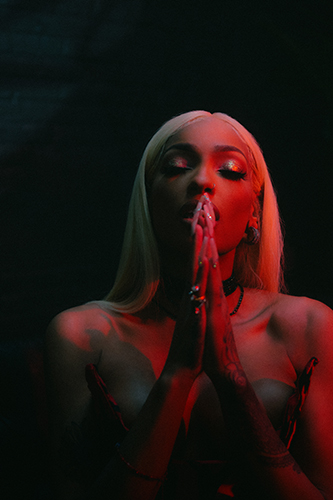 What can we expect to see from you in the rest of 2021?
Girl! Blessings! The way God has His hands on me, it's different. I am one person that He does not play about (laughs). The things that I have prayed for are now happening to and for my life. Within my music, I just feel like it's blessed now (no pun intended). It just feels super different. I'm working on my music project right now, my EP. I'm also doing a lot more acting things and sharpening my tools to be ready for everything that is on the way to me. I pray for a lot and I talk about it a lot. He listens and He shows me that He listens. So many things! My brand is taking off. I have a brand called People Blockers. It's about protecting your peace, your energy, and blocking any negative vibe. I don't do that. There is a lot in store for me. I'm honestly excited about a lot and to see where it takes me. I'm ready for it all.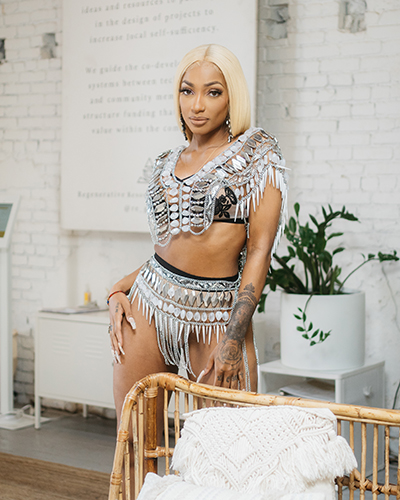 For more on LeA Robinson, follow her on Facebook, Instagram, & Twitter.
All images by 86 Obi