Everyone's favorite life coach is back with an exciting new show! AJ Johnson's new TV One/Cleo TV show, Life Therapy with AJ Johnson explores holistic, wellness, and relationships overall! In an effort to exude positivity in a new light, Johnson's new show features everyday people, familiar faces in entertainment, and so much more! We had the chance to sit down with her to discuss all the details surrounding the new show.
Tell us about the new show Life Therapy with AJ Johnson.
Oh my goodness, where do I start? How much time do you have? (Laughs). I'm excited to present life coaching, healing, and wellness in this new innovative way. I'm excited to executive produce this new platform that brings the accountability to life change and life evolution. We're bringing fun and education to it. Everyone is elevating, including me from a standpoint of taking on a subject matter and clients that are new to me. A couple of people that have called and have asked for help on the show have never handled those situations before. Not only for my growth but for other life workers, I feel like I am an example of the fact that we don't know everything. Sometimes the help and support that someone needs in therapy is to have research and partnership as you journey together. I'm excited about that. The show is interactive, we haven't seen that before either. Sometimes I talk directly to the camera, but I don't want you watching. I want us all to work. You'll get familiar with my processes, what I'm feeling, and more. It's a different take on life coaching and the main mission is to show people that therapy doesn't have to be something that is scary or hard to do. I want our community to start to understand that in times like this, life is hard. We've lost jobs and family members; we're living in a pandemic. The show could not have come at a better time to show people that you don't have to be mind, body, and soul on your own. It's okay to ask for help
What was it like filming this project during the ongoing pandemic?
Well, this was actually one of the easier productions. I was blessed to be working during the whole pandemic. I did a Christmas movie last August, I traveled to St. Thomas for some of the pandemic, Cabo, I went to Africa for Christmas and worked there for three to four months. I learned how to maintain my immune boosting and social distance properly. I kept my hands clean, and I stayed negative for COVID the entire pandemic. This was easy because we did shoot in a bubble. We were not around too many people. My schedule as executive producer and coach really did not give me too much time to do anything. I slept and shot! We did 17-hour days, I didn't have time to do much anyway. It helped me stay focused.
How do you juggle life as an actress, choreographer, and life coach?
Body means nutrition and your best life wholesome. It includes blood health, mental health, all of that. Some people may look at my body and see that I'm fit, but I'm not a trainer. I went to Spelman and received a Psychology degree. I did and do a lot of work with pharmaceutical companies. I like the fact that my education is being used every day as well as my passion for acting. The calling on my life as a life coach is also being used, which I love. It's all by God's design. I don't feel like I'm doing much of anything. I'm trying to keep up with the blessings. Everything else is God-given. I feel like I've been chosen and appointed to a lot of it. Honestly, I want to be an example that you can do it all. You can have it all, don't put a feeling on your life and career.
What are you currently working on and what can we expect to see from you in 2022?
I'm currently promoting 18 episodes of Life Therapy with AJ Johnson. I'm going to rest up as much as I can because I have been in pre-production and production with this project since September. I've got two retreats coming. One will be at the beginning of the New Year in Ghana. Another will be around Valentine's Day for self-love in St. Thomas. I've got another theatrical project that I will be racing to Los Angeles to complete. Finally, I've got another life coaching television show that will also launch in February. God's got me busy!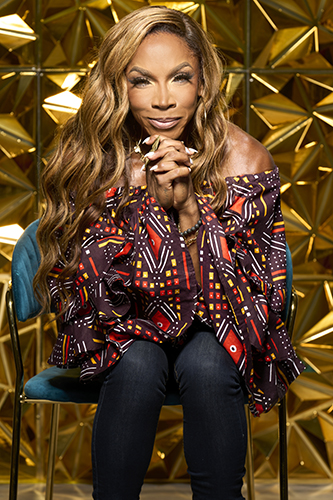 For more on AJ Johnson, follow her on Facebook, Instagram, & Twitter.
All images courtesy of TV One | provided by JL Media PR