AJ Williams is a media personality, spiritual coach, and author with experience in print, radio, and television. Launching her lifestyle brands CHICKDOM and SingleBlackCHICK.com focus on CHICK power and inspiration.
Being a spiritual coach, what exactly does that mean and how did you get started or even lead to such coaching?
A spiritual coach is similar to a life coach — a life coaches typically focus on your external (time management, goal assessment, life/work balance) areas, with a spiritual the focus is more on the internal (life path alignment, self-love/acceptance, overcoming internal self-sabotage, inner-child healing). The beauty of both styles of coaching is they work in tandem because a lot of blockages to living life in an external place begin with our internal well-being.
I've always been innately drawn to spirituality and even astrology as a child. I grew up in a traditional Christian home and was very involved during my youth that my mom who was a minister at the time always said I had a calling to teach. As proceeded through life experiences as an adult I often was drawn back to astrology and begin to take spirituality and religious courses determined to find my own set of truth. It was through this path that I begin to learn that I was an intuitively gifted clairaudient (a person who hears channeled messages from the Universe) and clairsentient (a person who receives physical confirmations such as spiritual chills) empath and had a deep desire to help others heal and evolve by using these skills sets.
I've never felt this alive, fulfilled, and in alignment with my life. It's an amazing space to be in to live in your purpose.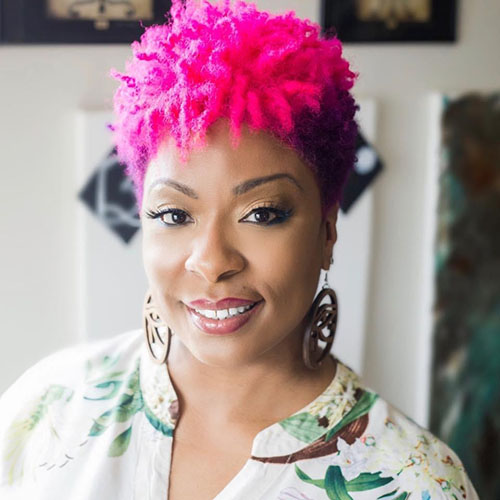 You've recently publicly launched your spiritual coaching "Miss AJ Williams," can you tell us more about it?
My coaching mission is to ensure that all my clients are enlightened, aligned, and spiritually LIT! I achieve this through spiritual coaching consultation sessions where I use multiple spiritual modalities including intuitive reading, astrology, and tarot.
Being so well known in the media, did you find it difficult to begin your coaching?
Having a front-facing public image in media did give me some initial reservations because people can typecast you. In addition, to those reservations this brand of coaching not being your most traditional path, so there was concern on how people would receive this transition. Thankfully, I already had several clients because I had been privately coaching for the last five years, obtaining my clients by word of mouth and it was my clients who encouraged me the most to take my work public.
Was your exposure of being in the media what lead you to become an author, can can you tell us more about your book?
Although my roles in media did not cultivate the desire and mission of my book, they did assist in positioning and marketing the book. I've always loved writing, even as a child I would write one-woman plays to perform in talent shows, and in high school worked on our school's journalism team to publish our school paper. Along with writing, I've always had a passion for women, and over the years from developing my brands CHICKDOM and Single Black CHICK, I found a way to combine my love for writing and love for empowering women into one form by authoring a CHICK GUIDE series to help women achieve wholeness by healing, accepting and loving themselves — KICKASS: A CHICK'S Guide to living a KICKASS Life was the first book of the series.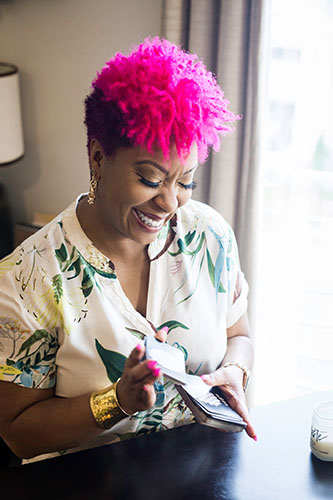 You started a couple of amazing lifestyle brands named, "CHICKDOM" and SingleBlackCHICK.com, can you tell us more about it, and what motivated you to give them these names?
CHICKDOM initially started as a one-stop-shop for black women to come and share their story, now the brand has turned into my parent company under which SingleBlackCHICK.com and Miss AJ Williams is house. The company's mission is to provide spiritual wellness, motivation, and inspiration for the melanated modern chick. Single Black CHICK's main mission is to promote wholeness, wellness, and self-love and how to live a KICKASS life single or booed up and features articles and posts focused on relationships and love.
With so many brands in motion, do you have any events or engagements coming up that you can share with us?
I've launched in partnership with Brows by Andy and the Blue Hut a signature event we named "Soul Spa Sundays" it features clarifying intention facials and a soul tarot session with me. What's unique about the event is that you're the only one in the space during your appointment time. It's a very unique and healing event. We feature them every other month and the next one is set for April. Additionally, I will be hosting some live events and weekly content on Instagram and Tik Tok along with my newly launched YouTube channel, "Miss AJ Williams" which will feature readings and videos on spirituality, meditation, and manifestation.
How can people connect with you and everything you have going on?
Follow me on Instagram and Tik Tok @MissAJWilliams, my Brands @SingleBlackCHICK and @CHICKDOM, and visit my website as well as Single Black Chick.
All images by Moon Reflections Photography