Alicia Boateng is a Cuban creative who hails from South Florida. When she's not divided between her many hats, Alicia creates these gorgeous mugs, celebrating the beauty of women from all walks. We got to chat with Alicia a little on what inspires her, and more.
What prompted you to start creating these cups?
The Afro Glam Collection was created to motivate and empower women of all colors, all over the world. This world is full of beautiful, strong, influential and empowered women and my cups are a tribute to us. There are many obstacles in life that make some women forget what they are capable of achieving in their lives. In history, women have been put down, held back and told we are incapable.  I have a 16-year-old daughter named Macy Genevieve. I emphasize why female empowerment is crucial in today's generation of women. It is needed to create a world full of aspiring female CEOs, scientists, athletes, politicians, artists, and overall girl-bosses.
I felt women needed a reminder of how beautiful they are and strong they can be and The Afro Glam cup represents just that! My mission is to Empower Women ONE cup at a time.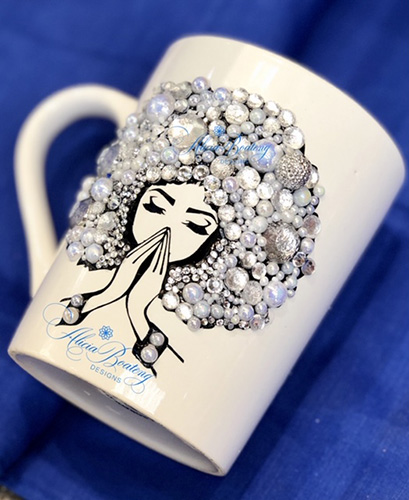 Where do you draw inspiration from?
Strong women like my grandmother. She had to immigrate from Cuba and leave her family behind. She arrived in the United States at an early age, worked hard to bring her entire family including her only daughter, my mother. There's no doubt that she had tough days and even tougher days, yet she persevered, stayed focused and achieved her goal which was to reunite her entire family in a free country.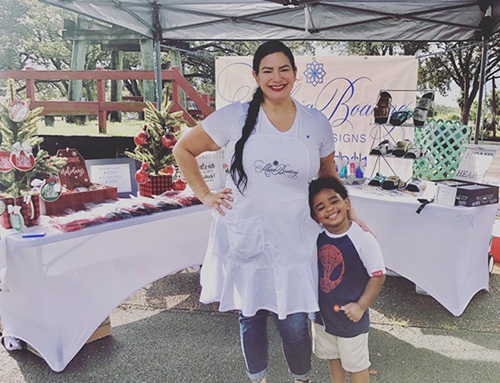 What advice do you have for other women wanting to chase their dreams?
GO for it! Never stop believing in your dreams, no matter who tries to shatter them. Stay focused, stay strong, give yourself daily affirmations and surround yourself with people that will uplift you and exude positive energy.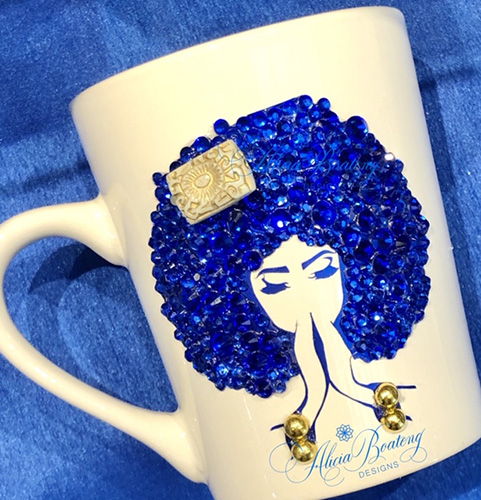 Have you always considered yourself creative? 
Yes, ever since I was a very little girl, I remember seeing my grandmother knitting, sewing, planning get-togethers and cooking for friends and family. I remember saying to myself, I wanted to be just like her. As I grew older, I continued to develop my talent to what it is today.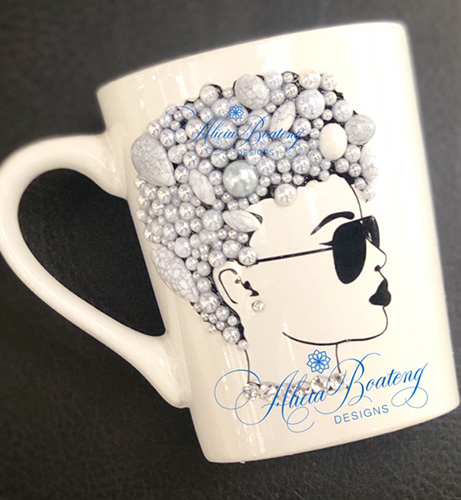 Where can we find out more about you?
My website, is a great place to learn about me and my fun facts. I am very active on my social media platforms and I usually post about my family, my likes, what I'm currently working on, mine and my family's milestones, motivational quotes, my faith and anything else I think my audience may enjoy.  I welcome and encourage emails (Alicia@AliciaBoteng.com) all the time!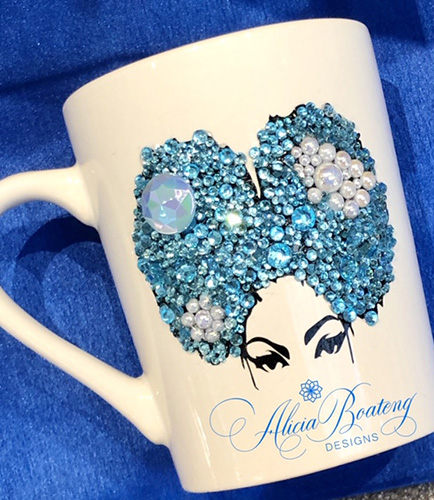 The entire Afro Glam Collection can be found on Alicia Boateng's official website.