The hair boss stops in to talk about her hair brand, Uncensored Strands.
Born raised in a small town in Southeast Arkansas, Alicia "Snook" Brown has always had a gift for creating art with air. Even as a cheerleader in high school, while maintaining her grades, styling hair was a part of her everyday life. She never had any doubts about what path she would take in her life. Hair was her passion! She was so sure of it that she only ever worked a job so that she could put herself through school to become licensed in her field. She made a move to Texas right after graduating high school to attend MJ Beauty  Academy in Dallas and, although there were some changes along the way, she remained dedicated to her dream. Today, that focused high school cheerleader with a dream is now a boss in the hair industry making big moves! Also the owner of Uncensored Strands, which offers premium, raw hair in various patterns from straight to slight wave to deep wave, Brown is leaving her mark on the hair industry, one strand at a time!
Tell us how you got started in the hair industry.  
Honestly, I do not feel as if I chose the hair industry—I think it chose me. I started doing my  grandmother's hair when I was 10 years old. Eventually, I started doing other people's hair around town.  Not to toot my own horn or anything, but in high school, I had a clientele base that was comparable to some of the professional stylists in my hometown. I can remember when high school picture day would come around, I would have so many people lined up in my mama's house waiting to get their hair done.  
How did you come to decide to become your own boss? 
I always knew I wanted to work for myself. Coming out of beauty school, there were very few options— become an hourly/commissioned stylist to make guaranteed money or become a stylist who rents a  booth in someone else's salon with no guaranteed money. I was so confident in my talent and skills that  I chose to rent a booth and build my own brand. I chose to bet on myself. To this day, I have no regrets about that. That decision, and the experiences that came along with it, has made me into the successful black businesswoman that I am today.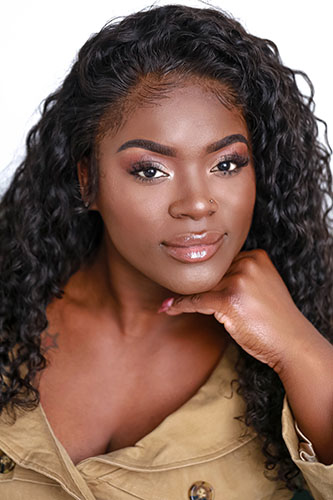 What does your brand represent? 
With Uncensored Strands, "It's All in the Details." I saw a need for quality, affordable hair for my clients.  I grew tired of clients bringing poor-quality hair to their appointments. I spent two years researching and testing hair. I traveled internationally to meet with suppliers and to observe the production process to ensure this was a product I could deliver to my clients with 100% certainty and confidence. I learned so much about the production process and the culture. I didn't want to move forward until I knew I had a  product I could stand behind. We hand select each batch and have complete control of the production process allowing us to provide assurance to our clients. My specialty is weave installs, but with this luxury hair line, I cater to all types of clientele offering high-quality raw hair extensions.  
Tell us about your new haircare product, Uncensored Strands Moroccan Argan Oil Elixir Curl Cream.
I am so excited about this new product. I decided to develop a curl cream because of a need and demand from my clients. Everyone wanted to know what product to use on their curly extensions.  Uncensored Strands Moroccan Argan Oil Elixir Curl Cream energizes and defines curls while protecting hair fibers. It is also weightless. Not only is it good for Uncensored extensions, but it can also complement any type of curl extensions. With this new product, y'all can kiss that frizz goodbye! 
What advice would you give to someone else hoping to get into your industry?
Set Yourself Apart: The hair and beauty industry has become heavily saturated. You have to make sure you have something – skills, products, etc., that stands out from the rest. For me, it was all about the details. My clients know I consistently deliver high-quality looks and styles for them — that set me apart.  
Be Strong: This industry is not for the weak. In my experience (and many others who I know in the industry), it was very challenging in the beginning stages. But if this is something that you are passionate about, stick with it. Be consistent and use your passion to grow your clientele and business.  
Stay Down Until You Come Up: This is my favorite piece of advice to give to others. It is so important to trust the process. Growth may be difficult, slow, uncomfortable, and even painful sometimes. But it is all a part of your journey. Lasting success doesn't come from a week of hard work.  
This young, black businesswoman is making big moves in her industry, and this is only the beginning! She has proven that her tenacity will break down barriers and we look forward to what she brings forth in the future. Find and follow her journey on IG and Facebook and check out her line of luxurious hair here!
All images by Jennifer Missouri