If you've been tuning into BET+'s All The Queen's Men, then I'm sure you've been drooling over actor, Skyh Alvester Black like the rest of the world! Black portrays onscreen hunk, Amp – who is Madam's nephew with a hidden past. You may have also seen him on BET's series, Sistas, where he portrays fan-favorite Jacobi. Nevertheless, we had the honor of sitting down with the talented star to discuss his role on the hit new BET+ series, his experience on Sistas, professionally dancing, and much more!
Tell us about your role in All The Queen's Men.
Well, I play Amp on All The Queen's Men – he is Madam's nephew. Amp is a kid that has fallen due to unfortunate circumstances. Those circumstances were kind of beyond his control, but in his control at the same time. What do I mean? He made one bad mistake; he wasn't a bad kid. It changed the trajectory of his life forever, leading him to prison. He didn't come from a broken home, he wasn't a gang member or anything, he was an upper middle-class kid. With one drink, his life took a drastic turn. On the series, you see Amp coming into this world that has already been established, so it's pretty cool.
You recently starred in Tyler Perry's hit BET series, Sistas. Do you mind sharing the overall experience?
I will forever be grateful for Sistas and Tyler Perry. Sistas is kind of like my breakout. It allowed me to be a working actor. Before that, I was valet parking cars – that was just last year! (Laughs). I actually auditioned for All The Queen's Men before I auditioned for Sistas. All The Queen's Men was put on hold because of the pandemic, and I also found out that I was first casted. It was based on Christian Keyes' book, Ladies Night. Christian Keyes wrote that part of Amp for himself some years ago. Once he became the executive producer, he believed I could take on this role, so I am grateful for him as well. For Sistas, I auditioned the same day within two to three hours (laughs). I learned the scene, got two friends to come over and help me record the audition, and I sent it in! I honestly didn't think I was going to get it. I think I had auditioned for Tyler by that time, probably five or six times. I got a call back, but I later learned that they were trying to find a part that would specifically match my look and aesthetic. The next day, I was sleeping, and my agent called to tell me I booked Sistas. I was thinking it was only going to be a few episodes but it was 11 episodes! It just took on this amazing life of its own and I had no idea that Jacobi would make the impact that he did. I just knew that I had to be great portraying it.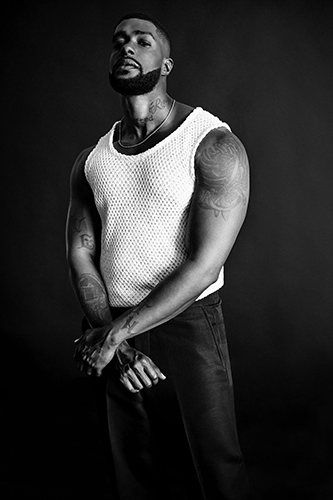 We know that you professionally danced and have toured with many notable names including Beyoncé, Mariah Carey, and Rihanna. What made you want to step into the realm of acting?
Dance to me, I never planned on being a backup dancer in the commercial arena. I danced for Beyoncé, Mariah Carey, and Rihanna, but I never planned on it. I wanted to be a ballet dancer. I accomplished that goal in my teenage years when I became professional. I attended school in New York and began training. It really was what I wanted. I had a Black male teacher in high school tell me that I would never be a ballet dancer. If you tell me I can't do something, you kind of messed up (laughs). I worked my butt off and when I moved to Los Angeles, I stopped doing ballet because it became a mental strain on me, being a Black man. I remember when I was professionally dancing for a company, the director told me I was great but I we would never see a Black prince here. It discouraged me. I remember calling my parents telling them that there's nothing like having everything you want and still feeling sad. Then, all of my dreams were kind of crushed. Imagine being a kid and someone telling you, you can't be something because of your skin color. That was the first time where racism was so blatant in my face. It took a mental toll on me, and I mentally quit. When I moved to Los Angeles, I wanted to sing. I had a friend that suggested dancing again. Just based on my ballet background, three weeks later I had an audition for Beyoncé, and I knew nothing about hip-hop. I just knew I was going to be the weakest link, but I got hired! I got hired because I could do ballet and hip-hop and my career just took off on its own. I just knew I always wanted more. I remember Debbie Allen telling me "I'm going to make you an actor." I told her she wouldn't (laughs). She told me I didn't know who I was yet and to be honest, it became something so surreal for me. I didn't know I was going to be an actor and my music manager suggested taking acting classes. I walked into my first class, which was Tasha Smith Actors Workshop and with that, I was able to book Sistas.
What are you currently working on and what can we expect to see from you in the rest of 2021?
I literally just finished my first lead role in a film. I can't say too much about it yet, but I am so excited! It was amazing to film a movie because I've been in television for the last year. I've filmed so many shows, which is a blessing. I have a show called Lace coming out November 4th on AMC: ALLBLK, so that was cool. I also had a recurring role on Showtime, so I just finished last week in Nashville, Tennessee – I am excited because it's a thriller. There is a lot of action and everything else like that. That's what is to come down the pipeline.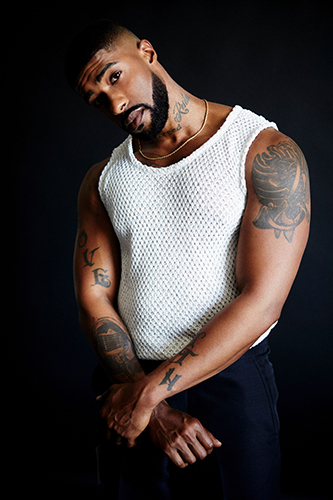 For more on Skyh Alvester Black, follow him on Facebook, Instagram, & Twitter.
All images by Leigh Keily