Bob Hearts Abishola breakout star, Folake Olowofoyeku shares the power behind her story, culture, and beauty.
The mystery is in her eyes. The joy is in her smile. The magic is in her melanin. The power is in her blood. Sometimes she's "the spark of the infinite," other times she's a "Yoruba girl following her passion in America." Yet today and every day she is the master of her destiny.
Nigerian-born Folake Olowofoyeku, of the Yoruba tribe, was born to well-respected politician and lawyer Chief Babatunji and Chief Mrs. Folake Olowofoyeku. Named after Folake Solanke, the first female Senior Advocate of Nigeria (SAN), the babe in arms was expected to carry the torch to law school and beyond. "Being a SAN is like…the highest level you can reach as a legal mind in [Nigeria]," she explained. While she chose a different career path, her name still reigns supreme. In Yoruba culture, all names have a special meaning. Folake meaning "use wealth to pamper." She explains, "Not necessarily monetary wealth but an all-encompassing wealth; joy, happiness, love, friendship – that's what my name means."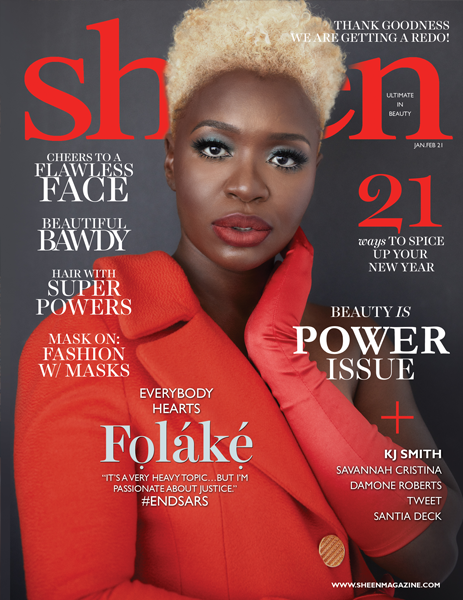 Photo by Samuel Paul
For more on Folake Olowofoyeku and more features Sheen Magazine has to offer, be sure to pick up your copy of Sheen Magazine's January/February 2021 issue available at Walmart, Target, Books-a-Million, and Barnes & Noble. You can also check out the link to purchase your copy of this issue and many more!
To subscribe to our newest feature, the digital issue of Sheen Magazine, click here!
Makeup by Melissa Hibbert
Hair by Zion
Style by Winnie Stackz
Photography by Samuel Paul