April Parker Jones is a phenomenal actress, who has made some appearances on many shows like All American, S.W.A.T, Supergirl and is currently best known for her role on the Oprah Winfrey Network prime time soap opera, If Loving You Is Wrong, where she plays the role of Natalie Henning, the single working mother. The series also stars Edwina Findley, Zulay Henao, Heather Hemmens, and Amanda Clayton. In the final season, the Oprah website describes the series like this: The town of Maxine is filled with sinners—and their tragedies are just beginning to unfold."
"We are grateful to Tyler Perry and the talented cast and crew for giving us five incredibly entertaining seasons," OWN president Tina Perry said. "We can't wait for fans to see the jaw-dropping storylines that are going to unfold this season. It delivers all the juicy drama like only Tyler Perry can." During our recent interview with April Parker Jones, she discusses returning in the final season of If Loving You Is Wrong, and more upcoming projects that we can look forward to after this season's finale.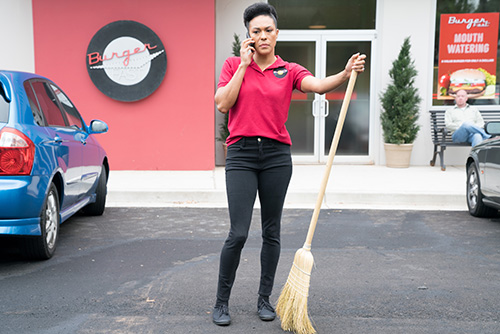 What can viewers expect to learn about you in the final season of the show?
This final season viewers will learn what they've come to learn about Natalie during the last 4 seasons; Which is Natalie is a ride or die! She has always been that character who protects and cares for the ones that she loves, and I promise you that doesn't change in this final season. Whether it's slicing somebody with a blade who crossed one of her girls or attempting to tear a wig off in the hospital for disrespecting her and her son. You can definitely expect her to be the same no-nonsense character since season one in this final season.
What have you enjoyed most about this storyline and working on set during this series?
I've enjoyed watching Natalie's character evolve. Initially she starts off living on the outskirts of town away from the other ladies who reside in Maxine. Then as the storyline and seasons progress, she and Lucien are able to move on up to live in the suburbs with everyone else! Natalie was able to experience a life that she dreamed of for her and her kids -of course until the drama ensues! But being the person, she is she knows how to handle the drama! LOL! What I have enjoyed most by working on the set is the camaraderie that we all have with each other and the rest of the crew on the show! We truly became a family unit and there was definitely an energy of gratitude and excellence that we all demonstrated every day showing up for work! I will truly miss being a part of this cast and working with the amazing Tyler Perry! But I am oh so grateful oh so grateful!
For aspiring actors, what do you feel is key to gaining a recurring role?
For aspiring actors what is key to gaining not only recurring roles but co star roles, guest star roles and series regular roles -is a true knowledge of the craft. And what I mean by that is actually studying the art of acting. Whether taking classes, doing as many non-paid jobs as you have to to get on-set experience and having a mentor – Someone you can call on who can help guide you through the process. The knowledge of the craft is key. And although it may sound cliché, perseverance is also key. If you know you have a love and a talent and a true passion for acting, then your job is to not give up. We are not in control of when Hollywood gives us a big break, but we are in control of the dedication, patience and work ethic we put into achieving our goals.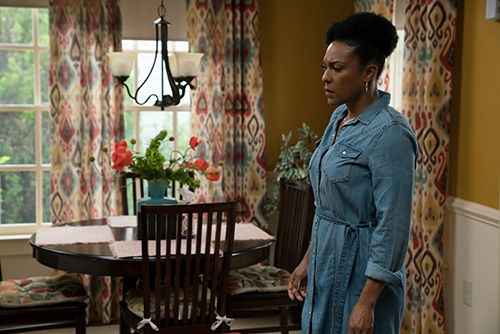 In an industry that is forever changing, what has helped you to stay relevant?
I believe knowing my brand and my type has helped me to stay relevant in this industry: What I mean by that is knowing what type of roles best fit who I represent in the eyes of most people. For instance – at this age I am able to play women who are in positions of authority and moms who are strong and grounded. Knowing that, helps me to hone in on those type of characters more and to study them so that I can perfect them as best I can. As I mature in the industry, my brand and type may change: Therefore, it is up to me to be aware of that and make the adjustments accordingly.
You have stayed consistent over the years with your involvement in numerous TV shows and movies, what roles have you enjoyed playing the most?
Hands-down I have enjoyed playing Natalie on "If Loving You Is Wrong" the most! She has been in a class of her own when it comes to the other roles I've been blessed to also play in Hollywood! She's been a blend of no-nonsense, comedic and dramatic -all rolled into one relatable character. And for that, I am forever grateful to Tyler Perry; who saw in me what it took to bring this character to life!
What upcoming projects are you currently involved in next?
Well I just finished working on my first lead in an independent action feature titled Hunther. It's a story of a mother's love for her daughter and what she will do to protect her. In addition to the release of that film l, I've also been blessed to recur on CBS's S.W.A.T. playing alongside Shemar Moore as his sister Winnie! I am so enjoying this ride and I am looking forward to what the Universe has in store next! Because I truly believe the best is still yet to come!
This season's finale of If Loving You Is Wrong made it's premiere Tuesday, March 31, at 10 p.m. ET on OWN. Be sure to keep up with April Parker Jones on Social Media!
Stay connected with April Parker Jones on Facebook, Instagram, & Twitter.
Courtesy of OWN: Oprah Winfrey Network