Two years ago, April Wilson went through one of the most defeaning moments times of her life. What helped her get through it? God. After trying many coping mechanisms, she found that God opened up her heart and desires and merged two of her favorite things: faith and fitness. We caught up with Wilson to discuss how she was able to merge these two components together to push through her life's journey.
Tell us about the creation of Fit Faith Journey.
Fit Faith started with a mustard seed sized vision to unite women via healthy living and fitness training. I vividly recall listening to my pastor, Dr. Bartholomew Orr, but hearing God speak to me through a series entitled "Faith over Fear." During the sermon, Dr. Orr referenced I Timothy 1: 7-8, that reminds us that God does not give us a spirit of fear rather He gives us a spirit of power, love, and self-discipline. At that moment, I felt like God was directing my steps towards my God given path, but I was reluctant to follow. I was perplexed, to say the least. Knowing that I could not be the only Christian experiencing this inward conflict, I began to question the congregation to gauge if anyone felt as out of place as I did, but at that moment everyone seemed to have it all together. I realized that I was asking the wrong people; I needed to tap into the Power Source. Thus, I began my journey of fasting and praying. Months passed and I was still uncertain of God's plan for my life which was seemingly spinning out of control! I was struggling to hold my marriage together, caring for my ill parents, pleading for peace at work, experiencing a financial hardship, while attempting to raise my sons and deal with what appeared to be insurmountable insecurities. But my GOD intervened! He cleared my path and enlightened me to the desires and passions of my heart: my FAITH and FITNESS.  I woke up one morning with the confidence to promote and implement a 30-day Bootcamp challenge. I had no money, no equipment, and no clue of a potential venue to host the fitness sessions. Literally, all I had was my FAITH and a desire to be FIT.  By the grace of God, I hosted the first FIT FAITH 30-day Bootcamp in September of 2019 and that is how God birthed FIT FAITH.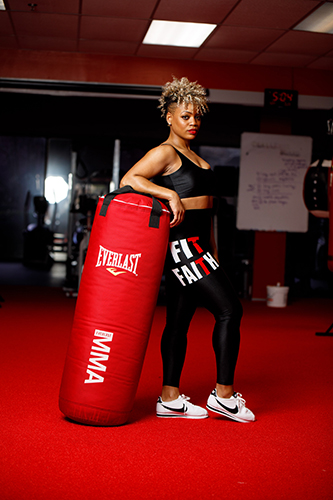 How do you believe faith and fitness relate and how did it help you?
When people ask me why do I call it Fit Faith I simply reply, "On my journey to get my house in order, I needed to be fit physically, but more importantly I needed to be spiritually fit. The Bible speaks of this in I Timothy 4:8. Ultimately, I had to be spiritually fit before pursuing Gods plans for my physical fitness empire. Physical fitness allows me to perform my ministry without the struggles of a failing health. The 2 F's, as I call it, also stands for forever faithful. Being faithful to God and self is inextricably intertwined and should never be separated. It was my faith that propelled me to where I am: I never imagined being featured in SHEEN magazine. It is truly a blessing and an honor, and I continue to stand in awe of the opportunities afforded me because of my faith in GOD and dedication to physical fitness.
How has Fit Faith progressed since its launch in September 2019?
My life transformed following the initial 30-day Bootcamp.  Since then, I have hosted numerous Bootcamps around the city of Memphis and Southaven, provided fitness consultation services for people in the community, and revived my spiritual fitness. In conjunction with fitness classes, the Fit Faith apparel line has become increasingly popular. Prominent leaders of the community, celebrities such as gospel recording artist Josiah Williams and all members of the Fit Faith family can be seen donning Fit Faith apparel! Additionally, God has blessed me with opportunities to travel to conduct fitness classes as well as share my testimony on various platforms such as radio and television. This opportunity has also allowed me time to educate myself on the business side of things as well as develop strong partnerships with Oak Street Health, Hollywood Casino and partners, Urban League of Memphis, and noteworthy fitness experts such as Sherika Fitness.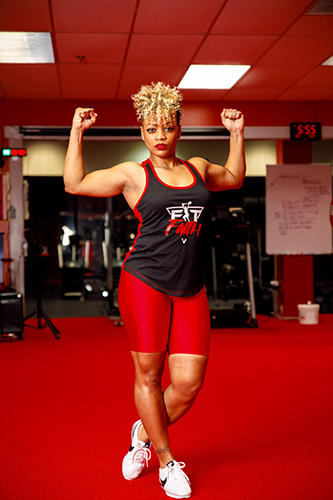 What piece of advice would you offer our readers?
Trust in Him! This leap of faith really tested how much I truly believe in God, but I trusted Him every step of the way.  I would encourage all readers to hold firm to their business aspirations and become devoted to it. Being a business owner is a constant grind 24 hours a day, and if others see how much you believe solely in what you are promoting then they will value what you are doing.
Where do you hope to see your brand in the years to come?
My goal is to have Fit Faith Fitness centers planted in communities where obesity and poverty are prevalent. Fit Faith Fitness will offer affordable rates for all as well as have an onsite community garden. The garden would provide healthy food for those in the F.A.I.T.H. initiative program as well as open doors for people wanting to learn about agriculture and health sciences. Also, I would love for my fitness clothing brand to be available not only online but in stores across the world. Finally, I envision my brand generating the kind of wealth that provides scholarship opportunities for underprivileged students seeking to further their education in the Health and Sciences field. My vision might seem ambitious to some, but with Faith anything is possible.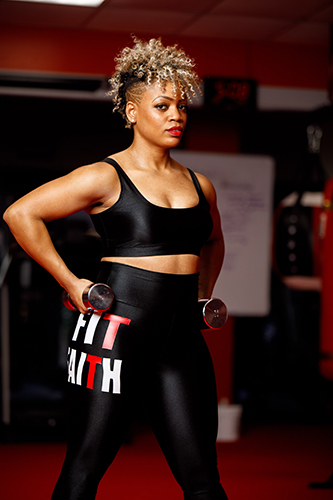 For more on My Fit Faith Journey, click here!
All images Clyde Sims Jr.| Company Name: MADE by Glyde