During this time I am pretty sure everyone's skin has gone through some changes. I've noticed that my skin was breaking out more, not as soft, and didn't have the glow that it once had. I started researching various brands and found what I like to call my "magic in a bottle" but known to the world as Luvanya.
I challenged myself to try this product for 7 days along with eating better, drinking more water and working out. Within 7 days of using Luvanya's Exfoliating Elixir, my skin has improved for the better. My dark spots, became lighter, my pores were smaller, and my skin was softer.
Ladies, this is a product that you are definitely going to need to add to your daily regimen. Real results, and I can't wait to see what else they add to their brand!  Check out my interview below, and after you are done reading, do yourself a favor and buy a bottle or two…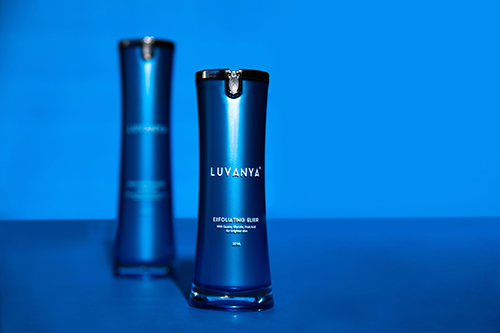 Give our readers 5 facts that they might not know about the Luvanya brand.
Luvanya, a newly launched 100% Clean and Vegan skincare brand, combines Science with Nature.  The founding doctors, being of Southeast Asian descent, love incorporating natural highly effective Eastern ingredients such as turmeric, reishi & shitake mushrooms, saffron, guava fruit extract and much more.  Also noteworthy, is that each ingredient is carefully selected based on their efficacy and its synergy when combined with the other ingredients in the product.  Luvanya is fully transparent and lists all ingredients on their site and packaging.  This is a brand you can trust, created by doctors who have the health of your skin as their upmost priority and of course deliver the results to make you feel and look younger.
Luvanya products can be used for all skin types, all genders, all races and all ages.  Whether you are in your 20s focusing on prevention or in your 60s, looking to turn the clock back in time, Luvanya is for you.  
The name Luvanya, comes from Sanskrit meaning Grace & Beauty
You will see the primary color for our brand is Blue.  Reason being, is because it reminds us all of the ocean, with its beauty, depth, strength and tranquility.  The ocean has significance to all of the founders – Dr. Alpa who had undergone years of surgeries and treatment derives a sense of strength and healing from the sights, sounds and scents of the ocean.  Dr. Alkesh frequents the coastline to meditate as he feels peace and serenity near the ocean waves.  Hema loves to walk alongside the ocean as it too brings her a sense of peace, calmness and stability.  And of course all of our founders want you to feel all of those things when using their products. 
Luvanya is comprised of 4 founders, 2 doctors, Dr. Alpa & Alkesh Patel who are also husband and wife, Alpa's sister, Hema Shah a business executive and celebrity makeup artist Merrell Hollis. For different reasons they all shared a similar passion in creating safe, clean, and effective skincare.  Dr. Alpa Patel – after suffering from years of chronic illnesses, surgeries and treatments, she and her husband, Dr. Alkesh Patel started researching, ayurveda, natural and holistic ingredients that could help her health and improve her skin since that too, had taken a toll from the prescription medication and continuous treatments.  During their research, they realized there were clean, plant based ingredients that could get the same results as many of the chemical, synthetic and unsafe ingredients used in most skincare products.  The doctors began creating products using Eastern ingredients such as turmeric, guava seed oil, reishi & shitake mushrooms and saw Alpa's skin regaining its youth and turning back the clock!  Their 9 month old niece was suffering from redness and irritation and rather than applying the harmful steroids, her pediatrician prescribed, Dr. Alpa created a topical paste using simple natural ingredients and in a week, her niece's skin was back to normal.  Dr. Alpa was forced to retire her profession as a pediatrician due to her detrimental health, but had practiced for 13 years.  Dr. Alkesh is an Internal Medicine doctor who continues in his own practice of over 18 years, so together they have a combined 30 years of treating infants to seniors!   Luvanya products were first created for our families but after seeing how effective and safe they can be, we wanted to share them with everyone!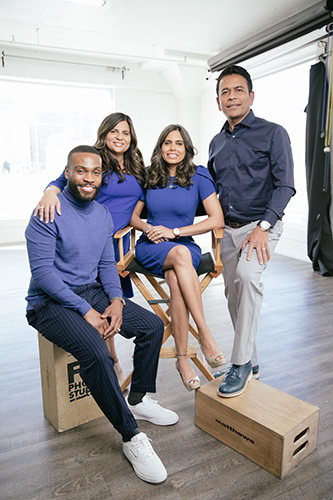 What inspired you to create this line of skincare products ? 
Our first products were created for ourselves and our families.  When our doctors first started creating products in their California home, it was for Dr Alpa's damaged skin.  Dr. Alpa then created a product for her infant niece who was suffering from red, irritated, itchy skin.  It wasn't long before everyone between 1 and 80 years of age in the Patel family was using something created in their kitchen! Luvanya's initial product, a night time exfoliating elixir serum was developed to help various types of skin issues ranging from acne scars, dark spots, dull uneven skin tone, fine lines and wrinkles and much more. It took the team over 3 years to finalize the formulation of this since they wanted to ensure it was perfect from the efficacy, natural scent, texture as well as its packaging. 
What has been the most rewarding part of building your business during our current climate ? 
During this time, we have been ramping up the variety of content on our digital media platforms including Facebook, Instagram, and YouTube channel.  Our messaging provides opportunities for consumers to learn ways on maintaining their skin during these times indoors, and protecting our first line of defense against bacteria, viruses and toxins, our skin.  It is very rewarding to us when people use our products and emerge with healthier, more beautiful skin that they can't wait to brag about!  We love hearing back from our consumers, whether it's a personal question, an experience with our product or because they learned something valuable from our blogs or videos.  And of course we love it when our followers are making positive changes in their skincare routine or cutting out harmful ingredients and products from their personal care. The Luvanya products are safe, clean and effective products.  Luvanya is an honest, trusted brand that truly cares about the health of your skin.   
You mentioned that this is a family business. What advice would you give our readers who are thinking about starting a family business?
Great question! I am laughing as I'm writing this since working with family is not like Corporate America for sure! But first and foremost, when we decided to launch this venture, our #1 guideline was that we would never let business interfere with family.  Fortunately, for us, the business has brought our families together even more so.  If you are thinking about starting a family business, here are some tips I would recommend which has worked well for us.
A:    Set clear roles & responsibilities 
B:    Meet & Communicate Frequently   
C:    Reach out and Work with Experts
D:    Finally, I would say Keep Family Matters Outside of Business – Whenever we are discussing or meeting on Luvanya, we do not discuss family matters at all.  Family issues are discussed outside of "business hours."  
A family business, like any other does have its challenges, but we find it to be especially more rewarding and fun!  Remember, the key is always to have fun when doing what you enjoy most! Whether we are having a "Luvanya meeting", working on packaging, or just hanging out with all the kids, we always try to have fun!
What's next for the Luvanya brand? 
We are finalizing a face wash and face oil to be launched later this year! We are continuously innovating new products, which makes it even more exciting! But be sure to follow us @luvanyabeauty and join our email list by signing up on our website, as we share details on our upcoming product launches, secret skincare tips from our doctors and top beauty tips from Merrell Hollis, makeup artist to Wendy Williams. 
All images by Walid Azami