We recall giving you reassurance that if no where else, SHEEN Magazine will have you covered on the entertainment with character and charisma; something you can vibe out to or be enlightened by during these chaotic times.
Today we are questioning the mantra that the early bird gets the worm, because beginning sometime really late last night, Ari Lennox began one of her famous Instagram Live streams, which turned into one of the most beautiful, low-key, women's empowerment exchanges we've seen in a while.
As we know Ari, she is black, beautiful, funny, witty, creative, cultural, fun, artistic and unapologetically HER. We love that. — On live last night, she gave tremendously through her time and space, providing us watchers with a sultry and calming, live song-Tour experience, as she freestyled and remixed old classic jams through her own creative add-ons. She had us all in pure awe and in tears. This went on for over six hours… as she sipped her Josh Merlot and snacked freely on her "Walnut meat".
Ari took time in between each song rendition, to encourage, uplift and reassure her fans and supporters that we are beautiful, creative and should not feel compelled to be anything but ourselves. She inadvertently redirected a lot of our stresses last night, with the sounds of her beautiful voice, and most importantly the nature of her kindness and passion for her craft and purpose. — She spent time complimenting and recognizing various queens and female artists and their talents and accomplishments, as she received their song suggestions from us Live watchers.
Somewhere around 5am EST, someone suggested she sing Keyshia Cole's "Love" and Ari went in! As we mentioned she had been doing, she began speaking on all Keyshia's greatness and voiced her declaration that duhhhh, Keyshia Cole is an undeniable legend and should be respected as such. Ari fan-girled over Keyshia and made it known how much she admired her works and natural gifts of voice and passion. — And then Keyshia Cole requested time be joined into Ari's live stream.
Here we all are, almost 6 hours into Ari Lennox's IG Live, and the energy intensifies as Queen Cole came through! — Both artists had had a few sips on a night cap, and both were in favor of blessing us in the wee hours of the morning. They talked about the industry, new music, old music, motherhood, sisterhood, and musical artistry in general. They complimented one another, had some personal small talk which lead us to know that this may have been one of their first one on one, casually intimate conversations.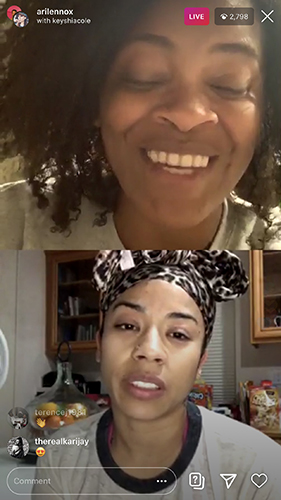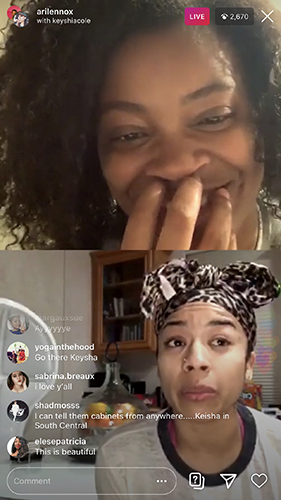 They showed us exactly what the world and specifically Queens of color need at this time; and that is genuine love, support and encouragement to embrace the essence of truth and authenticity. Also, they demonstrated humility at its finest, with Ari's fan-girl vibes for Keyshia, and Keyshia's open interest and compliment to Ari's style and character overall. Keyshia Cole listened to Ari's wisdom words on embracing what she truly WANTS to create, vs holding back to please the standard. Keyshia showed genuine gratitude and seemed to be inspired to create more material that she feels and loves.
It was a truly beautiful session and moment that we had to share with you. The Live has not been posted or saved, therefore we are happy to provide you with all the vibes and the feels Incase you were sound asleep during those hours. It was truly an epic treat, and we are here for the spreading of that energy.