Recording Artist/ Music Producer James Worthy has some really amazing collaborations on his latest project which include artists such as Ray Lavender, Ruff Endz, Drag-On, Truth Hurts, & Jillisa Lyn. He is set to soon tour regionally with special guests to be announced along with tour dates. James recorded most of Kaleidoscopes in his studio in Atlanta, GA with engineer Styalistic. For this EP he came together and worked with producers Styalistic, Shay Mizz, and Frisktrackz. Kaleidoscopes is composed of 7 tracks that according to James "spent months crafting, recreating, and analyzing" to bring out the best product. Each song gives different musical textures within the R&B genre, but with heavy melodic influences, and arrangements with songs like "This Wave" or more soulful like "Show Me." While each song varies in tone, they all are originals and circle back to one universal theme. "Kaleidoscopes is an urban soul-filled, catchy collection of reminders that love, harmony, diversity, and unity can co-exist in our modern world," says Worthy.
What can listeners expect from this new EP?
You can expect growth in me as an artist, person, and musician. You can also expect to see a lot of genre infusion, but with R&B structure.
What artist's will be featured on the EP?
I have features from Ray Lavender, Ruff Endz, Drag-On, Truth Hurts, and Jillisa Lynn.
Why is this EP so important to you?
This project is important, because not only is it my sophomore EP, but it speaks to where I am in my life, and how my fans are growing with me each year.
Which single is your favorite on the EP and why?
It's hard to say, but the most fun I had recording was probably with the single "This Wave."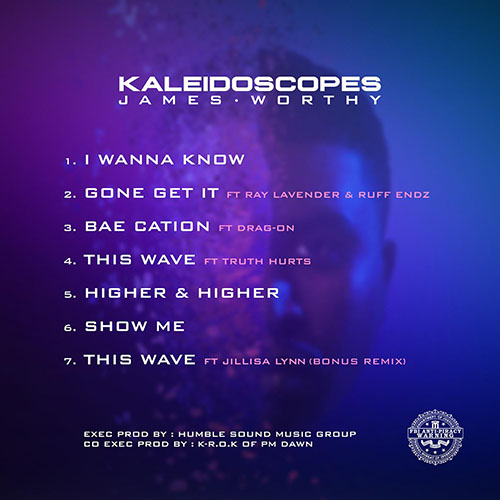 Where can our readers pre-order or purchase the EP?
The EP will available on all streaming and digital platforms. Go buy a copy now!
Who helped with the production of music for Kaleidoscopes?
Shout out to my producers, Shay Mizz, Stylistic, and Frisktrackz. They are all talented musicians, and I'm grateful to have them a part of this body of work.
What upcoming projects will you be involved in this year?
Look out for more collaborations from me, television appearances, tours, and film projects!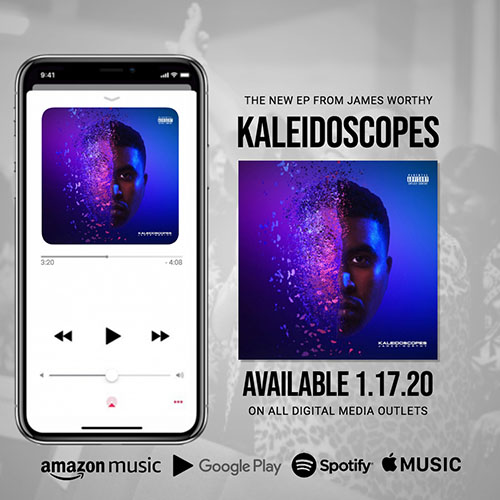 #Kaleidoscopes will be in stores January 17th, 2020.
Connect with James Worthy now on Instagram, Twitter, and Spotify.
All images provided by James Worthy