Growing up in Columbia, South Carolina, I was surrounded by so many creative people throughout grade school. Whether through art, music, and even sports, I always knew Columbia to be a home where great talents got their start. From Jeezy to Speaker Knockerz, my hometown is nothing short of success when it comes to aspiring creatives in the music industry. One of those creatives being a humble individual who has quickly soared in the music space, Just Listen. I'm always happy to see my friends pursue their dreams, but it's assuring to know that even with the great amount of success he has earned along his music journey, he is still humble and grateful at the very end of the day. Now, a resident in Atlanta, Georgia – Just Listen is making quite the name for himself in the city lights of The Big A. In our exclusive interview, Just Listen opened up to us on his favorite music memory, what it has been like being a creative during the ongoing pandemic, and what you can expect to see from him in the year 2021.
Where does the name Just Listen come from? 
The name Just Listen actually came from a close friend! I didn't have a name for myself at first. I just made music because I simply loved it! As I would make my first few songs, my friend at the time would get really excited about them and basically promote my music for me! He would play the music for others and I would be right beside him. We purposefully wouldn't tell the person listening who it was for an honest opinion. When they would ask who it was, all he would say is "just listen, just listen!" I started writing it down and then realized the uniqueness of it. So, I ran with it! 
What is your favorite music memory?
My favorite music memory was being able to record a song with former Bad Boy artist, Mase! Many people will never get an opportunity to collaborate with him so that moment will forever be unforgettable.  
How would you describe yourself as an artist?
I would describe myself as a well-rounded artist! I can create to just about any sound. I am also well-spoken and very conscious with what I say, which I feel a lot of artists lack these days. I am also very humble. No matter what I accomplish in my career, I still will remain approachable! 
Can you tell us about the artists that inspire you?
The artists that inspire me are all my close friends for the most part. The people I surround myself with everyday are all pursing their dreams as well. They genuinely excite me to keep pushing forward! Musically, I am inspired by artists like Drake, J Cole, and Chris Brown. They changed my outlook on song substance and switching up styles.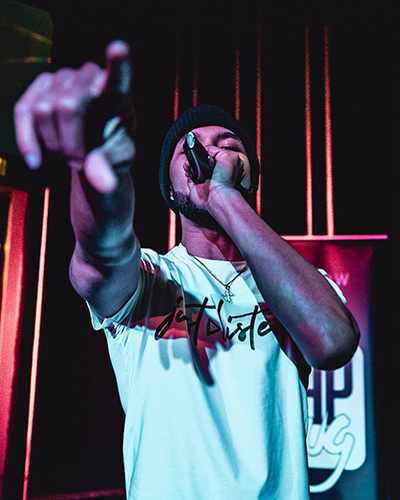 How would you describe being an artist during the ongoing pandemic?
Being an artist during the pandemic has been a huge eye opener! It taught me to be prepared and forced me to get creative. Having to be home, there wasn't anything else to do but learn or create something new! It was hard adjusting at first. Not being able to go to events or perform was extremely difficult but it made me learn how to gain exposure in other ways! I came up with new social media strategies and watched a lot of YouTube interviews and documentaries to spark some new flames! 
What's next for Just Listen in 2021?
This year my fans can expect a lot of timeless, immense music! With being signed to a label and having hip-hop legend, Mase as my co-sign and mentor; the sky is the limit to how big my debut rollout will be. I will be releasing a project this year as well, so stay tuned! 
For more on Just Listen, follow him on Facebook, Instagram, & Twitter. 
Featured Image by SK Visionz