Emille Mendoza, owner, and founder of Boracay Skin discovered the benefits of coconut oil, which helped her skin condition and assisted in fading scars. It was then when the idea of Boracay Skin evolved. Boracay Skin is a multifaceted product. Its use doesn't start and stop at those looking for a sun-kissed look, but it's for an extra glow when going out. It's about combining the aesthetic of 'just returned from an island holiday with a restorative function as the product acts as a moisturizer as well.
Can you tell us more about this amazing company, Boracay Skin?

Boracay Skin is a beauty brand focusing on the benefits of coconut oil. It all began when I took a trip to a tropical island called Boracay in the Philippines where I discovered the benefits of coconut oil on the skin. This was in 2009 before the coconut oil craze and it was the first time, I had heard of using it outside of the kitchen! But it wasn't until I was a flight attendant that I created our first body oil due to my skin constantly drying out on the plane all day, every day. Boracay Skin pays homage to my heritage as well as where my idea for the business came from. After a few years of being a side hustle, I left my job to focus on my business. Boracay Skin has now grown to 5 employees, tens of thousands of customers worldwide and has shipped to over 90 countries.
Being that the beauty industry is considered to be oversaturated, what makes Boracay Skin different? 
We've been around since 2015 and I believe our values of being vegan & cruelty-free, advocating for the benefits of coconut oil for your skin as well as having representation within in our marketing and our workplace (something that is important to me as a woman of colour) have resonated with our audience.
What was the motivation to launch the line?
Although I came up with the idea after my trip to the Philippines and whilst being a flight attendant, the real motivation to launch the line was after the sudden passing of my younger brother. It was such a tragic, life-altering event where I began to question what my real purpose was in life. Boracay Skin is my passion and I want to share the benefits of coconut oil for the skin with everybody!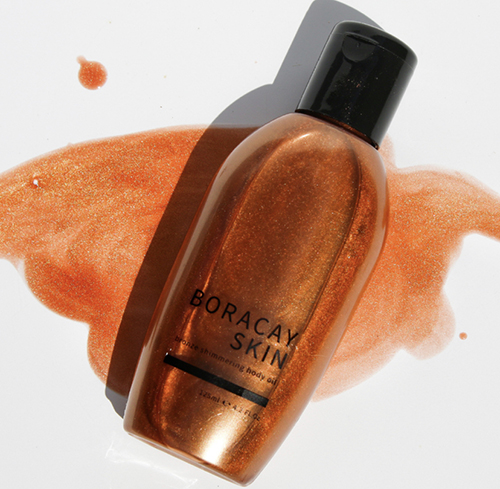 I read that Boracay Skin hydrates skin. Is it good for all skin types?
I suffer from eczema myself and our products have helped many with similar skin conditions. Combined with other plant-based oils which contain vitamins and fatty acids – our body oils also help combat dryness, stretch marks, and redness. It's so rewarding to get feedback from our customers when they tell us our body oils have helped them with their skin issues.
What is the best way to apply the body oils and which is the best for each skin tone?
This is a great question! You can apply the oils by hand or you can also apply it with our new kabuki body brush (coming out this June) to buff the shimmering body oils into your skin.
Light/fair skin tones look great with the Rose Gold or Bronze. Darker skin tones show up amazingly with our Gold or Bronze and Medium/Olive skin tones such as myself can use any of the oils, depending on their preference. My personal favorite is the bronze!
What advice could you provide, as well as the best skin care regimen and products to use?
My go-to product every single day is the Natural Sun & Body Oil. This was the first product I came up with and I use it after a shower as it's intensely nourishing all year round. For whenever I need the extra glow for a night out or to highlight my legs or decolletage, I reach for the shimmering body oils. It's great knowing that my skin benefits whilst I'm getting that glow. Win Win!
What can we expect from Boracay Skin in the future?
We have new products coming that will be focusing on the face so stay tuned! And of course, continuously growing the brand and reaching new markets.
How can people connect with you to learn more, as well as continue to follow Boracay Skin?
You can find us online at boracayskin.com or on social media @boracayskin.
All images by Prue Aja