Just this past September, author Dana Simone released her book the Female Masterpiece Gratitude Journal in an effort to promote physical wellness and mental health. We couldn't think of a better timing to release this book in the midst of the global pandemic. Ahead of the upcoming holiday season, many may be struggling to get into good spirits after the whirlwind year we've had but Dana Simone is on a mission to help change that. We caught up with her to discuss her book, The Female Masterpiece Gratitude Journal, obtain her best advice, and much more!
Tell us the Female Masterpiece Gratitude Journal. What inspired it?
A lot of times, I sit and just think about things. I reflect on my day and I began practicing meditation about four years ago. Within the practice, I got to sit down, reflected, and centered myself. It dawned on me that the nature of just meditating and reflecting brought a huge heaviness of being grateful for the things in my life. I wanted to pay homage to being grateful and have more gratitude in my life. I wanted to spread it while paying more attention to it. In one of my meditation sessions, guided by Oprah – she talked about having a gratitude journal. The purpose was to write about things they're grateful for in the course of a day. I'm not really a journal person but that practice really showed me the payoff of doing that. I felt happier and saw the brighter sides of things even though they may have seemed dark. Years went by and as I was trying to explain to other people why they should do this, they couldn't understand the concept of gratitude. It dawned on me that I needed to write my own journal so that I can help solidify and bring awareness to this practice because it really does change your life from one end to the other.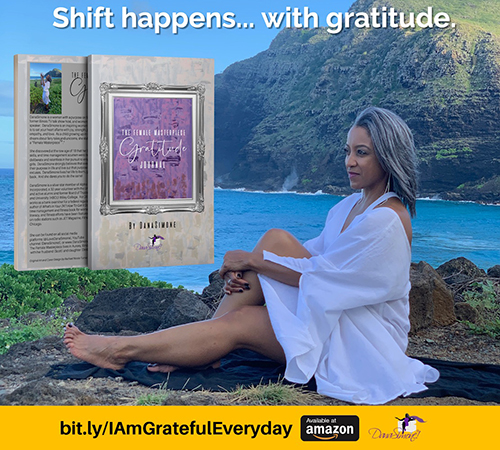 Why is physical wellness and mental health so important to you?
That goes into my first book. My first book is called 'What's in Your 24? How to Get It Done Without Getting Outdone.' My first book focuses on trying to help women and coach them into being more selfish with their time. We do so many things for others, we tend not to do enough for ourselves. In that book, I teach you that you should tell people 'No,' and to pay more attention to the things that make you happy and make you smile. It encourages fitness and health because if you don't and you continue to give and give to others, then you won't have anything for yourself. Your health will go down and you will find yourself in the doctor's office more often. I focus on all of those pursuits so that women can focus and master that. If they can on a day-to-day basis, it will keep them happier, healthier, and more in control in their lives. You have to stop at one point giving your overflow. You constantly give but you're overflow, really should be for you.
What advice do you have for our readers during this time of the pandemic and holiday season?
Oh man, this pandemic… I'm speechless. I don't know if I should call it the devil or what (laughs). I'm going to call it an awakening for right now. It has stopped so many people in their tracks. It really helps you and pulls back the layers of an onion. Not just with the pandemic but what goes in with the relationships in your lives, your habits, focuses, and how you learn to shift. This pandemic has taught me how to shift and pivot through various different things. You need to pivot throughout your life and this pandemic, but you have to come up with solutions during this pandemic that will continue to make you whole. Although you may be in the house or feel isolated, but I've never seen so many people so damn busy during the pandemic. No one has time for anything anymore because there are so many Zoom calls, and no one really is reaching out. It made me think, what were we doing before the pandemic? How were we able to meet up with people? Was it because it was easier to deal with people because you were already out? During this pandemic, you have to be intentional about how you stay mentally well and how you don't take so many things personal. You have to exercise, you have to get up and move, and you have to understand your place in your life. When we come out on the other side of this pandemic, you should know exactly what to do. What do you want to look back on years from now while we spent a whole year dealing with the pandemic? Do you really want to say that you sat around, ate, or watched television all day? Focus on the future and the things you do have control over because we don't have control over this pandemic. How can you utilize what you can control? How can you give back? There are people dying every day from this pandemic. That number could've been anyone of us. Stop and be grateful and understand where your happiness really comes from. I think that is the key to getting through this pandemic. Just give. Mark my words, when you give to someone, I guarantee it will change your life. Being more grateful will change your life.
What have you currently been working on and what can we expect to see from you in the future?
Right now, we are promoting the Female Masterpiece Gratitude Journal. I'm having small talks with groups of women to discuss gratitude and getting their perspective on things. We're putting a lot of content on my YouTube channel, so we're really beefing that up. My daughter, husband, and I are putting together a wellness kit for the homeless. We're taking in donations for people who would like to donate to our homeless cause. We're putting packages together of socks, sanitizers, masks, and various things. We're going to drive around Illinois and pass these out to people that we believe may need help. We're focusing on helping the homeless for the rest of the year. As I get into next year, we will continue to talk about the Gratitude Journal. I'll be writing my third book as well. Mainly, we're focusing on each quarter. Each quarter for The Female Masterpiece Movement, we focus on something different. In January, we'll start a different focus. Right now, we're in the spiritual quarter so we're posting and discussing various things as it relates spiritually. In January, February, and March – it will include all the advice that revolve around emotional-type things to get people into the New Year. If you don't get your emotional and mental state where they need to be, you can't accomplish New Year's resolutions. I try to help guide people with emotional advice and various things. I will definitely be focusing on those who have been really hit by the pandemic.
There's a clothing line that will be coming out for The Female Masterpiece as well as a Male Masterpiece. We are in the process of getting ready to launch that. The t-shirts will be available for both men and women. For the men, I call them my Male Masterpieces. My Female Masterpieces will have leggings, hoodies, and t-shirts available while the men will have t-shirts and hoodies that they can wear. We're looking for the launch of these products in the next month or so.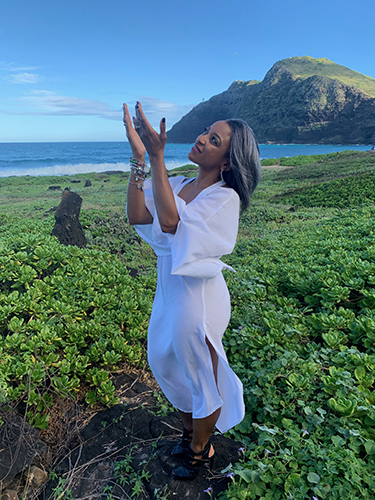 For more on Dana Simone, please click here.
Follow her on Facebook, Instagram, Twitter, & YouTube!
All images by Rachael Turner of Rosemint Media