Finding the right relationship has been an interesting experience for me and my single girlfriends. Like many people Covid made things harder when it came to trying get to know someone. It seems like everyone is now communicating via dating apps or sliding in each other's DM's. So, my girlfriends and I made it our mission and intention this year to focus more on our personal lives. We've set boundaries, started reading more and have been doing the work on ourselves, for ourselves. Our intentions are clearer than ever, and after various therapy breakthroughs, reading books, meditation, prayer and allowing the universe to guide us, things have definitely been looking up.
One of the amazing thought provoking, insightful things that happened while on this journey was coming across the book, EAT SEX DATE… The stories, recipes and tips will give you just what you need to assist you in maneuvering through your dating phase.  Check out the exclusive interview with Author, Rhonda Wheeler below…..
Give our readers three to four adjectives to describe your book.
Magnetic, revealing, unique and exhilarating
What inspired you to write EAT SEX DATE 
The things that inspired me to write this book was, I want to tell my story, I felt like I was going through a rough batch for a long time with raising two boys alone, my ex-husband left, and I consumed all the responsibilities from daycare and putting them through college. Since my divorce, I haven't had success in the relationship department. I endured many failed relationships. My event planning company suffered during Covid stay at home orders. On top of that, I gained 20lbs and my diabetes was on the rise. I pay close attention to what I am putting in my body. When I discovered my diabetes levels were high, I wanted to do better for myself and for my children by preparing delicious vegan pescatarian meals at home. I also enjoy cooking for the new man in my life. 
My anxiety was at an all-time high last year. Until I met a companion that changed my life around. His name is Byron A. Eugene, he's my inspiration and support. My book is broken into three words because I want people to think about how they date. Getting women to start talking about which order of dating can be the most impactful. EAT SEX DATE there is a message behind the title. 
What is your top four dishes to make from your book; Eat Sex Love 
 Endless Greek Salad  
Blow His Mind Beyond Bacon Cheeseburger 
TikTok Worthy Gumbo
Carnival Time Garlic Shrimp & Grits with Parmesan Cheddar Cheese
What are the top three Dating Tips that women should be abiding by in 2021-2022?
Get the MEAT! Marriage, entertainment, assets, timeline, then you can get the bag! Sex your relationship health report. Talk and discuss with your partner which you like and what you don't like. My sex life is as healthy as my partner, and we talk about everything. 
They say communication is key and it's true in the bedroom and in the kitchen
Date with a purpose and objective in mind. 
I use standard operating procedures in my book, it's just not for the workplace. They act as a set of rules and guides to keep you from miss judging his actions and miss steps when making the same errors that can impact outcomes in your relationship. 
What's next for Rhonda Wheeler 
What's next for Rhonda Wheeler, I want to develop a women's platform to invite other women in to tell their stories. My passion is writing about finding love, dating & relationships. I write based on my own personal experiences and those who can relate. On my page we focus on eating healthy, cultivating a happier and healthier relationships. My mission is to empower a marginalized population by creating a virtual and smart design space where marginalized authors can display their books and express themselves freely.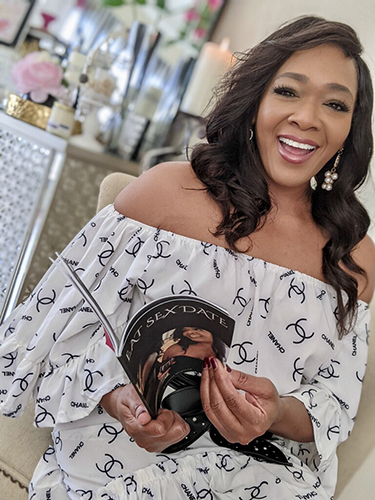 For more on Rhonda Wheeler, click here.
Click here to visit her official Amazon Author page.
Follow her on Instagram today.
All images by Byron A. Eugene