Sakina Ibrahim is an NAACP Image Award nominated author who is dedicated to spreading her knowledge and expertise with people around the world. As an entrepreneur at heart, she founded a wellness company called Stretch and Pray to expand her passion for healing through classes and workshops with others. Just recently, the multi-faceted creative released her new book titled To Begin ~ A Journey of Self Love and Healing and we wanted to obtain all the details. In our exclusive interview with Ibrahim, we discussed self-love, it's importance, and much more!
Tell us about your new book, To Begin ~ A Journey of Self Love and Healing. 
This book was inspired by my commitment to healing myself from the inside out when very difficult life challenges arose. Grief from losing loved ones, life rapidly changing when my partner became paraplegic and learning the true source of love by building a relationship with God. I have been on a deeply introspective journey reflecting on trauma and life-pains that affect Black women, especially how our relationships impact our lives. 
In this book, I share some profound "aha" moments that have helped me overcome pain and begin creating the life of my dreams, a life of wellness, peace of mind, trust, and most importantly, happiness. Many of us work on ourselves externally and "buy our happiness," but I have faced experiences where I was stripped of my comforts and had to find true joy. 
How do you recover from a broken heart? How do you learn to trust and build faith when it seems all hope is gone? These are questions I had to ask and find answers for myself. To Begin expresses my journey and my desire for women to let go of fear and begin to live fulfilled and happy lives. The book is available on all platforms Amazon, Barnes and Noble, Target and Walmart.
Why do you believe everyone needs this book? Especially right now during a global pandemic. 
I believe people need this book because we all need to be working on ourselves. Self-work is never complete. This time during the pandemic has revealed aspects of humanity and ourselves, that are easy to ignore when you can use work and "hustle" as a form of avoidance in dealing with yourself. The pandemic forces us to become more still, realize how short and fragile life is, and reflect on what matters. What matters is love, the rest is just noise. Even as things are becoming more "normal," the pandemic has created a global disruption and a call to WAKE UP. Waking up is different for everyone, but this book will serve as a mirror for those who can empathize with my stories of heartbreak and feel encouraged to heal themselves and walk a new path. 
People ready to embark on a self-awareness journey will gain much insight and growth from this book. It's never too late to heal and become a better version of yourself. It's the right time for new journeys and deeper healing to begin.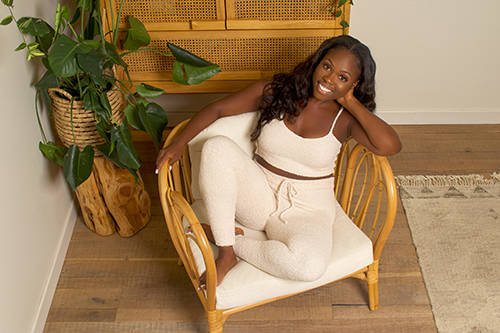 Can you share with us why you believe self-love is so important? 
Self-love is one of the most important keys to happiness and wholeness. In my book, I talk about how you can't give something you don't possess. How can you love others if you do not know what love is from inside? Self-love is about the relationship between "You and You." Self-love is a verb. It is actionable steps, the trial and error of learning what feels right and having the power to pull back and make adjustments and corrections when something doesn't feel right. 
Self-love is a process where you begin to require yourself to walk through life learning how to love more. For myself, I've made decisions in the past that weren't reflective of loving Sakina, but now those mistakes have served a great purpose. It has shown me what it feels like to betray myself; I share more about that in the book. Part of self-love is learning life lessons. I want women to learn to love and accept themselves for who they are; society has negatively impacted our sense of self-esteem and self-worth. Industries are built on women feeling bad about themselves. Women have to learn to embrace how beautiful, unique, and divine we are. 
What are you currently working on, and what can we expect to see from you in the future? 
I am facilitating a series of workshops and seminars for girls and women with my wellness company, Stretch and Pray. Stretch and Pray focuses on providing resources for being emotionally, physically, and spiritually balanced. My work centers on supporting girls and women and couples in identifying, healing, and creating new love-filled narratives for their lives through the arts and wellness. You can expect to see more about wellness and lifestyle with upcoming retreats and a special series called "Sakina's Vegan Invites." Stay tuned by following my social media @sakina_world and www.sakinaibrahim.com.
For more on Sakina Ibrahim, click here.
Follow her on Facebook, Instagram, & Twitter.
All images by Kenneth "K.L." Wright Jr.