The award -winning new gospel artist Titus Showers released his sophomore album, Who?, via A&P Records/UAMG/Sony/The Orchard and took the music industry by storm.
To date, Who? has streamed at 1 million and climbing!
"I continue to be in awe of the million streaming number," says Showers.
"I would like to thank everyone who downloads and supports my music – it means so much to me," added Titus.
The award-winning album, Who? reached No.1 on Billboard's Top Gospel Album Sales chart, No.4 on Billboard's Combined Top Christian/Gospel Album Sales chart, No. 9 on Top Independent Albums Sales chart, No.18 on the Emerging Artists chart and No.40 on the All-Genre Top Album Sales chart.
The 7-track project included a stellar lineup of composers, producers, songwriters and featured guest artists. GRAMMY®-nominated producer and songwriter Lucius B. Hoskins (Shirley Ceaser, Zacardi Cortez, Joshua Rogers) contributed on 4 of the EP's 7 tracks, It's Gonna Be Alright, Make It, Amen and the Billboard Top 10 digital track and lead single In His Name. Three-time GRAMMY® nominee Darrel Walls of The Walls Group contributed with his vocal production, while GRAMMY®-nominated producer Tyrone Belle (The Walls Group) co-produced on two songs (In His Name, Make It). GRAMMY®-nominated and Stellar Award-winning Christian hip-hop artist/songwriter Canton Jones made an appearance on a remix version of The Showers' 2015 Billboard Top 15 radio hit Better,
and their 2016 Billboard Top 25 song Immediately, both songs written and produced by acclaimed musician Deon Kipping (Tasha Cobbs Leonard, Marvin Sapp). BET's Sunday Best Season 6 champion and two-time Stellar Award winner Tasha Page-Lockhart added her vocal production touch on the track Love, produced by Stellar Award-winning producer Sean Keys (The Showers).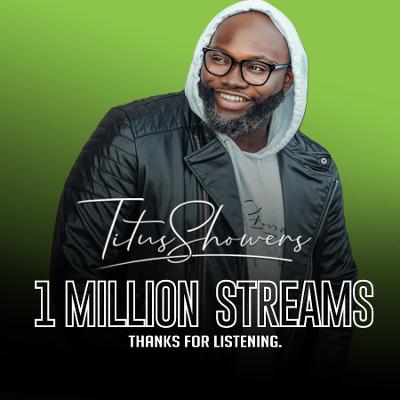 WHO? is available for download and streaming – click here.
Currently, We Need You by Titus Showers, the follow-up radio single to his Billboard #1 hit single It's Gonna Be Alright (remix) which featured
Jermaine Dolly continues to peak atop of gospel radio charts. This is his 2nd solo Top 30 radio single as a solo artist and 5th overall, which includes: We Need You (currently #30), It's Gonna Be Alrightremix (#1 peak), Immediately (#24 peak, w/ The Showers), Better (#13 peak, w/ The Showers), and Praise Your Way Through (#29 peak, w/ The Showers).
His much-anticipated new album is set to drop, fall of 2021.
All images provided by Titus Showers