The holidays are right around the corner so you know what that means. It's time to bring our loved ones together (safely of course) and do what we do best! Connect with each other over food! Just in time of the holiday season, Barbara Devan released her new line of gourmet seasonings and sauces! As the owner of Tasties restaurant in three different locations, she also became the first restaurant owner in the state of Philadelphia to develop a signature line of seasonings and sauces. We wanted to catch up with Devan to discuss the new line of goodies, what it's like being a restaurant owner during a global pandemic, and much more!
Tell us about your new line of seasonings and sauces, Flavor For Your Soul.
We just launched our products November 13th. We launched four sauces, BBQ, Buffalo, Lemon Pepper, and Seafood Bae. We also released three seasonings: Tasties Everythang – usually you'll pull out ten different spices to cook with, so I combined many favorite seasonings, so you don't have to use anything else. There is also a Seafood Bae seasoning, and a Garlic & Herb seasoning.
What is your favorite seasoning or sauce from the line?
I would say Tasties Everything. It is our number one seller as well as the garlic and herb. A lot of them are my favorites but the Tasties Everything is great because you can use it on vegetables, steak, lamb, chicken, on everything you cook! That is one of my favorites. For our sauce, they're all different. Our seafood bay is really different and has been popular as well because a lot of people love seafood. We came out a lemon pepper sauce, which you know everyone loves their lemon pepper wings so that has been a hit as well.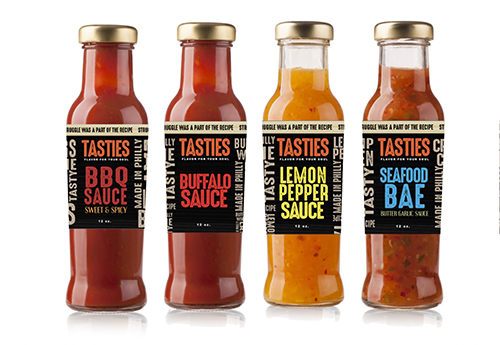 How would you describe being a restaurant owner during the time of the global pandemic?
As a restaurant owner of three restaurants – we have two restaurants in Philadelphia. One of the restaurants is a dine-in so we had to close the dine-in and do take out. It's been quite different, but we are blessed to be able to survive the pandemic also. I opened up a new restaurant during the pandemic. I signed the lease January 2020 and had a date in March for the grand opening. The pandemic pushed back the opening so I ended up having to open May 25th. It was crazy but we survived. All three locations are open right now and all for take-out.
Congratulations on the grand opening of Tasties 302 in Wilmington, DE. Do you hope to expand in the future?
Yes, that is one of my biggest goals and always has been. I want to open up in multiple cities. My next city that I want to come to is either Atlanta or Houston. I'm not sure yet but in the near future, yes!
What are you currently working on and what can we expect to see from you in the future?
Currently, since we just launched the sauces and seasonings. Due to the pandemic, we got hit with the looting that happened in Philadelphia this past summer. One of our businesses got damaged due to the looting. In the meantime, we're focused on getting our sauces, staying afloat, and hopefully we survive this pandemic. In the future, we want to open in different cities.
For more on Tasties Soul Food, click here.
Follow them on Instagram today!
All images courtesy of Tasties Restaurant