Become H.E.R. Founder & Author Katrina Chanel is taking her platforms to the next level in a time of so much uncertainty. Her brand Become H.E.R. has expanded over social media and has shown a community presence that is gaining momentum. She's a loving wife, mother of two boys, clinical lab manager, member of Delta Sigma Theta Sorority, Inc., beauty enthusiast, and self-published author of three books. However, the road to her success was not easy. She's an advocate and survivor of domestic violence, suicide, and childhood trauma. She had to endure life lessons along the way and she wanted to share that journey to empower other women.
How did your journey start with becoming an Influencer?
Essentially, I did not realize I was starting a journey as an influencer. It began in 2017, when I released my first book where I was telling people about my testimony as a domestic violence, suicide, and childhood trauma survivor. I was a single mother at the time so I started organically sharing my story, sharing about my books, and as time progressed it just started gaining momentum. When I released my 2nd book, I believe I did it a little prematurely because I noticed a slight decline of interest and I think I released them too close together. I don't think I gave people enough time to process the first book. Therefore, I took a hiatus to rebuild my spirituality, closeness to God, and in the later part of 2018 I started writing my 3rd book. By this time my life had completely changed because I had a new baby and I had gotten married.
Where did your inspiration come from to create the Become H.E.R. Speaker's Series?  
It was difficult for me to break into different platforms of women's empowerment groups. In the industry it was hard for me to connect and I did not feel that they were catering to where I was as a woman. I felt there was a lot of fluff in the industry. I wanted to create a platform for myself to give people more positive examples of happiness, empowerment, and renewal from a broken place. I wanted to create a platform for other women too where they can speak, share their stories, and be an influencer. Even if they do not want to speak they are able to network and be surrounded around women as well as men that can help them reach their goals. I believe we truly rise by empowering other people because true success is not predicated upon what you're doing, how much money you make, how good you look, but it's really defined by the seed that you have planted in someone else. I wanted to have a platform of people who have been through some things, sharing their stories, giving tangible solutions, and the follow through. As a brand, I do not want people to experience it for just one day at an event but for it to be a movement.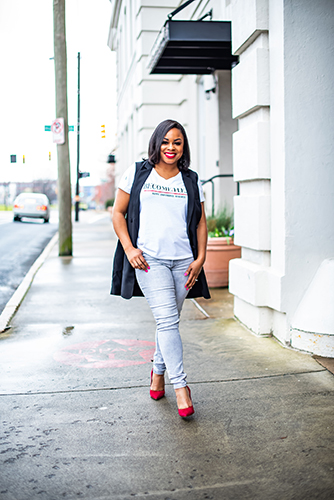 How do you find balance with so many things that you do?
I find my balance by staying prayerful and giving myself room not to perfect. I think a lot of times that's where the stress comes in because so many of us are so uncomfortable with our imperfections. The idea that we have to be the perfect wife, mother, and so on in our business. When I feel if we just focus on the basics of things, especially during this pandemic, it can bring us back to a good place. I draw largely on my spirituality and connecting with people I can pour into as well as they can pour into me. I think the age-old saying "It takes a village to raise a child" is true as well as I feel "It takes a village to create balance". That's why we have wellness physicians, yoga, meditation, and all of these different resources to create a healthy balance. Lastly, I try not to overwhelm myself with too many tasks so I prioritize it and check it off as I go. 
What are your top 5 beauty must-haves?
I must have Olay Facial Wipes and I've even thought about becoming a brand ambassador for them because it's a great 4-in-1 at-home facial. It's a toner, mask, hydrator, and cleanser all in one. I'm always on the go, whether it is with my kids, my husband, business, or whatever so I can't always get to the esthetician. It's a great go-to for keeping your face clean and helps remove impurities. 
Second, is the Osmosis Clarify line, I use the Vitamin A Blemish Serum twice a day, just one pump goes a long way, and it is a little pricey but well worth it. I use it to maintain an even skin tone, it reduces acne during menstrual cycles, and I love it.
As for my body care I love scrubs! I love clay scrubs, sugar scrubs, salt scrubs or anytime type of scrub because exfoliation is very important for body care. As for women, so many times we are on the go so we are not able to give our body's the special touches it needs. We should be exfoliating our skin all over once a week.
Bio-oil is a great body moisturizer and skin perfecter. It's light and has a light scent. It's great for stretch marks, skin elasticity, and that is my 4th must-have.
Lastly, as for make-up my favorite brands are MAC and Morphe. I love Anastasia Dip Brow, MAC skin primer, MAC foundation, and Morphe eyeshadow palettes.
What's next for you in 2020?
I will be doing at-home make-up tutorials with other professional make-up artists on my social media pages. Originally, we had scheduled Become H.E.R. for Saturday, June 6th, but it has been postponed at this time due to COVID-19. Please follow my social media pages for updates. We are seeking natural care and wellness vendors. Also, we are looking into a service component of Become H.E.R. that will include a scholarship fund and non-profit organization.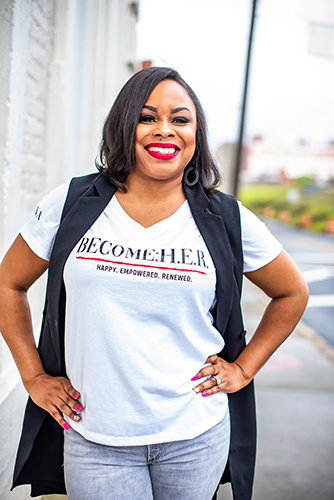 To learn more information about Become H.E.R. click here.
Follow Katrina on Instagram & Facebook.
Click here to visit the Become H.E.R. Facebook group!
Book titles: Protective for Purpose, The Transition of She, and The Karma of Yes autographed copies are available here, on Amazon, Barnes and Noble, and e-books are available on Kindle to download.
All images by Rotcelis Rose Photography