He has literally grown up before our eyes! Roscoe (Al'Dreco Jones) now 17-years-old has been a star from the start writing his first song when he was only in the third grade. Always entertaining his family and friends the young artist decided to audition for America's Got Talent at the age of 10. The charm and bars are in his blood, his late father, who passed away in 2002 a little before Roscoe was born was also an artist. You couldn't hold Roscoe down though, when he was younger he made a song and video called 'Daddy Can You Hear Me' that spoke a little about how his passing impacted him. Roscoe never let the obstacles stop him, he used his circumstances as motivation to grind even harder as an artist, son, brother, student and person overall. Recently, he released new music entitled 'Late Night Cruise' and 'Intervene' along with dope freestyles that showcases his lyricism. He has been featured dropping sick bars on music platforms such as 'High Off Life Co'., 'Hoodrich Radio (105.3 The Beat)', Bars On I-95 and more! As he continues to work on his craft his fan-base continues to support as he has reached 337K on Instagram, 60K subscribers on YouTube and 32K on TikTok! Believe it or not, none of those numbers are what he believes to be his greatest accomplishment. Out of all Roscoe's achievements over the years after graduating from Westlake High School Class of 2021, he says deciding to attend college was the most special to he and his family. He is super excited about heading to obtain a higher education in the Fall! His mother is also beyond proud and says her only advice to him is to continue to keep God first and never give up. Although he is preparing for college and will be focused on that, he has been working on a music project that he plans to release this summer. He says it will definitely be worth the wait!
Many first heard your music when you dropped 'Straight 'A' Student' back when you were in third grade, now as a teen, describe your new style of music to us in a few words.
A few words to describe my new music would be motivational, refreshing, and real. My style of music has changed and in some ways it has to. I want my fans to grow with me rather me grow from them. 
Music is your main focus, but if you were not an artist what could you see yourself doing?
I'm actually attending Kennesaw State to obtain an Education degree with a minor in Psychology in the Fall. I want to be able to impact people beyond music.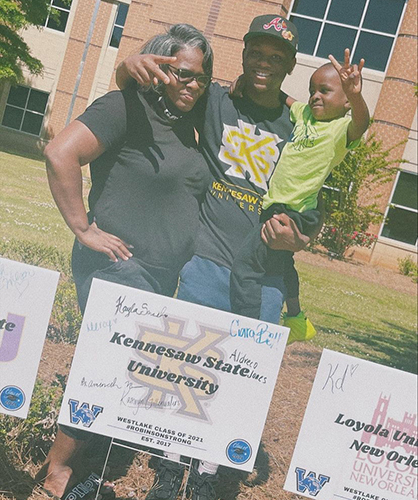 You recently dropped two new singles 'Late Night Cruise' and 'Intervene'…both great with different vibes, tell us a little bit about the story behind these singles?
These two singles are really special to me, because they were created around the time I learned how to record myself. I recorded the references at my home-studio and it just made me feel so free. I didn't feel pressured with time and I was able to teach myself new things. I'm really proud of those songs!
How did you feel when Cardi B retweeted your 'Up' freestyle and told Offset he needs to sign you? That's big!
Cardi B retweeting me was surreal! It definitely motivated me more. I locked in the studio that same day. It's dope to know someone successful in your field is paying attention and showing love to your movement.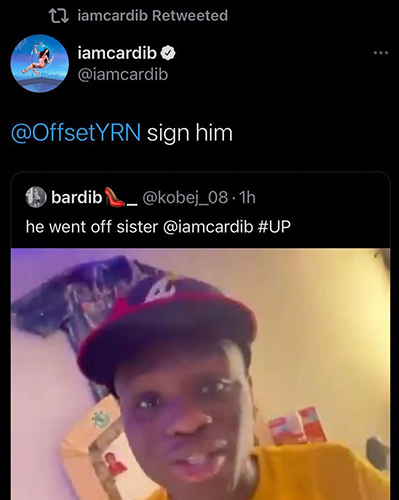 You've been in the game for awhile now, how do you one, not give up when you're not seeing the results you want to see and two, remain humble?
I believe in timing. I try my best not to get so caught up in numbers and just continue working on my craft. I've learned you see more progression if you just have fun with it, plus it saves your mental health a ton. As far as humility, I think that's something that comes naturally. I could never look at someone as less, because I'm in a certain position, tables can turn very quickly. 
You auditioned for Season 9 of America's Got Talent and were on Season 3 of The Rap Game, how did these experiences help you grow as an artist?
Many people don't know, but when I auditioned for AGT the judges told me "No". It hurt me but it motivated me to perfect my craft. TRG was a learning experience and definitely helped me with my skillset. It was a blessing to get advice from different moguls in the game that I can use forever. 
What would you say makes you different from other rappers in the industry?
I think what makes me different from other rappers in the industry is my story and evolution. People have seen me grow and grind throughout the years and they have a different connection with me.
Tell us a little about your creative process? What goes down when Roscoe is creating a song? What are some must have's in the studio? 
My creative process consist of mumbling melodies over tracks and then filling them in with lyrics. I always have my LED lights on and a bottle of water. Once I'm in that mode I'm set!
Who are some of your biggest inspirations, whether it be in rap or an influence/inspiration in life overall? 
My biggest inspiration is my little brother. He is full of pure energy and motivates me to stay productive.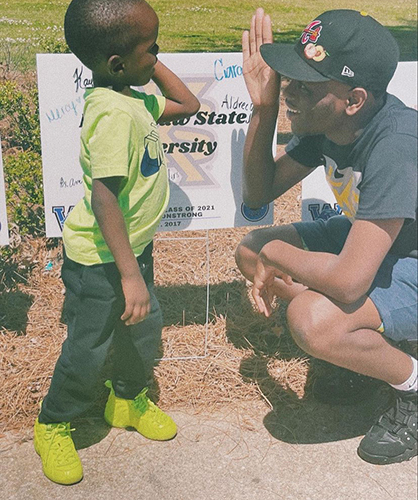 You are from ATL where a lot of music trail-blazers come from, who are some your favorites from your city?
A few of my favorites from the city are T.I, Andre, Cyhi, Lil Baby, and Latto.
Your mom, Ms. Deishonna is your manager and also your mentor, how has her guidance and advice shaped you as an artist? 
My mom is the reason I'm the artist I am today. From the life lessons she's taught me to the passive-aggressive push, I've learned to stay consistent and never give up.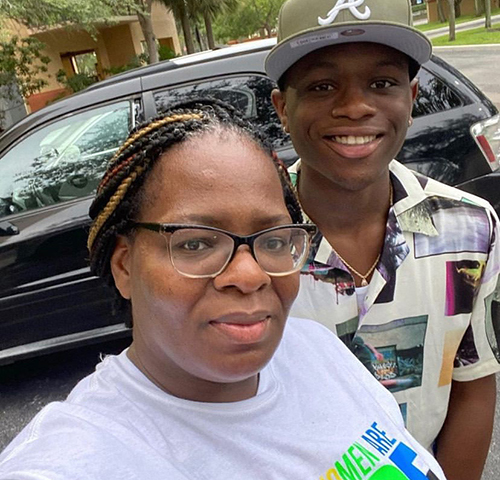 Lately many artists have been creating music speaking on social justice and Black Lives Matter, what are your views on that and do you think it should be talked about more in hip-hop?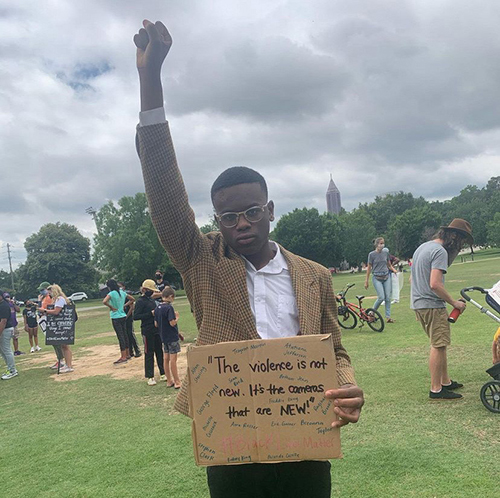 On a social media post Roscoe said, 'As a young Black male in America, I wake up everyday with fear of being viciously slain by the people who are supposed to protect our community. Enough is enough. It's sad my brothers and sisters can't live freely in a country where our ancestors put their blood, sweat and tears into. My people are tired of being tired, seen as less than, and treated unfairly.'
Connect with Roscoe on Instagram, YouTube – @Roscoe, & TikTok.
All images courtesy of Roscoe