West Coast hip-hop has been at an all-time high, especially when it comes to artists out of Los Angeles. Insert Bino Rideaux, who's been paving the way for that wave alongside the likes of BLXST, Bluebucks Clan, Kalan.FrFr. and more. In fact, recently embarking on his ON MY SOUL Tour, it was after he sold out the first night at The Novo in downtown Los Angeles that they had to add a second date.
On Saturday, October 2nd, after an eventful first show where Russell Westbrook came on stage to C-walk, Bino shut down the stage yet again with his standout hits. Most recently releasing his joint tape with BLXST called Sixtape 2, it was only right he performed "Pop Out," the standout single from the 12-track project.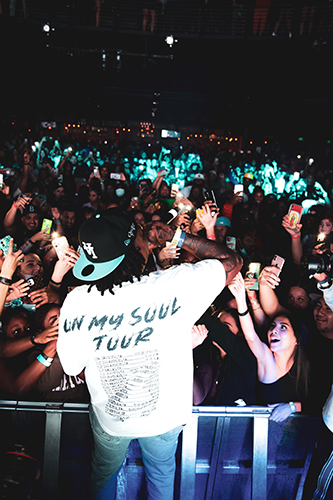 Of course being in the city of Angels, which means guest appearances were in order. The first artist he brought out was none other than Casey Veggies, performing his timeless smash "Backflip." Bino also brought BlueBucks Clan, Kalan Fr.Fr, Drakeo the Ruler, and Roddy Ricch to perform their new single "LEMME FIND OUT" which is out now on all streaming platforms. Roddy also performed his newest viral hit "Late at Night." 
Regardless, the evening couldn't end without paying tribute to the late Nipsey Hussle, who Bino has a whole project with.