Chardai Tisdale and Ricky Ranier opened 'Black Balled Beauty' in November of 2020 with the intent of creating a retail space that caters to Black-Owned hair and beauty brands. The highly experience cosmetologist and entrepreneur noticed how difficult it was to find these types of products in large chain stores and wanted to find a way to get products that nurtured Tisdale's client's hair. It started with Tisdale holding space in her salon for products her clients needed to them opening the imperative beauty supply that is crucial to the Black community.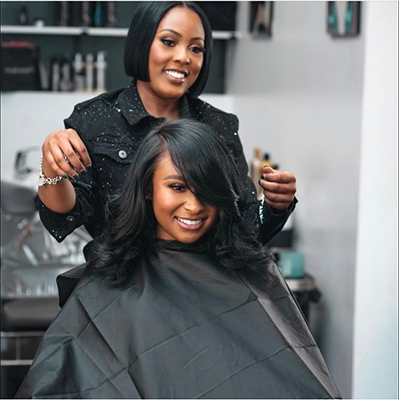 What's the meaning behind Black Balled Beauty? Does it connect to the lack of Black-Owned beauty brands in Beauty Supply stores?
The meaning behind us choosing the name Black Balled Beauty directly connects to the lack of black owned beauty supply stores or any kind of lack of representation of Black people in the ownership of beauty and haircare products that are made for or marketed towards Black people. For beauty supply stores specifically, it is more common to see Asian owners, but the disparity lies in the fact that the support that we give vs what we receive from that community; it is highly unbalanced. The global hair care market valued amounted to be about 85.5 billion dollars and is expected to grow to 102 billion dollars by 2024. How many beauty supply stores do you know of that go out business in your communities? Not many, because they are needed, but we are supporting people that do not pour back into that community. The black dollar has suffered because of lack of access and opportunity that has been held within other communities. We're doing our best to unlock that provide a platform for others in the beauty world to create a path to generational wealth as well.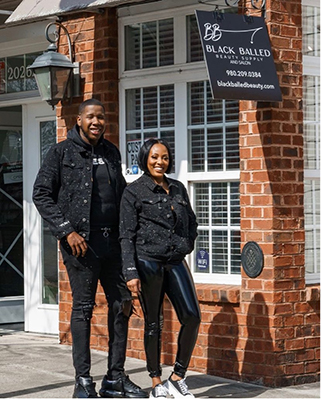 You're an expert in the hair industry and Ricky is an entrepreneur. How did you guys combine your talents to open Black Balled Beauty Supply? 
My expertise was in the needs and care for our customers. My knowledge as a stylist provides that extra touch of being able to help our customers, whether they are my salon clients or not. Ricky being an entrepreneur provided knowledge on how to access vendors, which products would make sense to our customers, and most importantly the best way that we could act as a platform for other small and locally owned businesses.
Black Balled Beauty Supply is needed all over the country. Do you have plans to expand? Would you ever consider creating some type of online beauty supply? 
Yes! Our online store will be launching before the end of the summer. And just like our physical store, the brands will be black owned and specifically selected because of their care for our various needs. We are also excited to continue to be able to provide space for small brands, but now the brands can be from anywhere instead of just local to our store front.
How can small black-owned beauty brands get their products in your store?
We are always opened to having brands reach out. We offer wholesale/retail options, so we choose to buy directly into the brand. Any brand owners that are interested can please reach out to BlackBalledBeauty2020@gmail.com
All Images courtesy of Role Model Publicity